Whether you're hastily booking a last-minute meal for two, or boycotting the societal conventions and watching Netflix at home, in your PJs, it's that time of the year again!
Boyfriends are panic buying 100 roses for £25 at Aldi and the card racks at Clinton's are only getting larger.
According to research from a retail and shopper marketing agency Savvy, 39% of shoppers said they expect to spend more on Valentine's Day 2018 than they did last year, rising to 52% among 18-34 year-olds. In addition, 56% of respondents said that they don't mind spending more to make the day special. The research also highlights that Valentine's Day spending is expected to hit £726m. Yes, that's right!
Wondering how your business can benefit from this revenue? To captivate the love-ridden audiences on Valentine's Day, marketers need to position their brand as a one-stop destination for Valentine's Day gifts and celebrations. A holiday or celebration, such as this, heavily based around consumer emotions and spending money for the loved ones, can result in massive Q1 revenue boosts for your business.  
At the heart of an effective Valentine's Day marketing strategy is establishing a relationship between the brand and the consumer. If you want to convince your customer that you can provide them with the best Valentine's experience, an experience that is intimate and personable, you need your brand to appear as more than just a sales pitch, you need your brand to appear human.
Building a successful Valentine's Day buzz involves knowing your audience and finding the right touch-points, across the customer lifecycle, to approach them through effective customer engagement. Traditional marketing, in the form of creative visuals and adverts still continues to remain at the core of successful marketing campaigns. However, in the era of social media that we live in, user-generated content (UGC) is another highly popular way of launching marketing campaigns for this Valentine's Day.
Have a look at our top picks for Valentine's Day marketing campaigns, this year. 
Ad Campaigns: 
Renault ZE – "The Postman"
Renault came up with an innovative animation for their Valentine's Day advert this year, showcasing a budding romance between a postal carrier and one of his delivery recipient, disrupted by a feisty pet dog. The advert contains a series of repeat sequences, where 'The Postman' keeps trying to approach his love interest but the noise of his old vehicle disturbs the troublemaker dog each time he decides to do so.
Not all is well in the Postman's world of romance, until he gets his hand on Renault's silent electric auto. The electric auto allows him to approach his crush without disturbing the dog, showing that romance, or in this case, 'everything starts with an electric moment'. can start with an electric moment.
Through a clever juxtaposition of a turbulent vehicle, pesky pet, distraught lover and of course, a smooth, new Renault Kangoo ZE, the brand manages to evoke an emotional appeal within its audiences by iterating the personal benefits of its vehicles.
Carine Gaillez, the Global Content and Media Director at Renault, said, "By developing a full-fledged and accessible electric vehicle range, Renault wants to make everyone's lives better. This animated content is the best way to illustrate the reasons to believe in these innovative vehicles in an emotional way. We are proud to have developed with the Publicis Loft this universal, engaging story, for a timely event that matters in our audiences lives."
McCain – "Here's to love"
McCain, on the other hand, is celebrating love in all shapes, colours and sizes, through its £3.2m advert that introduces the slogan "Here's to love". The ad features gay, straight and disabled couples, from different ethnicities, in their kitchens, while they prepare McCain chilled and frozen foods. Through this, the brand iterates that love has no boundaries. The production team has cleverly challenged the 'normal' attitudes to love, deeply engraved within the conventions of our society, showing us the diversity within love.
Mark Hodge, McCain's marketing director, said: "As a family company focused on people and values, and as a major advertiser in the UK, we're proud that we continue to lead the way in celebrating the diversity of people up and down the country through our marketing and content." So, through the advert, McCain has not only evoked an intimate emotion amongst its audience, but also showcased their social values of diversity and inclusion, enabling their audience to identify with McCain at a personal level.
User-Generated Content (UGC) Campaigns:
In the and age of social media, user-generated content has reached new highs. UGC can be of great value for content marketers, if leveraged effectively. Through simple user engagement practices, such as creating custom hashtags or hosting photo competitions on Instagram, you can generate rapid brand awareness, engaged leads, boost your social media metrics and follower base, at a highly cost-effective rate.
In fact, a report by Sprout Social shows that "75% of people are likely to share a good experience on their own profile." Hence, it comes as no surprise that brands haven't missed the opportunity to enjoy the fruitful benefits of UGC for one of the biggest Hallmark celebrations of the year.  
Dunkin' Donuts – #DDLoveContest
From pumpkin-flavored donuts to Christmas coffees, Dunkin' Donuts is pretty consistent when it comes to leveraging holidays to boost sales. So, of course the donut brand that we all love, has came up with an innovative UGC campaign for Valentine's. Dunkin' Donuts launched an Instagram contest, called #DDLoveContest, that started 6th February and will last till 15th February. The grand prize winner will receive a free trip for two, to any city in the U.S. that has a Dunkin' Donuts! Now who wouldn't want to partake in that?
Unlike other Valentine's Day promotions, this one doesn't only just focus on romantic relationships, but encourages audiences to also share stories of friendship and love. Fans are simply required to share stories of how their friendship or relationship "runs on Dunkin'", over their Instagram, using the hashtag #DDLoveContest.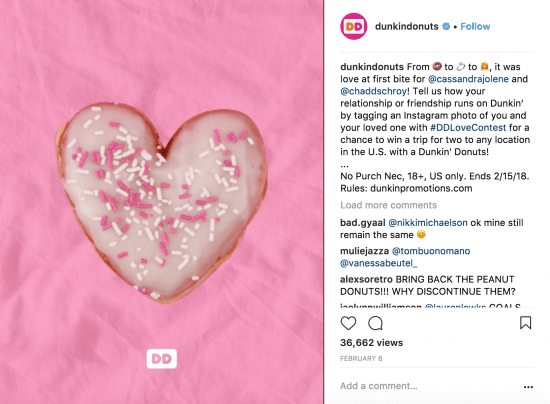 Dunkin Donut hasn't just focused its promotions on Instagram, but have come up with a  more multi-channel UGC campaign approach. Other than Instagram, DD has also partnered up with Tinder to introduce special V-Day polls and messages, and created special love-themed geofilter on Snapchat.
This UGC campaign will not only have helped increase DD's brand awareness, but also built a feeling of community that stems from love, amongst its audience. That's the power of UGC campaigns on social media. People want to feel part of something, and if your brand is able to offer them that community feeling, they will thrive on it.
The Body Shop – #SendingAKiss
Similarly, The Body Shop, celebrated this Valentine's Day with a Kissing Contest on Instagram. Using the #SendingAKiss hashtag, the Body Shop asked their Instagram followers to send in photos of themselves blowing a kiss to a friend. The lucky winner would get a gift pack of newly released fruit-scented lip balms for them and their "Galentine's".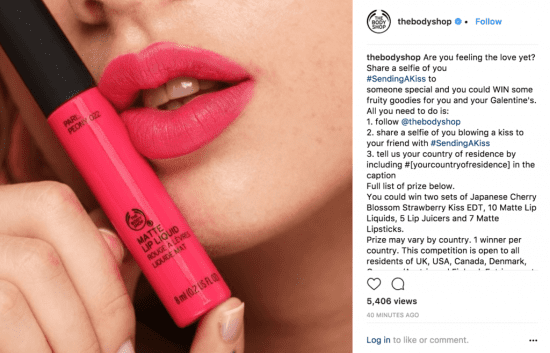 So, in this instance, Body Shop has perfectly timed its new product launch with the Valentine's Day campaign, as an attempt to boost revenue for its liquid lipsticks. The Body Shop campaign outwardly asks the participants to follow their Instagram handle to increase their follower base and social media presence. The campaign also subtly urges the participants to tag their friend/special someone on their pictures as a the recipient of their Instagram 'kiss', to increase their reach to relevant audiences.