Find out how Southbank improved their open and click-through rate with a simple email welcome sequence
First impressions in life are all important. This is certainly true in the world of email. Welcoming a new subscriber is a key point in a customer's journey, and can be a substantial factor in their retention.
At Southbank Centre, the UK's largest arts centre, one of our challenges is around clearly communicating our vast and varied events programme. So what did we do? We sent a warm and welcoming email to those that signed up to our email list, either through our website or wifi. The first step in our strategy for a seamless email journey.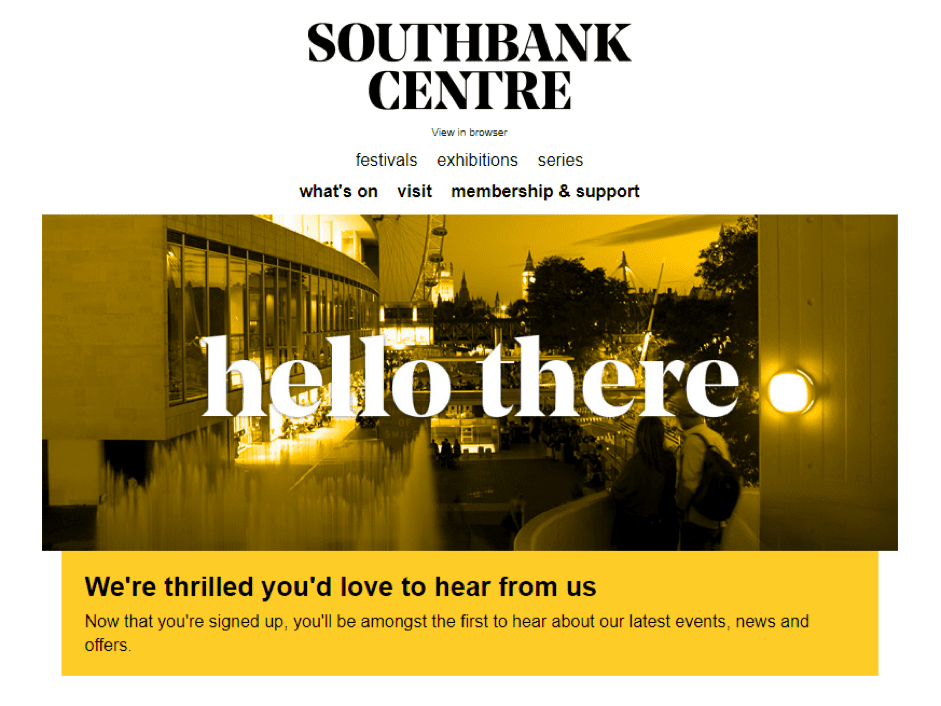 Our messaging reflects the warm and friendly nature of our site. This is accomplished with the upfront greeting and upbeat copy to complement our newly introduced branding. Paired with messaging that tells them why they signed up and what they will be receiving in their inbox.
The next aspect of our strategy was for our customers to tailor the content they receive from us, to make sure it's right for them. Updating their preferences is our highest clicked part of our welcome email, with 44% of total clicks, higher than we expected. This is a good indication of an engaged audience.

Getting the first and second visits are key to keeping audiences loyal – the London arts market is very competitive. Keeping in mind that we wanted to enhance our customer's experience on site, it was important to include all the things you can do, here at Southbank Centre. With links to what's on, what you can eat and our shop, we want to tempt our audiences to create their own journey.
Sample email:
Blocks that are red demonstrate the most popular or clicked content. In this instance, they are links to update your preferences
Links leading to content to visiting the arts centre are also popular
Looks like we are broadly getting the hierarchy right – the most popular content tends to be at the top.
A list always goes down well – people are scrolling down for our 10 top tips.
What does success look like?
Our welcome email features a strong call to action, a clear statement on what to expect and a chance to explore what's happening on site through content. Fulfilling our strategy, we're also seeing the success of our welcome email in our results, demonstrating a great level of engagement. So far we have achieved:
Open rate of 43% our average of 40%
Click through rate of 8.6% vs. our average of 5.9%
Contributing to our strategy to retain more individuals in our database, since the welcome email was introduced, we have experienced a 31% reduction in our average unsubscribe rate. We're delighted to see that a warm welcome can make a difference.
What to take away for your own welcome email:
A simple hello can make a difference – Welcome all your new subscribers to see an increase in retention
Get your welcome email in their inbox almost immediately – The closer proximity to signing up, the better the response
Give them a chance to tell you what they want to hear from you – Direct them to tailor their preferences
Earn their trust – Include something about what they can expect from you and your email programme
Keep your customers loyal – Their first and second visits are very important. Show them what they can do on site
Join To Our Newsletter
You are welcome