Chart of the day: length of time for results is the biggest challenge for account-based marketing, according to those in the field
Research by #flipmyfunnel amongst account-based marketers has found that length of time for results to show is the biggest challenge. Getting started and content marketing related to ABM are also big challenges.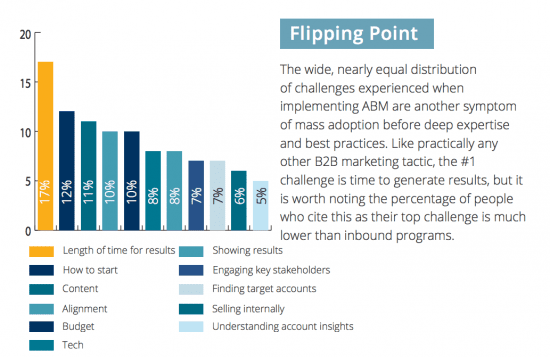 The study also found that:
8 in 10 (80%) engage one on one via email outreach to engage with clients and prospects, with just over 7 in 10 (71%) using the phone.
Almost 6 in 10 (57%) say their marketing and sales teams are fully aligned.
45% say that revenue generation is the main goal of their account-based marketing approach.
More than 8 in 10 (83%) plan to expand their marketing stack for account-based marketing purposes in the next year.