Chart of the day: Data management and marketing technology are the most difficult digital marketing tactics to execute, according to marketers
Data management and Martech require skills, resource and training. With GDPR heading with speed towards marketers, data management is increasingly important. Marketers also realize the potential of what it can bring to their marketing plans. Benefits of increased personalization and marketing automation are becoming clearer. We know a lack of digital skills is also a problem though.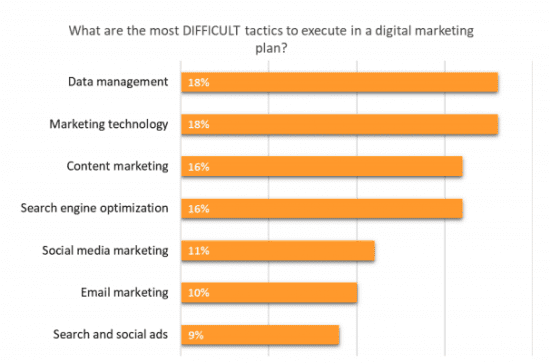 Search and social ads were the least difficult digital marketing tactics, email and social media marketing are also much more mastered by marketers than Data management, marketing technology and content marketing. SEO is in the middle as expected, as it takes a lot of work, time and patience – but many are seeing the benefits of it and have SEO strategies which are working.
Join To Our Newsletter
You are welcome