Chart of the Day: B2B marketers place SEO Rankings and Traffic Generation above Leads or Sales
SEO is one of the most important channels in any B2B marketing strategy but is often overlooked. Despite its track record in virtually every industry, B2B marketers can feel overwhelmed with the amount of work that goes into ranking your business in the results pages of Google (and Bing etc). When you first starting out with your SEO strategy you need to research keywords, identify your target keywords, write the content, generate links and even after all that you still may not appear in the SERPs due to Google's reluctance to tell anyone how it actually works. Which is why SEO remains a unique challenge for B2B marketers. 
But if you get it right you may find that Traffic Generation is less of an issue and you need to focus on turning that traffic into leads and sales.
What are the most important goals for an effective SEO strategy to achieve?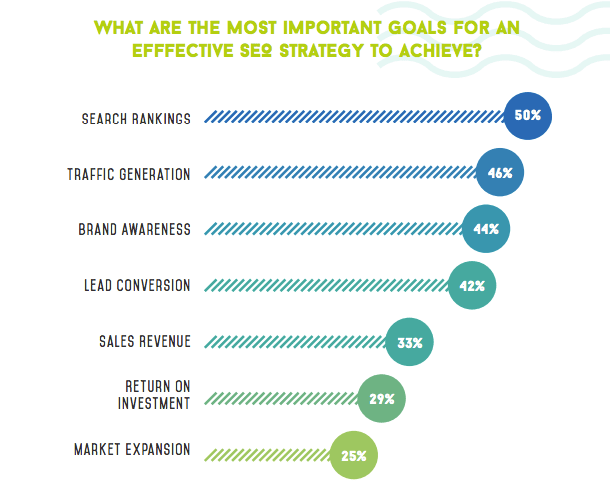 Interestingly, on the topic of SEO goals,  research from DemandWave found that 50% of the respondents saw 'Search Rankings' as the most important goal for an effective SEO strategy. I find it concerning that Search Ranking featured so high. While your position on the search engine results page is obviously important it can be misleading. For example, if you rank #7 for say 'Umbrella' which gets over 450,000 searches a month you are going to generate more traffic to your side than ranking #1 for 'umbrella with red spots' with under 100
Finally, for any marketing channel, the ultimate goal should always be lead conversion and sales revenue, particularly for SEO. The fact that only 33% see the channel as a revenue driver is astonishing.
With an effective SEO strategy in place, you will find that it will become one of your highest revenue generating channels in your digital marketing strategy.
Join To Our Newsletter
You are welcome