Chart of the Day: Understanding subscriber loyalty – Part 2 of 2
This is the last of a two-part blog, covering subscriber loyalty and unsubscribing following on from – What is a good Unsubscribe Rate?
We all know about click-to-open (CTO) metrics and even click-through-rate (CTR), but what the heck is unsubscribe-to-open (UTO)?
UTO, is a good indication of how unsatisfied a customer is with your email. They are the customers, who open your email but promptly unsubscribe.
If your Email Service Provider (ESP) doesn't offer this statistic in your reporting, you can calculate it yourself.
(Total Unsubscribe/Opt-Outs ÷ Unique Opens) × 100

Eg: (20 ÷ 359) × 100 = 5.57%
Is this UTO rate good or bad? In today's chart, it shows that the average UTO is 2.59%. So the above example is performing rather poorly. The sector with the highest UTO rates is Sales/Marketing/Design at 4.89%. While the best performing is Public Relations at 0.31%.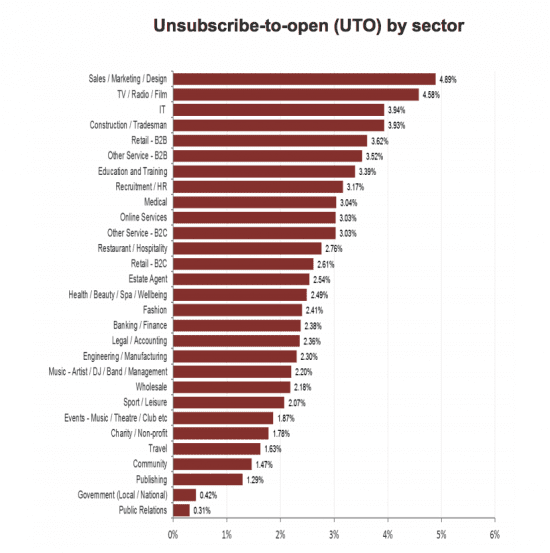 UTO isn't a great response from your customers. But at least they didn't click the spam button, which is far worse. To make sure this doesn't happen:
Clear unsubscribe link: unsubscribe links are generally at the bottom of the email. Keep the link clear.
Don't ask customers to log in: this is one of my pet peeves. If customers don't want your emails, chances are they won't remember their login details. I click spam straight away and so will your customers.
No more emails: they want to sever their communications with you. That means no emails saying, "your request is being processed" or surveys on your experience. Basically, don't email them at all!
Email Benchmarking is discussed in greater detail in our post, Email Statistics – 2017 update.
Join To Our Newsletter
You are welcome