Chart of the day: Youtube remains the main distributor channel to enhance engagement rates
Looking into the future, it is important that companies have a clear digital plan entering 2018. With a multitude of different platforms at every marketer's disposal, it can be challenging to know which ones need the most attention to connect with potential customers.
However, there are some channels and media that cause the biggest disruption for marketers and their efforts to get their brand noticed.
When we asked respondents about future disruptors to their busi- ness, people across the globe cited the current political landscape as a source of disruption in their jobs. For the rst time, we received a multitude of references to current events: Brexit, the current U.S. administration, economic crises, world politics, and even a call-out on currency uctuations in South Africa. For business leaders, uncertainty and fear in the political and economic climate are only compli- cated by the speed of change in the marketing and sales industry and the speed at which new digital challenges occur.
The biggest disruptor was video, then AI and VR and a constant disruptor including social media. This is probably because of the rate social media changes – new features are added, old features are updated and there are new algorithms to take into account to make sure you stand out. With a multitude of brands using social media to reach potential customers, it's very competitive.
What content distribution channel do you plan to add to your marketing efforts in the next 12 months?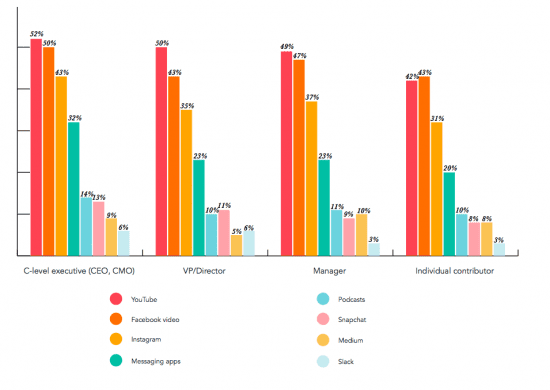 Although video remains a big disruptor, Youtube remains the top content distributional channel to add into a marketing strategy (49-52%), within the next 12 months, from senior level positions. Facebook video follows closely behind (43-50%), with individual respondents believing this is more important than Youtube.
Join To Our Newsletter
You are welcome