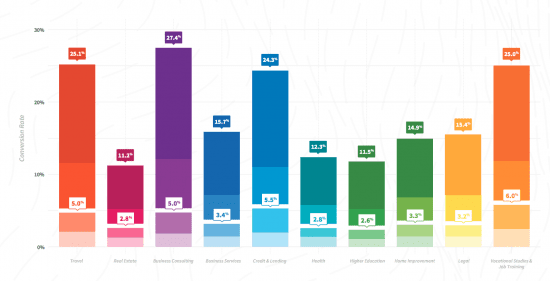 Which industry has the highest conversion rate?
Chart of the day: Unbounce reveals business consulting, travel and job training industries have the best conversion rates.
The comprehensive report, which evaluates thousands of conversion rates has found the three industries with the highest conversion rates.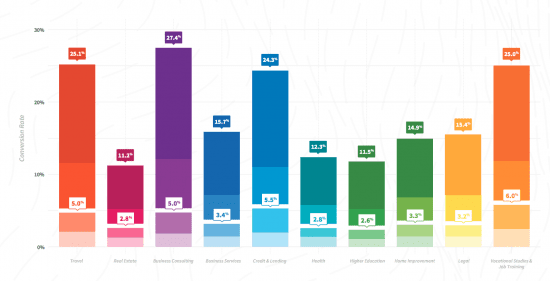 Business consulting, whilst most likely receiving low levels of traffic appears to convert well, whilst job-related training also has high conversion rates which is good news for elearning related websites and training providers! Travel is as strong as ever, with demand for flights, hotels and holidays as high as ever, the travel industry enjoys a decent conversion rate and the lending industry isn't far behind – there is still demand for loans and credit.
It could be something to do with the mindset of customers who are interacting with these industries. When people are looking for credit, after assessing options, they are likely to go ahead and proceed as they have it in their mind that they need credit. Similarly with holidays, though far from an essential, when people get it in their mind, they are likely to convert.
The report found that in the travel industry if a page has a conversion rate of 19.7% or more, they are beating 90% their competitors, but the study also found that excessive copy on travel sites was becoming a conversion killer. The travel industry is so used to using a lot of copy to inspire customers into purchasing and whilst travel copywriters are very good, maybe more concise information will do the trick. We all know too, just based on Instagram the power of travel images.
For the business consulting industry, if a page has a conversion rate of 21.7%, they are beating 90% of their competitors. Unbounce found that for every 250 words there was a 20% drop in conversion, therefore they recommend using less copy and there was an excessive use of buzzwords.
For the credit and lending industry, if a page is getting a conversion rate of 17.9% or higher this is beating 90% of their competitors. Unbounce recommends keeping copy on pages below 400 words.
For job training sites, a conversion rate above 18.4% means they are beating 90% of their competitors. Between 300 and 400 words seems to be the best converting copy length.