Which methods improve CRO | Smart Insights
Chart of the day: AB testing is the most popular method of improving conversion rate optimization (CRO) – personalization is the least used technique
Feedback and insights from surveys and usability testing are also popular methods of improving conversions.
Are CRO and UX becoming one entity?
Over the years there have been two distinct ways of improving conversions, the testing approach of trying different methods (like AB testing) and the insight approach (getting feedback from surveys and doing user testing). Now the two are coming together more than ever, UX practitioners and CRO specialists are slowly becoming one, as they realise AB testing isn't enough. But it still is the most popular technique. Copy Optimization is also a very popular technique – but marketers realise that copy is so incredibility important. Marketers have really bought into the value of copywriting and content marketing, so ultimately copy optimization being a popular method, does make sense.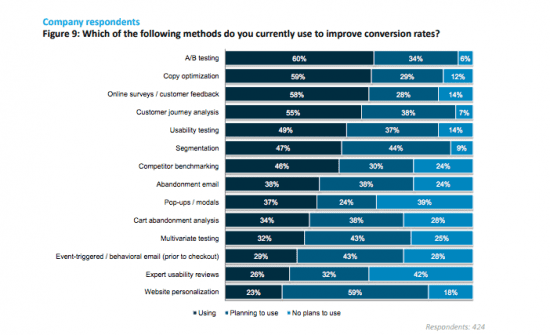 Personalization isn't cutting through
At Smart Insights' we talk quite a bit about website and email personalization, on our blog, in our reports and in our guides. However website personalization is unfortunately right at the bottom of this chart, as expected many are planning to use it, but disappointingly not many are when compared to other methods. There are a wealth of personalization platforms out there but they seem to be failing to cut through, perhaps it's the cost or it could be the lack of skills to manage personalization.
It is however great to see marketers are embracing feedback from customers and user testing.