A survey has found that 84% of marketers are positive about GDPR
The introduction of GDPR in May 2018 was naturally a cause for concern among marketers, and indeed any company handling customer data.
In broad terms, the introduction of GDPR means that marketers now have to ask for more explicit consent and be clearer about how people's email addresses and other personal information are used.
As a result, some marketers were concerned that fewer site visitors would give their consent to be marketed to and that this would make email marketing less effective.
The reality is, a year on, that GDPR hasn't been the catastrophe some marketers feared. Instead, opinion on GDPR is now broadly positive.
Why marketers are optimistic after GDPR
SaleCycle surveyed marketers about the measures they've taken since the introduction of GDPR to ensure that they comply with the new rules and how this has impacted their email marketing efforts.
The vast majority of respondents (84%) now see GDPR as a positive development overall, while 80% are carrying out just as much email marketing as they were before. Of those expressing positive sentiment, 29% cited a more engaged database as the reason.
The key reason for positive sentiment is that GDPR has the potential to increase engagement with emails. This is because, rather than being signed up for emails without knowing too much, people now have to actively opt-in in most cases.
If people are opting in more explicitly, then they're showing that they have an interest in a brand and its products, and in this case, they're much more likely to be receptive to marketing. After all, why would you want to target someone who doesn't want to receive emails?
This is why the majority (60%) of respondents said that subscribers were more engaged with emails as a result of GDPR.
Indeed, one of our respondents commented that GDPR has reduced the noise in marketing, thanks to 'a greater focus on engaged customers and prospects rather than just playing the numbers game'.
It can also make companies stop and think about the data they hold and whether they really need it, which can help to improve performance.
How websites have adapted to GDPR
Many of the practical effects of GDPR are being seen across the web, in the form of notices and opt-ins for privacy policies.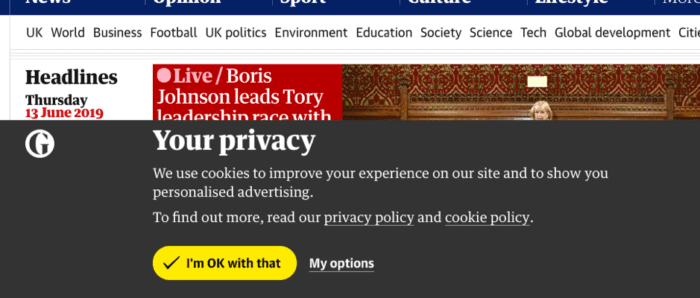 In this respect, it isn't the greatest development in terms of user experience, which was one of the key complaints about GDPR from some of our respondents.
Some 76% of marketers surveyed have changed the way they ask for marketing consent as a result of GDPR.
Practical steps taken to ensure compliance include implementing checkboxes (21%), stricter opt-in processes (26%) and focusing on gaining explicit consent for marketing communications (32%).
Not all marketers were positive about the effects of GDPR. Some complained that regulatory burdens such as this are a drag on time and resources, and can have a negative impact on the customer experience.
Others were critical of the way in which new regulations were communicated, leaving some companies unsure of the actions they needed to take to comply.
Most of the criticisms of GDPR were around its effect on email databases, with some complaining that it had reduced the numbers signing up for emails without necessarily increasing engagement rates.
The benefits of a marketing-first approach
A year on from the introduction of GDPR, I think the key difference is how marketers approach the issue of consent and use of consumer data. Whether they see it as a hurdle to overcome, or a chance to improve the way they work.
Concerns about online privacy and how companies use personal data has become a big issue in the past few years. Web users have been giving their data away free, often without being aware of how it will be used, for some time now. That era is coming to an end, thanks in part to GDPR.
Research suggests that consumers are willing to share information if marketers are upfront, and the uses of this data will benefit them. A Marketo survey found that 60% of consumers are likely to share their information with companies if they think it will result in relevant, tailored offers.
Marketers who use GDPR as an opportunity to improve the relevance of their marketing and to build customer loyalty are in the best position to benefit from the changes.
For more information, take a look at this infographic from SaleCycle.

Join To Our Newsletter
You are welcome