Tracking tools are tricky and require a lot of attention, in spite of analytical thinking. To avoid gray hair, follow these step-by-step instructions to success.
Collecting and analyzing data is one of the many important keys to setting up a beneficial promotional campaign. No one wants to leave money on the table in the form of online platforms. It is crucial for every business to know what they are paying. Since many purchasers decide on a product over days, weeks or even months during the customer buying cycle , it's important to understand attribution of media which influence purchase (or leads).
Google defines conversion windows as follows:
A conversion window is the period of time after a customer clicks your ad during which a conversion, such as a purchase, is recorded in AdWords. In AdWords, you can edit the conversion window setting for any of the webpage, import, in-app action, or phone call conversions you're tracking.
Synchronization of Facebook and Google Conversion Windows – actual implementation in the campaign
The conversion windows tools, offered by Google and Facebook are free data collectors who help analysts to find the weak business aspects and strengthen them. The only question is how? How can a one make conclusions on the data about clients retrieved from ads? How do you find the right time frame and correct conversion type? How do you synchronize Facebook and Google data to receive the most helpful set of information for your business and how can the chaotic traffic be analyzed?
Here are some tips and tricks on how to use these tools to increase the number of clicks to your ads and also conversions. Understanding the principle and differences between two tracking systems will allow you to create your own. It is important not to confuse notions and beliefs. Spending some time for education is a good option before starting experiments with real information.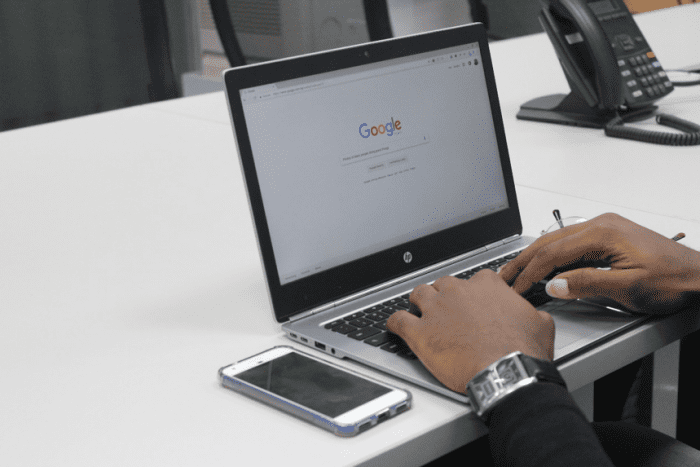 Another important aspect of your promotion campaign is the ad itself. To correctly track conversions for your clients, you have to understand that the quality of the ads themselves must be on a high level. They are not only to catch the attention of your audience, but also to offer what the customer needs, even if they don't know yet. If the results received aren't as high as expected, it can mean that there is something wrong with the ad itself.
It's important to understand that there is a lot of information to learn, which takes time and effort. It is not necessary to use all the advantages of the tracking systems. Find the optimal variant for your business and track your data accordingly. For small businesses, there is no need for tracking tools or tagging campaigns if you don't have one. This set of information offers a basic understanding of the most important principles and provides tricks, which can be used for the best results.
General overview of Google AdWords conversion windows
Google and Facebook conversion windows will help you better understand how your digital ads work, how often it leads to purchasing, and how long it takes for the client to make a decision. Conversion Window, provided free by Google AdWords, shows a period of the last 30 days after a click during which all of the conversions are recorded. This time can be set up and is useful, such as when you are running a 14-day promo and want to collect all purchases made. You can also compare activity between a regularly priced promo and one to figure out how profitable they are.
Conversion can be represented as various actions. For example, a purchase, a phone call, or app download can be considered actions. Each separate window can be set up for a particular action. This option is helpful when you want to know separately how many app downloads took place and how many people reached the company over the phone.
There are a few ways to track conversions:
Online sales
Phone calls
App downloads
In-app actions
In-store purchases
To track a purchase, you only have to copy a javascript code to your confirmation page, which a customer sees after making a purchase. This tracking helps to find out which product is profitable and which is not.
A free Google forwarding phone number will help to track phone calls. Instead of using your business phone number, you set up a Google number, which redirects all phone, calls to you and collects information. The Google form on the search result, which allows calling directly, is also recorded in the report.
Another feature is the ability to check the lag time represented in another report to find out which window works the best. There is a risk that if it is too short it may not record any conversions. On the time lag report, you can find out the average lag times, a period from the last click to the conversion. This information is represented in percentages. With this option, you will not lose time with a wrong window, ensuring yourself that window was set up correctly.
You may also wonder how many people have seen your ads somewhere in the interim and ended up buying your product, downloading your app, and talking to your representative on the telephone. This is also possible with a view-through conversion window. In contrast to standard conversion tracking, where the period between the last click and action is indicated, you will find out the time between ad impression and action. You should also know that the default window for the view-through conversion is only one day, which may show nothing in many cases. You will have to customize a window if you want to receive this information.
Facebook
In comparison to the Google AdWords tool, Facebook provides something a little different. Conversion windows determine which data they use to find the correct audience for the ads. The aspects are the same though: a period and type of action.
There are two different conversion types distinguished. The first one is lead directly to the ads (casual), the second one has nothing to do with the ads (coincident). Unfortunately, the delivery system of Facebook doesn't distinguish these two.
The more conversions you have per week, the better adaptation Facebook can provide. They require at least 15 actions per week. If you find that there is no way to get 15 purchases per week, then it is reasonable to change the action to a download app or add-to-cart.
A user of Facebook tracker can experience the same problems as the user of Google AdWords. For example, the tricky task is to find the right window. Because of this, it is recommended to run identical ads with different windows and compare the result.
Conversion window options are set:
Click + 7 days
Click + 1 day
Click or view + 1 day
View + 1 day and click + 7 days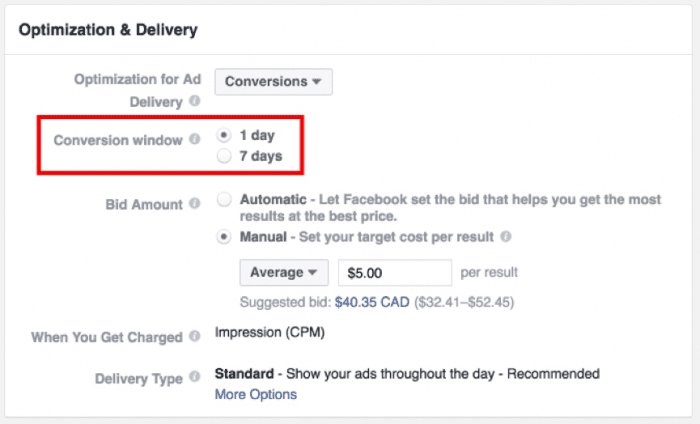 For app installs and in-app purchases it is a little different:
Installations:
Click + 1 day
Click or view + 1 day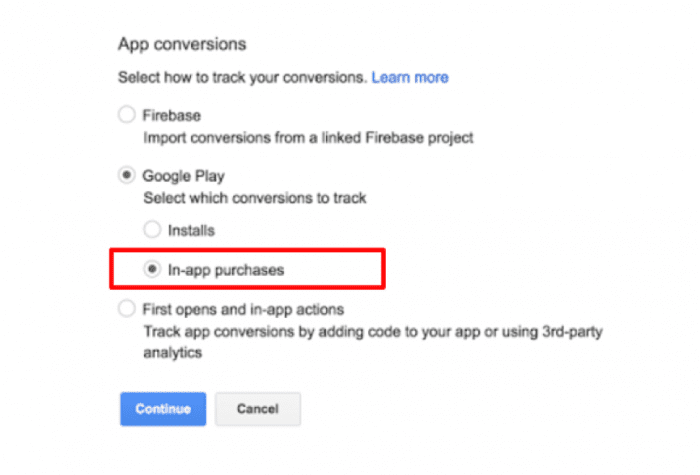 In-app activity:
Click + 7 days
Click + 1 day
The numbers can be changed to 1, 7, or 28 days in some cases. Since Facebook used to show much bigger numbers than Google Analytics, it won't be a problem to reach the number of 15 conversions per week. The question is how useful they are for business.
How Not to be Confused?
Both systems are efficient and must be implemented in the promotion campaign. Some differences may need attention, but when everything is setup correctly, you will receive valuable information in accordance with your product to client's needs.
Take some time for education and experimentation. The process can last up to a few months until you find the perfect tracking solution. Don't overload yourself and your team with knowledge. Find the reliable system that works for your campaign and stick with it.
Comparison and Synchronization
Most advertisers prefer using Google AdWords to track their activity. Adwords is simple, free, and efficient. Facebook, for some reason, shows more actions in a report then Google AdWords. This may be because AdWords can't work with cross-platforms, takes into account only last paid clicks regardless channels, and can't track view-through conversion on Facebook.
The Last Click
There are problems in tracking, however. For example, if a user has found their dream dress on Facebook and clicked on it she may realize that it was too expensive and decided to wait a few days to save money. In two days she googles the dress and buys it. In this case, the conversion will be shown in both reports because for Google only the last click is necessary, in contrast to Facebook.
Avoiding Huge Numbers by Facebook Tracker
Another problem is impressions. Google Analytics can't track Facebook impressions. Somehow, Facebook counts everyone who saw an ad as a conversion in a report. This will cause a lot of differences between the two reports. To avoid this, customize the Facebook tracker to show only after-conversion actions.
Cross-Platforming
On this point, Facebook has a big privilege because it collects data due to the user's accounts', not just cookies. It means that no matter what device, platform, browser, or app the user shows activity, everything will be tracked and shown in the report. Google relies only on cookies, which decrease chances to follow all the activity correctly.
How to Synchronize Efficiently
Unfortunately, there is no standard template scheme which will be useful for every type of business. You have to experiment and adjust your attribution models. The most common models are represented by Google, and while adjusting your profitable scheme is tricky and knowing all the specifics, it is a powerful instrument of optimizing ads and business.
Tracking Tools
Some advertisers prefer using Adform or DoubleClick by Google. For Facebook, there is Atlas management tool that doesn't require tagging manually all ad resources. This little option may become decisive in the sense of time-consuming for some agencies.
Tag your Facebook Campaign
It is another important point to receive correct data on your Google Analytics report. Google reporting system recognizes tagged Facebook campaigns. As long as the process of tagging is tricky, there is a guide provided by Google and also URL builder tips.
Conclusion
Both tools are useful and helpful when setup correctly. It takes time to find out which options are the best for your business type and how to improve current positions. It is also important to set initial goals for guidance. The original purpose of every business is to generate profits. This is exactly the orientation of every promotion campaign. Promoting your product or service correctly by adjusting it to your customers' needs and providing them with exactly what they need, you will be able to no only to control the number of clicks and actions, but also know how to use this information in order to benefit.
Tracking systems takes time and money. With proper investments and deep analytics, the process is much easier than it may seem. There are no 100% successful templates, which is why you have to adjust the system to your goals by experimenting and finding the best solutions.
What kind of difficulties have you experienced while setting up a tracking system? Did you find out any new information about motivation? Is necessary information about the systems helpful for understanding and setting up your process? Share your experience and additional tips in comments.
Join To Our Newsletter
You are welcome