Routine maintenance is not a necessity in Android, but it surely is a good idea to brush up your Android phone from time to time to boost performance, enhance battery life, and get rid of junk files. That's what Android cleaners are for. But do these Android cleaning applications really work?
In some cases, they are helpful. For instance, cache files pile up over time and need to be cleared. Also, junk from ads and image thumbnails take up a lot of space.
Android cleaner apps do an excellent job of finding unnecessary files and helping you delete them. But using them for RAM cleaning is obsolete since newer versions of Android take good care of that.
So, if you are using an older phone whose performance has slowed down, take a look at this list of best cleaner apps for Android.
10 Best Android Cleaner Apps 2019
Clean Master
CCleaner
Cache Cleaner – DU Speed Booster
Go Speed
Power Clean
Ace Cleaner
The Cleaner
Cleaner – Boost, Clean, Space Cleaner
All-In-One Toolbox: Cleaner, Booster, App Manager
Systweak Android Cleaner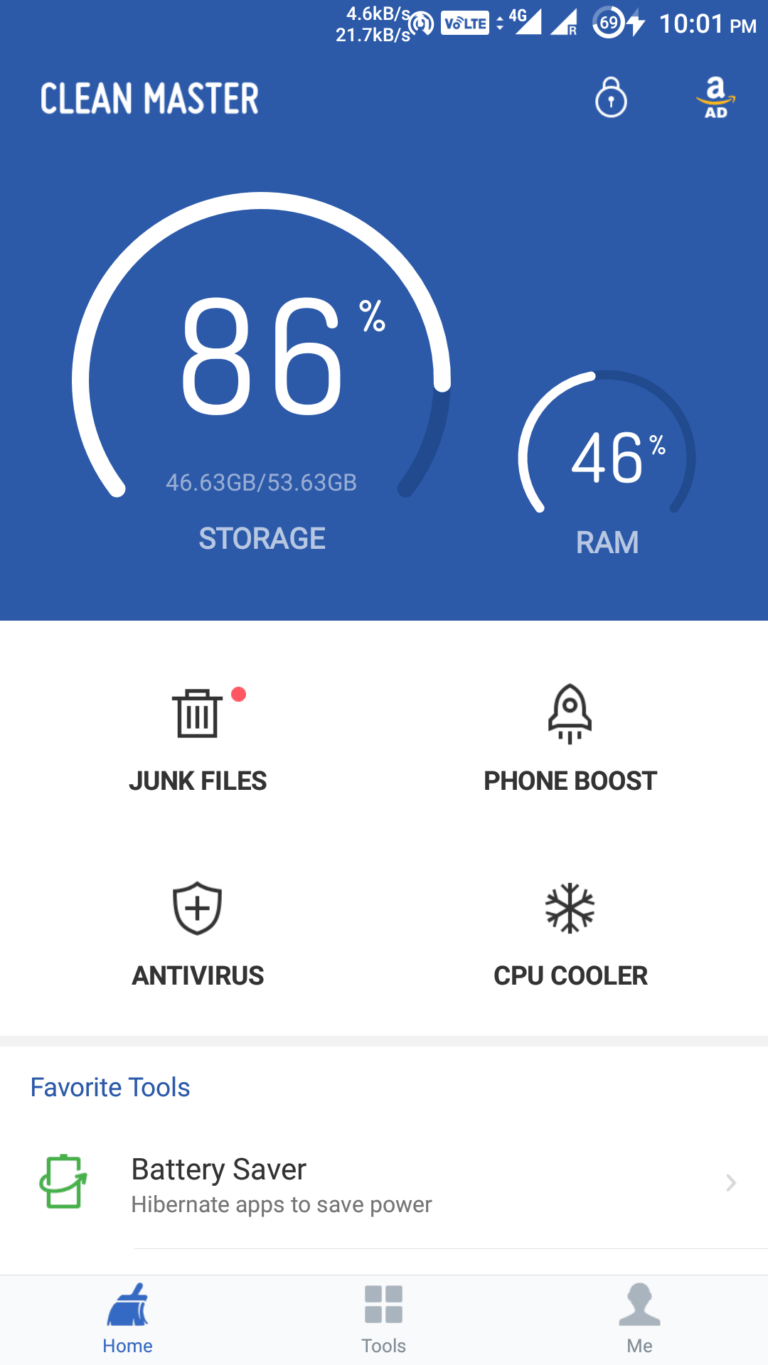 Clean Master has over 1 billion downloads on Play Store and includes a variety of features. Apart from cleaning junk files, this android cleaner app also includes antivirus and helps in boosting performance and battery life. The app developers claim to update the virus database in real-time to tackle the latest Android malware and malicious files.
The junk files cleaner works on system cache, junk app data, and junk from ads. Although it removes app junk, personal data like photos or videos are not deleted. An additional feature called "Charge Master" can show battery charging status on the status bar. This excellent app can easily replace other Android cleaning apps in your drawer.
Special Features Of Clean Master
Notification cleaner
Game Master for accelerating loading speed of games
Wi-Fi security feature to detect dangerous Wi-Fi connections
Integrated app lock to keep your apps safe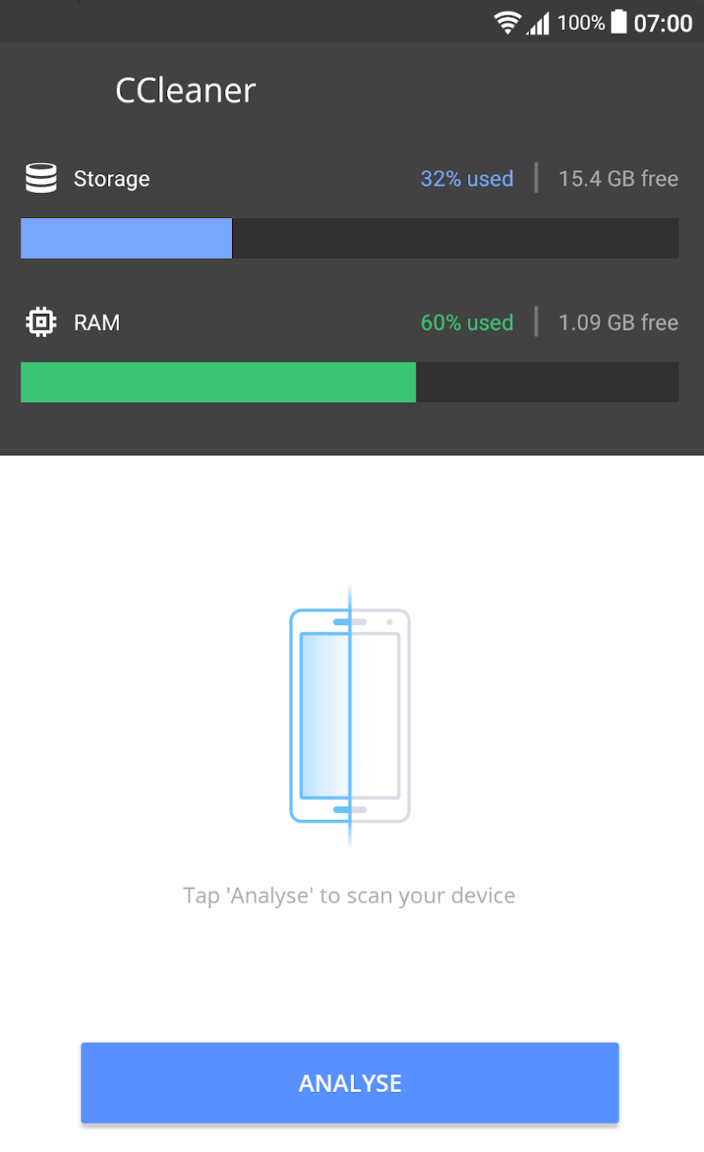 With this popular app owned by Piriform, you can remove junk, clean your phone's RAM, and reclaim more space for all the useful data. Being so much popular, CCleaner certainly deserves a mention in the list of the best Android cleaner tools. But it also features prominently as cleaner software for Windows 10 PCs and macOS.
It also gives you an option to uninstall multiple applications at once. The Storage Analyzer feature also gives you a better idea of how is the space on your smartphone being used.
Apart from the essential cleaning functions, CCleaner for Android also features a system monitoring tool. It lets you keep an eye on the CPU usage of different apps, the RAM being consumed by apps, and the temperature levels of the device.
Best features of CCleaner
New update manages system permissions in a better manner
System analyzer provides extra benefits
Option to check the individual impact of each app
Batch uninstallation of apps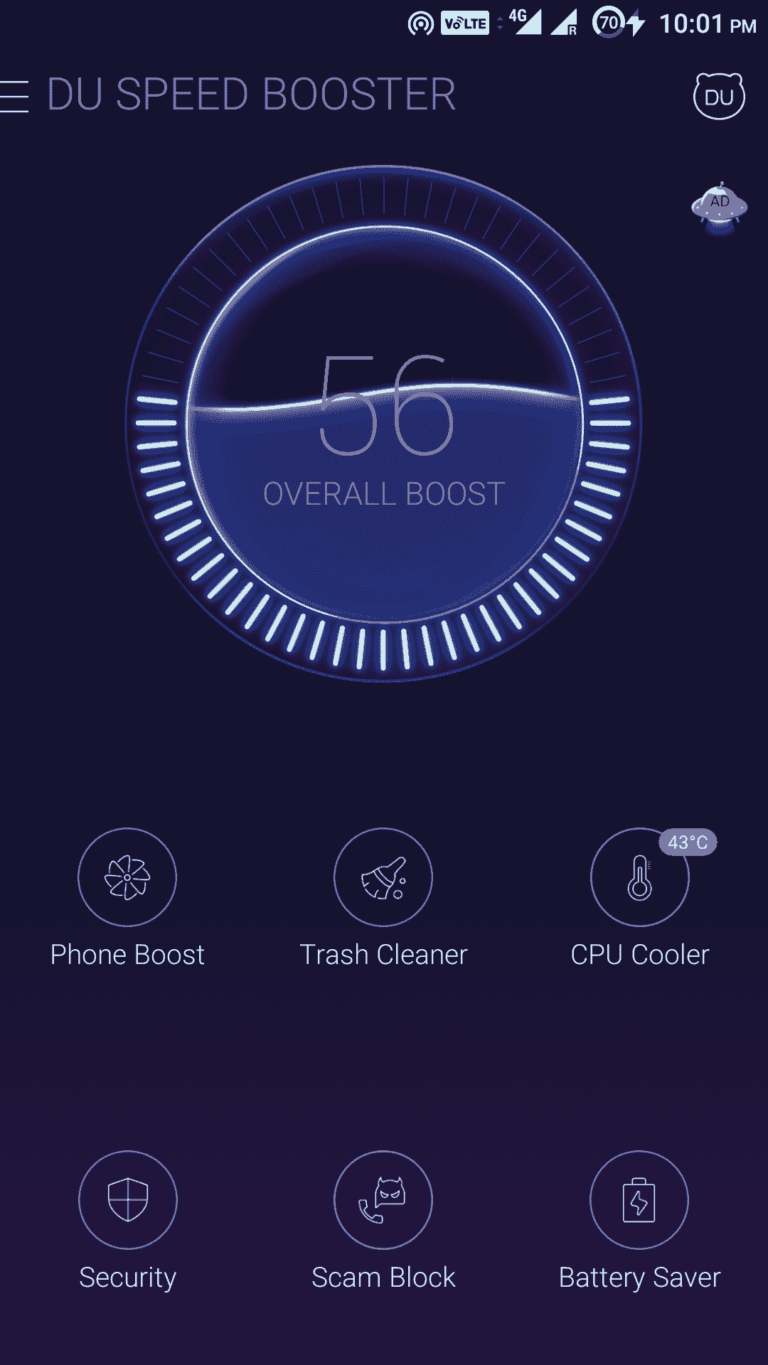 The DU Speed Booster and Cleaner app is one of the best Android cleaner apps in 2019 that is trusted by over 230 million users. With just a single touch, the DU Speed Booster & Cleaner is capable of optimizing your background apps, free memory space, and remove unnecessary junk files.
It gives you an option to uninstall apps that are not frequently used. An interface called "CPU Cooler" shows which apps are consuming more CPU power and hence can help you terminate those apps running in the background.
This phone cleaner app displays a notification toolbar by default, and if you want to disable it, you can do so by opening the app Settings. Go to "Notification Toolbar" and toggle "Enable Notification Toolbar."
Special Features Of DU Speed Booster
Scanning feature for analyzing installed apps, memory card content and new apps automatically
Integrated antivirus for detecting virus, adware, malware, and trojans
Network booster for detecting network status
Smart Charge feature for viewing charge status in real-time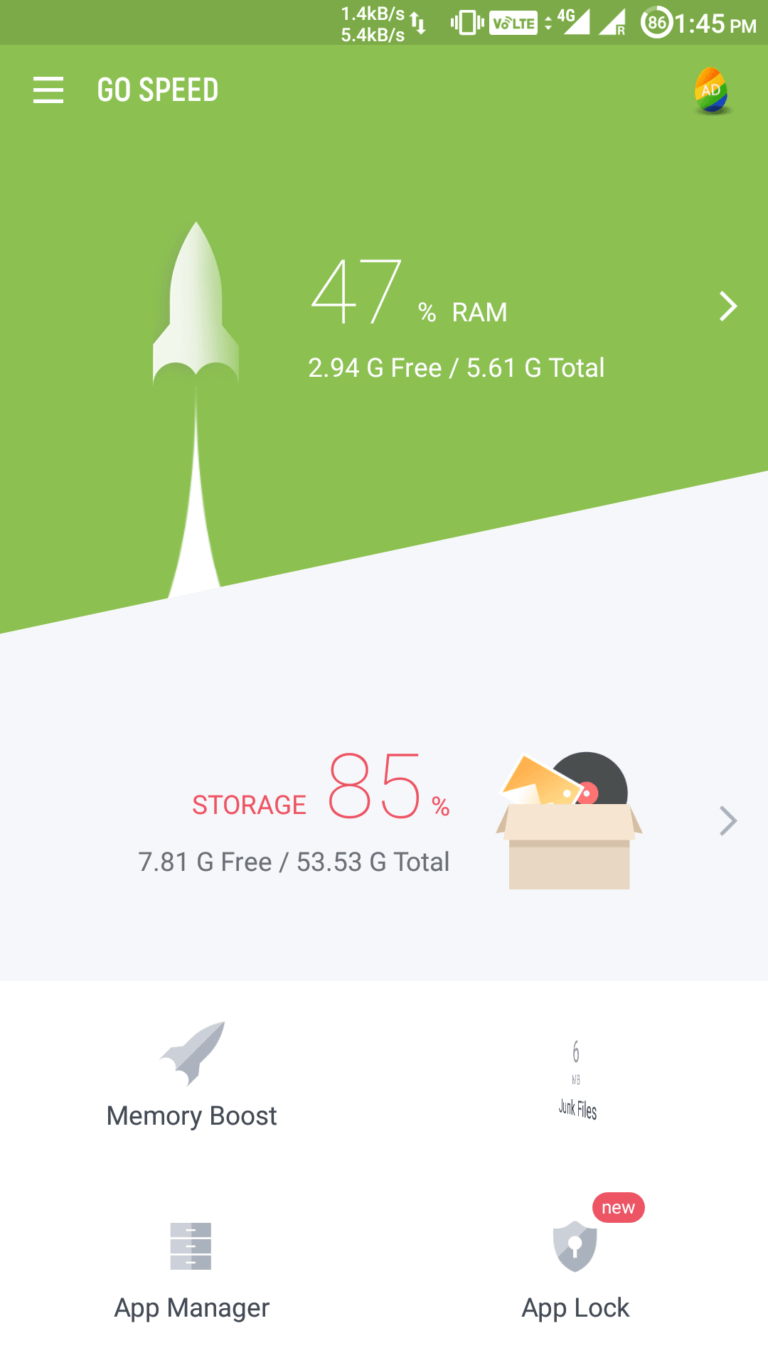 Go Speed is a lightweight Android cleaner app that claims to be 50% more efficient than most boosters because of its policies to stop auto-starting of apps. Designed with advanced monitoring technique, Go Speed Android cleaner can clean up and stop all those sneaky apps running on your phone's background.
Special Features Of Go Speed
Pre-installed terminator to stop bloatware from running in the background
Floating widget for checking memory status in real-time
Deep cleaning of storage for removing junk files, cache files, and temp files
App manager for managing rarely used apps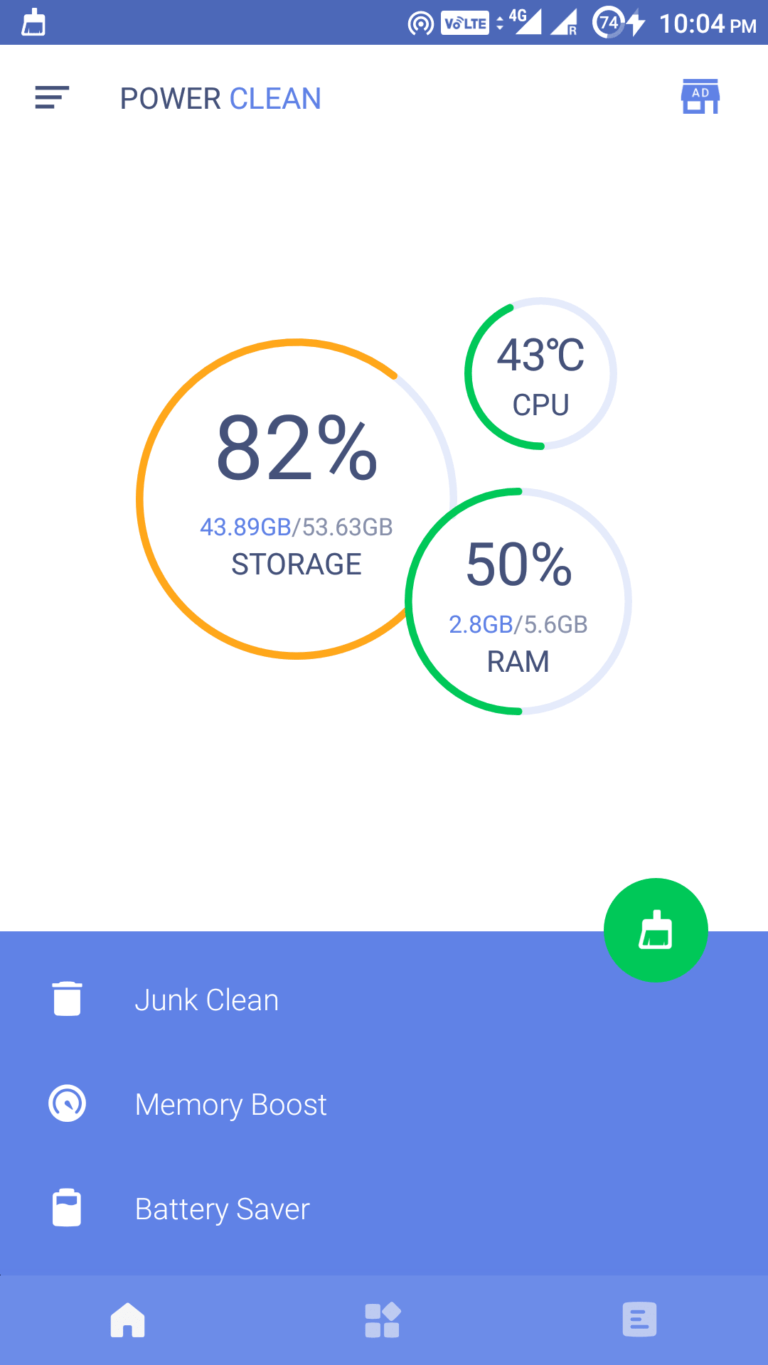 With more than 2 million user ratings on Play Store, Power Clean is a light, fast, and smart Android cleaner app. The app is designed with a quick cleaning mechanism that can clear up your junk files and optimize your phone storage in depth. Just with a single tap, you can boost up your phone anytime.
The phone cleaner app is free to use but displays ads; you can remove ads by purchasing the premium version. Also, its notification cleaner can block junk notifications. Additionally, it comes with an app manager to uninstall, backup, and share apps.
Special Features Of Power Clean
AppLock to prevent unwanted access to your apps
Device information for monitoring the hardware health status
Feature to delete duplicate photos
CPU Cooler for analyzing CPU usage and keeping a check on the device's temperature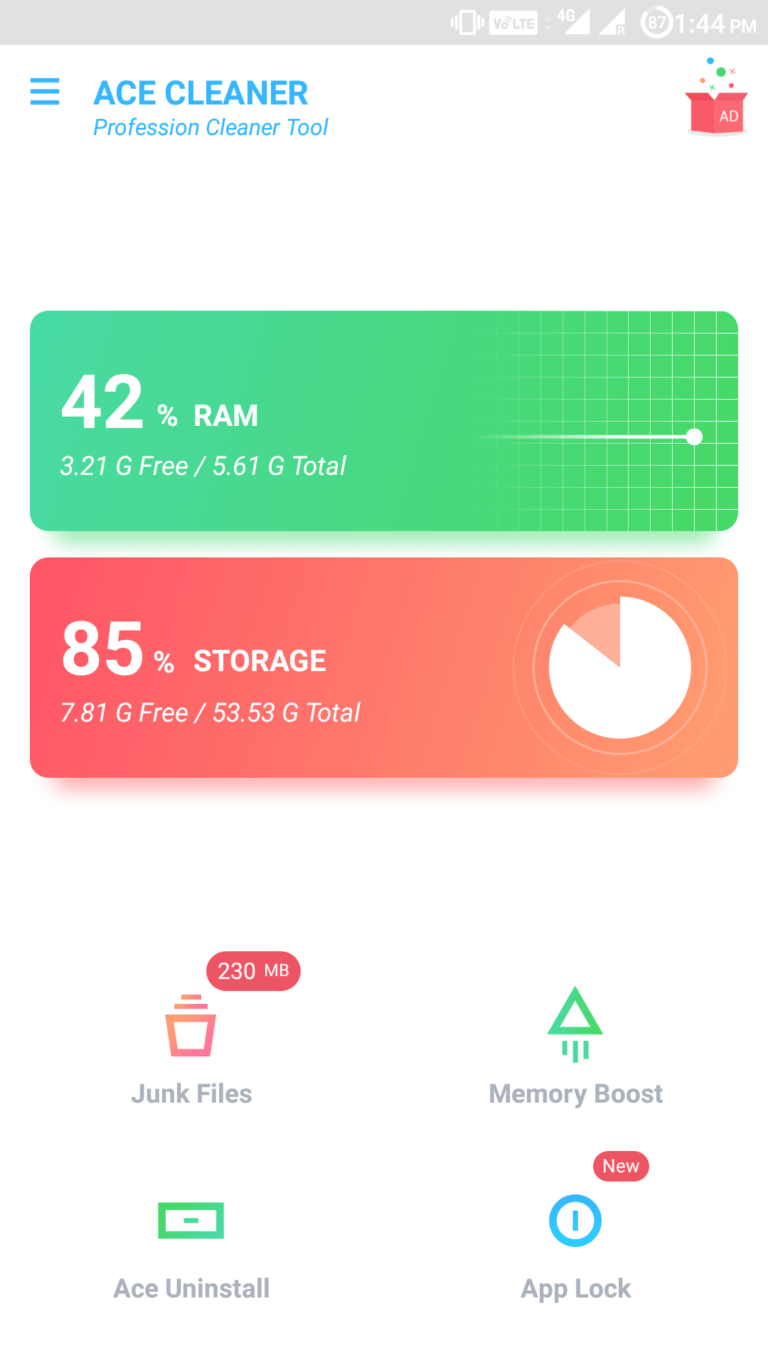 One of the simplest but effective Android cleaner apps, Ace Cleaner can give you a new experience in phone optimization. With its highlighting features like Ace Clean, Ace Boost, Quiet Notification, Battery Saver, and CPU Cooler, the Ace Cleaner can boost up and maximize your phone's performance.
It has a fantastic duplicate photos cleaner that can find similar photos in your storage and give you the option to delete them to retain your favorites and clean up space.
Special Features Of Ace Cleaner
Ace Boost for stopping apps that automatically start
Integrated DND mode for muting notifications
A specialized cleaning tool for Facebook
Integrated app lock
The cleaner is a lightweight cleaner app with an intuitive interface. You can also batch uninstall apps. You can schedule reminders to clean your device periodically. The app is loaded with features directed at optimizing your Android phone's performance.  If you are looking for a lightweight cleaner app for Android, "The cleaner" can get the job done. It comes with ads and in-app purchases.
Special Features Of The Cleaner
Detailed dashboard for an overview of your phone's performance
App manager for uninstalling apps in batch
Game booster for speeding up games by allocating resources
App locker to lock apps with a PIN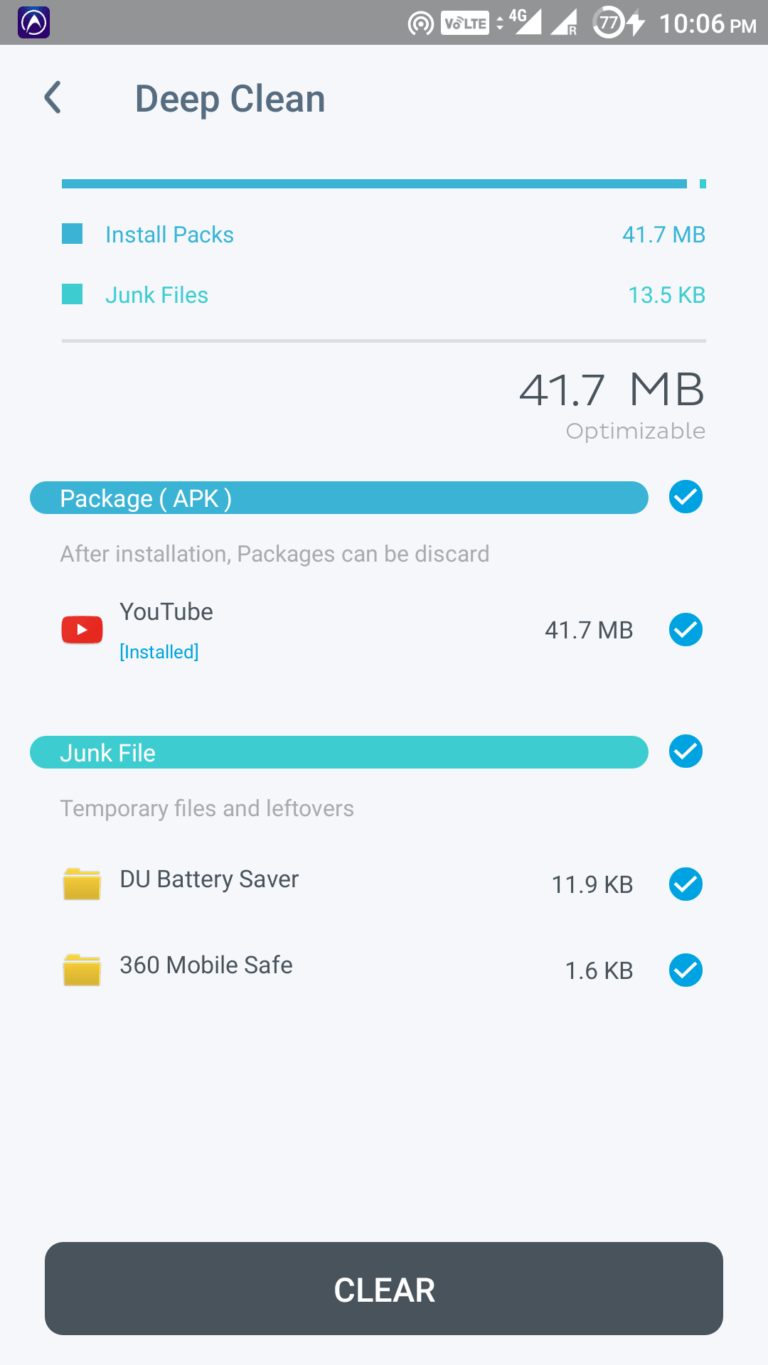 Cleaner by Apex Apps is a tool for clearing application cached files with just a single tap. The applications are listed either by cache size or app name. This phone cleaner allows you to analyze the performance of your smartphone by running a speed test. The app is free to download from the Google Play Store and does not have any paid purchases to make.
Special Features Of Cleaner
Unique algorithm technique for cleaning background processes
Disables auto star apps even on non-root devices
Inbuilt battery saver for extending battery performance
CPU Cooler for monitoring CPU temperature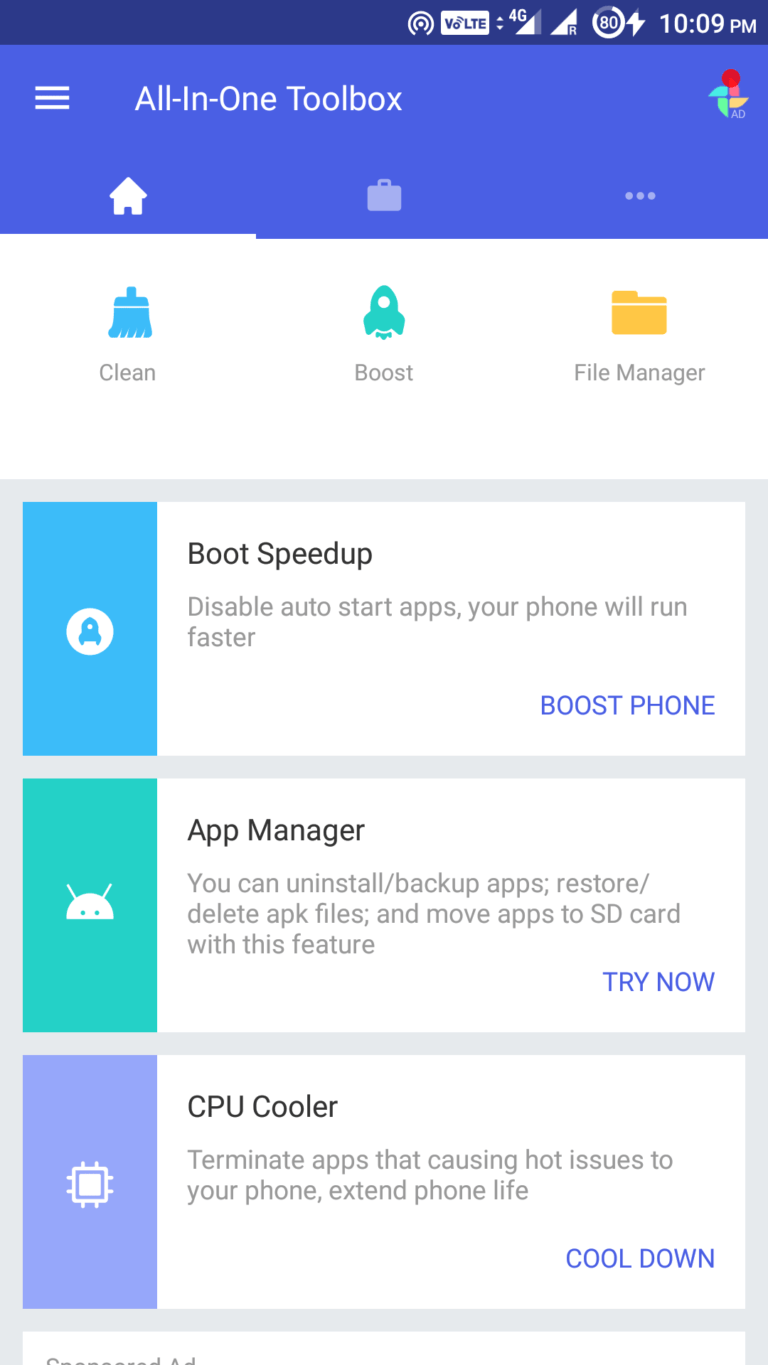 All-In-One Toolbox, as the name suggests, is a multi-purpose Android cleaner app that is capable of handling a lot more than just clearing up the junk files. The app has more than 30 tools to increase the productivity of your smartphone. Its system app uninstaller works without root. Boot Speedup is a feature that lets you choose which apps (including system apps) automatically start when you restart your phone.
Its app manager comes with options for batch uninstalling or installing apps and moving apps from phone memory to removable storage. All-In-One Toolbox aims to bring you a faster, cleaner, and smarter mobile experience on Android.
Special Features Of All-In-One Toolbox
Photo compressor to reduce the space occupied by high-resolution pictures
Phone hardware info checker
Feature to identify big files stored on your device
Option to delete empty folders and app leftovers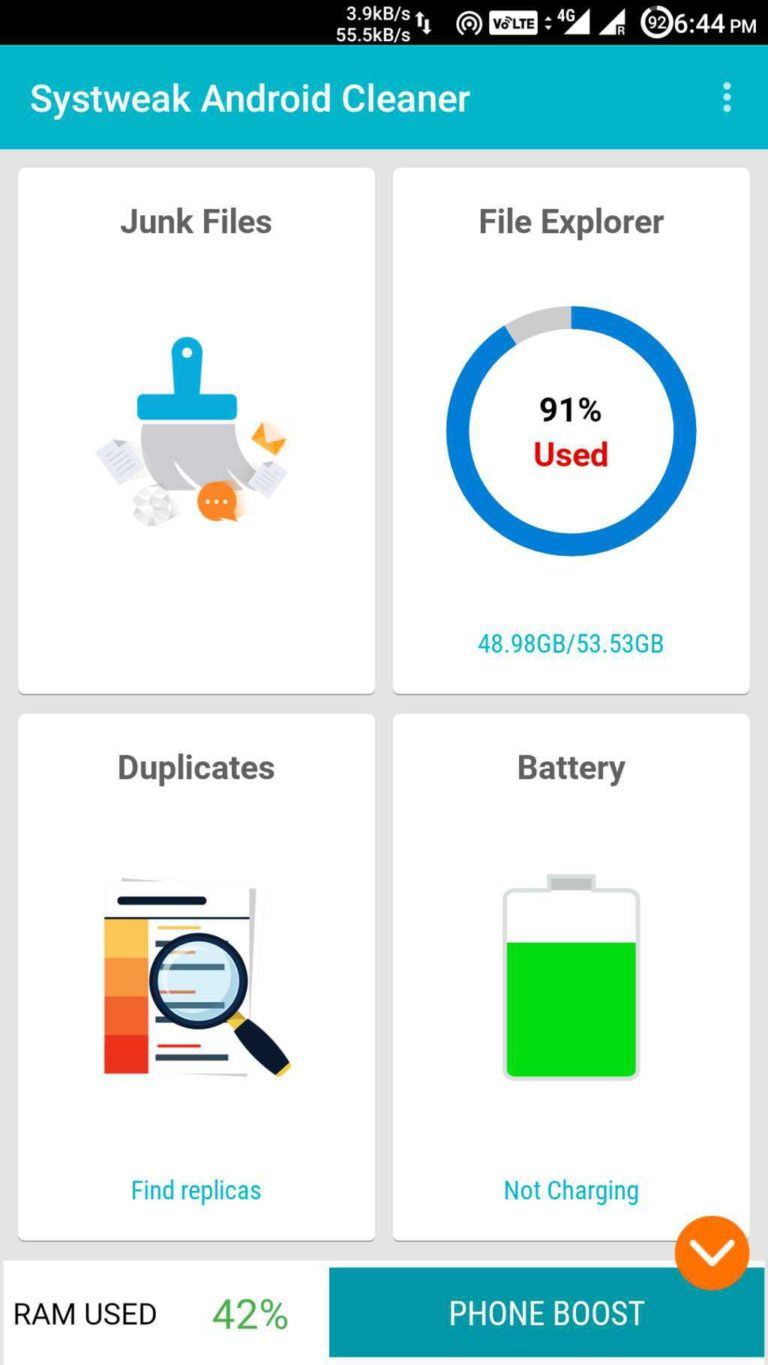 This powerful Android cleaner app comes with a plethora of cleaning features. It can remove cache and boost RAM and run periodically without user intervention if you don't prefer doing it manually every time. Systweak's battery saver feature can close background apps that are not being used and also shows device temperature.
This cleaner app comes with an app manager that can display apps which you no longer use. You can view and delete hidden files on your device.
Additionally, you can also take backup and share files from the app. Moreover, the Android cleaner features a junk remover, duplicate files remover, app hibernator, etc. to get the most out of your device.
Special Features Of Systweak
WhatsApp Module for viewing WhatsApp media files at one place
Notification module for shutting down notifications from certain apps
Option to view, archive, rename and delete hidden files
Game booster for improving the gaming experience
Did you find this list of Android cleaner apps for 2019 to be helpful? Share your reviews in the comments below.
Just in case, you want to check our more awesome apps for Android:
Join To Our Newsletter
You are welcome