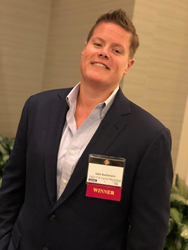 Jolin Bachmann – 2019 CFO of the Year
BRISTOL, Pa. (PRWEB)
August 11, 2019
Last month, 1SEO I.T. Support and Digital Marketing proudly announced that their very own Jolin Bachmann brought home the 2019 CFO of the Year Award from the Philadelphia Business Journal, which recognizes CFOs distinguished in their skill and professionalism.
In addition to being honored to having Bachmann as a leader in the company, 1SEO is also proud to see their CFO leading the way for women and the LGBTQ community. In the world of tech and digital marketing, the LGBTQ community, as well as women generally, face a host of challenges and obstacles every day, making outstanding achievements in the field all the more noteworthy.
As a member of the LGBTQ community, Jolin Bachmann is a prime example of what can be achieved and of the ceilings that can be shattered through dedication, hard work, and tireless self-sacrifice for their clients. 1SEO is proud to have her as a member of their team, and looks forward to the future achievements she will bring to the agency.
For more information about the incredible digital marketing agency Jolin Bachmann represents, visit https://1seo.com/.
About 1SEO I.T. Support & Digital Marketing
1SEO I.T. Support & Digital Marketing is a Philadelphia, PA-based digital marketing firm and managed I.T. service provider offering end-to-end solutions for their clientele, which is comprised of hundreds of businesses in countless industries that operate in several sectors, from the niche to the mainstream. With a full range of services, including social media optimization, content marketing, search engine optimization (SEO), web development, pay per click (PPC), proactive I.T. support, and managed I.T. services, 1SEO I.T. Support & Digital Marketing helps their clients win online and maximizes the efficiency and security of their I.T. infrastructure.
For more information, please visit https://1seo.com/. Or check them out on Facebook at https://www.facebook.com/1seoitdigital/ and on Twitter @1SEOITDigital.