Do you want to be the first to get notified when a new app hits the Play Store or when an app sale is going on? Whether you want to keep an eye on your subscriptions, fix a Play Store error or view all your purchased apps, there's an app for everything. In this article, we'll be checking out some amazing Android apps that can add more features to the Google Play Store and enrich your experience.
Google Play Store is a one-stop place for all your Android needs. It contains a plethora of games, apps, movies, books etc all of which could easily be downloaded on your device. Along with it, all these apps and games get periodic updates to make it more stable and secure. But in spite of all these, there are some useful features that still seems to be missing. In this guide on how to add more features to the Google Play Store, we will have an in-depth look at some of the apps that would help you to get more out of the Play Store app.
Do you know that there are a bunch of Google Play Store alternatives that let you download the Android apps APK files without a Google account? Please check out our list.
1. AppSales- Track Discounts on Apps
As the name suggests, this app notifies you whenever any Android app is up for sale. There are hundreds of apps on the Google Play store. Every day or the other, some apps are on sale or even free for a limited time. But sadly there is no option as such to get notified from the Play Store whenever there is a price drop. In such cases, AppSales may come in handy.
It provides a list of apps or games that recently saw a price cut or have gone free. The list is automatically updated daily with new apps. But that is just the tip of the iceberg. It also shows the price trend of any app in a detailed graphical manner. It allows you to get complete knowledge regarding the pricing pattern of any app. You could also simply share any app from Play Store over to AppSales and get detailed in-depth knowledge of that app.
By default, it shows apps and games having a minimum 25% discount with at least 100 downloads and a minimum rating of 3.5. If you want you may change all these criteria by going over to Settings > Filter.
2. Error Code Fixer- Fix various Play Store Errors
Next in the guide on how to add features to the Google Play Store come the Error Codes and Fixes. Whenever you encounter any error in Play Store, it simply throws an error code without any explanations. As a result, the user gets frustrated. This is where this app comes in handy. It contains a list of various Play Store error codes, its description and the steps to rectify these problems.
You could browse among tons of Google Play Store error codes and look for the solutions or use the Search function to search for a particular error code. The only downside is the fact that the free version of the app displays full-screen ads, which may be irritating for some of you out there. You may consider purchasing this app if you search for these errors on Google quite frequently.
3. Purchased Apps- Information about your Play Store Purchases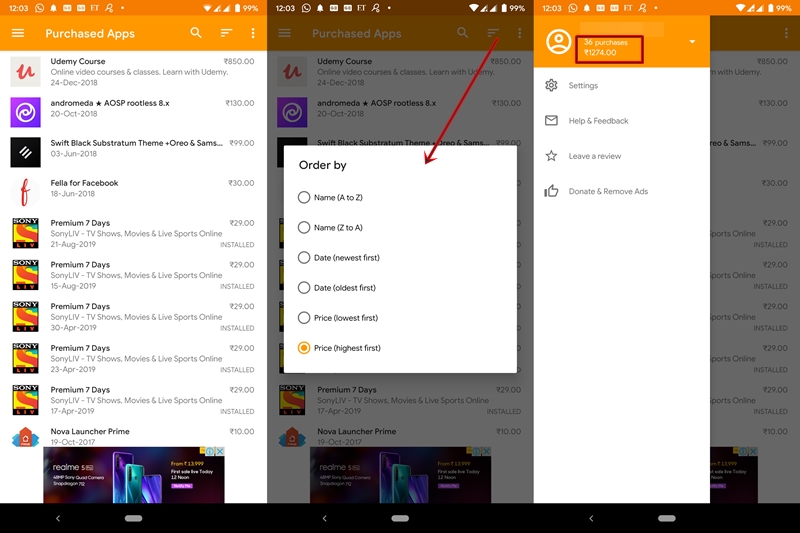 Every now and then you purchase an app or make an in-app purchase. Unfortunately, there is no easy way as such to keep a track of all your purchase history. Although some of the information could indeed be accessed from the Play Store (from Accounts > Purchase history), yet it doesn't show all the necessary details. Fortunately, there is an app just for the said purpose. Called the Purchase Apps, it shows complete information regarding all the purchases that you have made till date from the Play Store.
These include the name of each app, it's purchase date and the money spent on each one of them. Moreover, it also shows the overall spending you have done on all the apps combined. Apart from that, options for filtering the apps and sorting it is also available. For example, you could sort the list starting with the most expensive app at the top or filter it to show only the apps in which an in-app purchase has been made. Finally, you could also change the currency or date format by tapping on the hamburger icon. If you don't like this app, there are few more that can show you the list of all purchased apps from the Play Store.
Download: Purchased Apps- Restore your paid apps
4. App Watcher- Notifies about New Features of an Updated App
There are tons of apps on the Play Store and the majority of them are updated on a regular basis. You could keep a check on the new features of an app that is already installed on your device. But it is not possible to do so for all the apps. Although Play Story notifies when an update for an app becomes available, it does not explicitly mention the changes and new features that the update brought about with itself. In such cases, App Watcher may come in handy.
It regularly checks for the What's New section of all the apps which aren't installed on your device. Moreover, you could also add your favorite apps by sharing the app from the Play Store to the App Watcher. Every time there is any update available for any of the apps, including the ones you added as favorites, you will get notified for the same. Another amazing feature is that all the apps present under the Wishlist section of the Play Store get automatically ported over across the App Watcher. You could even sync the complete list of updated apps over to Google Drive, thereby allowing you to use this app across any Android device.
5. Subscriptions- Keep a Track of all your Subscriptions
Let's end the guide on how to add features to the Play Store app with another pretty useful app. Every one of you might have subscribed to some of the other contents/apps. And it keeps on getting increasingly difficult to keep a check on all these subscriptions. Although the Google Play Store has a Subscription section, that doesn't help much either. This is because it only shows a list of apps or services you have actively subscribed to and your preferred mode of payment, that's it. So, this is where the Subscription app may come in handy.
Providing a neat and minimalistic interface, it has around 30+ preset subscriptions which you could take the help of. These include Netflix, Amazon, Spotify, Adobe, Apple Music, Dropbox, etc. You could also add your own custom subscriptions. Also, if remembering the renew date of these subscriptions isn't your cup of tea, consider taking the help of the Remind Me option.
So these were some of the useful apps which you could use to add more features to the Play Store. If you know of any such apps which aren't mentioned here, do let us know in the comments section below.
Join To Our Newsletter
You are welcome