Canva is, without a doubt, one of the best, free online image creation sites.
They have tons of stock photos, shapes, beautiful fonts, and you can create very modern graphics for your site without any design experience.
But do you fully understand their terms for commercial projects?
Many people don't, and I guarantee there are some using Canva images illegally without realizing it.
I know of a blogger who was sued for $8,000 over improper use of an image. (Not by Canva.) So you should never assume that "free" means you can do anything you please.
There seems to be a lot of misconceptions about using images from free stock photo and image creation sites.
You have to read the fine print.
Thank goodness for people like Nicholette Styles and Patrice Perkins who really helped clarify Canva's very lengthy terms for me.
Both consulted with legal experts to help make sense of the legal gibble gabble.
I'll do my best to summarize the main points I learned from them.
You Cannot Use Canva For a Trademarked Logo
The key word here is "trademarked."
If you want to create an image with your site title on it that may change over time (colors, fonts, etc.), then that's not technically a logo.
However, if you use Canva to create a unique mark or symbol that you plan to have trademarked to use permanently, then that is against their terms.
So let's say you use one of their shapes for your logo, and you want to register your design with the Trademark Patent Office.
You cannot do this because this image would be legally set in stone by the trademark.
Using Canva Images in Books You Sell
Yes, you can use Canva images in your books (print or digital) that you sell, BUT just make sure you read the rules for the elements in your image.
If you use one of their stock images, then there are terms you have to abide by.
So let's say you're creating a title image for a book you want to sell, and use one of their $1.00 stock photo images.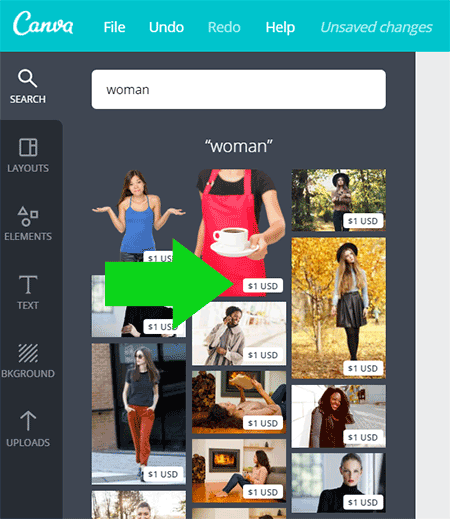 You are more than welcome to sell the book with the $1 stock image you bought.
However…
You can only use that image in ONE design (unless you buy a Multi Use License).
If you sell/distribute more than 2000 copies of your book, you need to upgrade to the Multi-Use License
If you sell/distribute more than 250,000 copies, you need an Extended License
You can read about all their licenses here.
Using Canva Images for Resale on T-Shirts
According to Lee Torrens, the Marketplace director at Canva, you can use Canva elements on T-shirts as of Fall, 2016.
However, you have to purchase an extended license ($100) for the elements you want to use.
Keep in mind, if you use Canva to create an image that is comprised of images you own rights to yourself, then you don't need to purchase a license. The license is only required if you use Canva elements.
What's Not Clear to Me
One thing I couldn't confirm was the use of the free elements.
Their license agreement references the stock photo images. Canva purchases a license for these from other image sites.
But what about the free backgrounds and shapes that Canva provides? I was not able to get a clear understanding about the terms for these.
For example, if you create a title image for an ebook you're selling, but you ONLY use text and free backgrounds (no stock photos), would you need to buy a multi-use license if you sell more than 2,000 copies?
Could you create a T-shirt design with one of the free background elements and sell it?
My guess is that if you're selling something that uses any of their elements, the same terms would apply.
I tried reaching out to Canva, but haven't heard back.
Photoshop Will Always Be My #1 Choice
One thing's for sure. If you create your images from scratch, you never have to worry about rights.
Photoshop is, without a doubt, one of the best investments I've made in my business.
Not only has it given me 100% creative control, but I've been able to make thousands of dollars in passive income by selling T-shirts online since 2011.
Big shout out to my former Team Lead for FORCING me to learn it at my old 9 to 5 when I really didn't want to. I had no idea how much it would help me in my business years later. 🙂
Just remember, if you add fonts or patterns to Photoshop, you still have to read the license for those!
I love Canva for certain projects, but nothing will replace good ole' Photoshop as far as I'm concerned!
However, with so many people making money from Teespring, Zazzle, Spreadshirt and Merch, it's great that you can now use Canva's Extended License. Yay! 🙂
Join To Our Newsletter
You are welcome