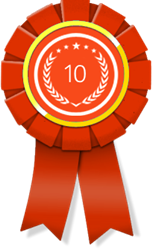 CHICAGO (PRWEB)
December 27, 2018
Earlier this month, 10 Best SEO selected the winners of its Best Enterprise SEO Firm awards for December 2018. The organization recognized several companies, but Straight North, Boostability, and Ignite Visibility received the top honors.
Published on December 2, 10 Best SEO's current list of top enterprise search engine optimization firms is headed by Chicago-based Straight North, rated at 99% for the month. Boostability, a top enterprise SEO agency from Lehi, Utah, came in second place.Leading enterprise SEO agency Ignite Visibility rounded out the list in third place. It received a rating of 98%, tying Boostability's score.
Using companies like this month's award winners to engage in SEO is essential for businesses today. The more visible a website is on major, top-tier search engines, the more traffic it will receive. Manipulating websites in order to make them more visible on sites like Bing, Google, and Yahoo is called search engine optimization. Also known as SEO, search engine optimization is one of the most popular website-related practices to beef up business.
Nonprofit organizations, businesses, sole proprietor-ran blogs, and every other type of entity imaginable can benefit from having SEO work done. Without SEO, it's likely that an entity's competitors will overtake them in business.
Companies can utilize organic or inorganic website traffic. Inorganic traffic is typically generated from web users that visit through paid advertisements. Organic traffic, on the other hand, refers to all click-throughs that result from hyperlinks on other web pages, web users manually typing in a website address and visiting it as such, or visiting that website from search engine results.
Organic traffic is always free in the long run, though many business entities pay search engine optimization professionals to include content that will garner great results on the World Wide Web's hottest search engines such as Google.
However it is difficult to determine which providers of quality search engine optimization services are the best option. Business owners have to rely on word of mouth and reviews that could be illegitimate as well as look to social media to see what people have to say to choose the best enterprise SEO agency. However, 10 Best SEO provides a more feasible and trustworthy solution.
10 Best SEO, which is based in the San Francisco Bay Area, boasts a star-studded roster of website, search engine, and marketing service experts from around the United States. Its experts are highly trained in everything from the programming language CSS to content marketing.
Best known for its ranked lists of the United States' best contenders for the title of the top enterprise search engine optimization firm, 10 Best SEO helps businesses select their dream providers of SEO services. For more information about this month's winners, visit http://www.10bestseo.com.

Share article on social media or email:
Join To Our Newsletter
You are welcome