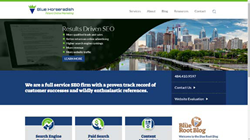 Blue Horseradish founder Larry Chrzan says, "Blue Horseradish takes practicing what we preach seriously. Our new website helps us to engage prospects effectively, offer enhanced information on our services and reinforce our reputation as an outstanding SEO resource."

MEDIA, Pa. (PRWEB)
May 10, 2019
Blue Horseradish, LLC announces the re-launch of its website (https://www.bluehorseradish.com). The new website features enhanced content on its search engine optimization (SEO) and internet marketing services, an integrated Blue Root blog and modernized site navigation and design that all highlight Blue Horseradish's position as a premier resource for B2B companies: manufacturers, industrial suppliers and engineering service companies. The responsive design is mobile friendly and easy to navigate on all devices.
A new service that is now highlighted is content marketing (https://www.bluehorseradish.com/services/content-marketing/). Good content is critical to prospects, search engines and a company's online reputation. However, most companies struggle developing good content. Blue Horseradish thrives at learning a client's business, identifying their unique voice, crafting targeted messaging and engaging a diverse range of audiences effectively.
Blue Horseradish founder Larry Chrzan says, "Blue Horseradish takes practicing what we preach seriously. Our new website helps us to engage prospects effectively, offer enhanced information on our services and reinforce our reputation as an outstanding SEO resource."
About Blue Horseradish

Blue Horseradish is a full service search engine optimization (SEO) and web marketing consulting firm located in the greater Philadelphia area. Blue Horseradish believes that a continual improvement process is the key to success in web marketing.

Share article on social media or email:
Join To Our Newsletter
You are welcome