Sajjad Bhojani, Head of Multi Channel Marketing and Developments outlines the Dunelm process for digital strategy creation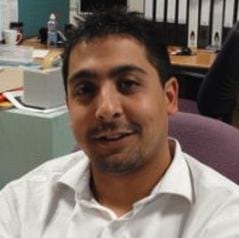 Our recent research on managing online channels shows that many businesses still don't have a digital strategy, although a good proportion now do. Our templates and guides give ideas on how to structure digital plans, but there is also the question of what is the best process for developing online and multichannel plans and reviewing performance against targets. To help answer this question I spoke to Sajjad Bhojani,
 when he was Head of Multi Channel Marketing and Development  at Dunelm and asked to explains their process for strategy creation and ongoing management of online channels. (This case study was originally in 2014, but we're sharing again to fit in with our multichannel marketing theme, since there are some interesting learnings).
Dunelm is the UK's largest homewares retailer with a portfolio of 140 out-of-town superstores with the 'Simply Value for Money' proposition. Its online store features over 17,500 products  under the brand name Dunelm (formerly Dunelm Mill) with reserve and collect now available from their site. This Ideas and Advice site section shows how they are using a form of content merchandising to showcase their range of products.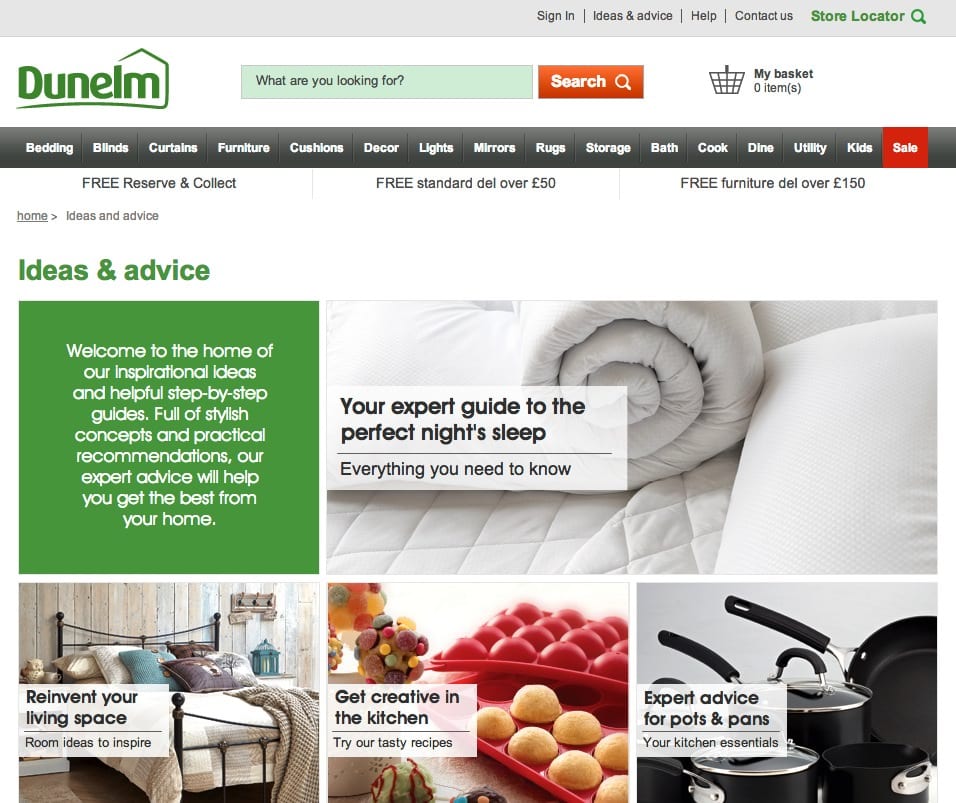 Their annual report reveals that multichannel growth was one of four key strategic objectives in 2013 which were Enhance (specialist proposition); Expand (Store Portfolio); Grow (Multichannel) and Develop (IT and Logistics infrastructure) . In 2013 online sales accounted for 4.1% of total in 2013 increasing to 4.5% in the final quarter.
Many thanks to Sajjad for freely sharing the Dunelm process midway through last year, we both hope it will help professionals and students looking to understand best practice for processes of creating multichannel strategies. The answer to the second question has a great summary of how multichannel retailers can vary their marketing mix online.
What is your process for creating a digital marketing strategy?
The business has an ongoing three year plan, which is revised every 18 months or so.  It has the standard Profit and Loss projections for the online sales part of the business. Project P and L is based on estimates of growth in traffic and sales based on conversion models. These targets stay fairly fixed within that period, but are re-reviewed as part of the annual planning process.
For introducing new features to the site and improving our digital marketing we have an 18 month roadmap for development of new features and are currently adopting a new agile model for faster delivery.
What's included within your Ecommerce strategy?
I see the 4Ps of the Marketing Mix as still vital to take strategic decisions for multichannel retailers.
Product relates to the range of products we offer on our site, similar to the stores, and how we prioritise them through merchandising such as featured offers on the home page or different categories. Product and merchandising also includes stock  management and availability – key conversion drivers.
With Price multichannel retailers need to consider whether they have consistent pricing with stores, this is the approach we have. The right approach for Pricing will vary by market. For example, I don't believe that in our sector, channel-specific pricing such as online discounts is right. But it may be in other sectors such as Electrical where price checking can be important and pure plays are dominant.
We fundamentally believe in a multi channel approach thus price consistency is just as important as brand consistency across all our channels. Though as part of our great proposition we always aim for competitive pricing. Web exclusive pricing – was probably more  relevant earlier on in the development of Ecommerce to encourage use of web, but we don't want or need to encourage customers to try the web now and unnecessarily erode margin now.
There's also the risk that differential channel pricing can be confusing. Customer's are multichannel they don't see Dunelm as two different companies. However we do offer free delivery for consistency too, although this is currently for orders over £50 or £150 for furniture.
For me, Place online is about offering the right experience, but also offering the right product or content for each online journey. Merchandising search listings for example ("searchandising")  is really important. You have to decide the combination of featuring products with stock, offers or best sellers which will vary as retailers will runs different promotions and campaigns at any one time. Increasingly customers use the web as a research tool before visiting stores whether that be to find where their local store is or latest trends, colours and styles.  As such the the site needs to provide this content in a way that's easy to find and deliver it an enjoyable experience.
Place today, also involve mobile access to our site. This has grown significantly so that it is now 20% of out traffic. But is a browsing channel, so conversion rates will be lower.  It's used for different applications depending where the consumer is. If you look at our target audience of busy females, they are always on the go and are increasingly using their  smartphones and for research and store locator while shopping.  We try to encourage use of mobile through in-store features like point-of-sale posters and shelf-ticket labels explaining the benefits of mobile whilst trialling in store WiFi
We use different forms of qualitative and quantitative research both online and in store about usage of website.  However, it is difficult to have a complete "single view of channel", since it's not possible to collect email address consistently across channels for example.
Place also relates to how you combine online and in-store experiences. We want to provide a service that fits around the varied needs of our customers, that's why we've expanded our delivery options to include Reserve and Collect where customers can reserve products online for free and then collect in-store at a convenient time.
Promotion is about driving visitors using the channels available to all such as search, affiliate and display. There is also promotion to existing customers using Email marketing where we look to encourage increases in average order frequency and breadth of categories purchased in, those are our KPIs here. Many customers will have bought in single category, so the CRM programme will encourage the next purchase. This is another area we're looking to refine and we now have a specific role within the team for this.
How do you manage conversion rate improvements and the implementation of new features on the site?
We're not that advanced at this stage in our use of conversion rate optimization since we're currently updating our Ecommerce platform to the latest edition of IBM Websphere. For example, we're planning AB or multivariate testing in the future. We see it as more of a priority to introduce better personalization features onto the site. We do have basic product recommendations based on wisdom of crowd, but human intervention is required to implement the rules.
We're around 12 months from an active customer experience improvement programme, but the intention is to implement a tool to help use these approaches. It's not simply a case of choosing the right tool, resource is a big challenge too, we need a specific analytics resource and content/copy creation resource to make the updates.
Instead, what we currently do when we introduce new features we involve users to check that the experience is effective. This is typically a two-phase process where we review the experience with customers based on an initial working version of the page. For example, we may be improving our product page template, so we will create working wireframes for customer review before building the full template. We will then test again with customers to make minor changes when in User Acceptance Testing (UAT).
What is your process for getting the right investment in marketing channels?
How we assign our online marketing budget overall is simple overall – it's based on Return on investment (ROI). For every £1 of investment we have to generate a return within a fixed revenue target from a combination of the site or instore (through Reserve and Collect), although we need to understand contribution to in-store better. To ensure that we're using the right mix of digital media, we have to drill down to consider different types of investment, for example brand investments such as display advertising and direct response elements such as paid search (Google AdWords).
Direct response is directed at hitting the sales target with investment re-reviewed each month. What's important is how you test and learn. It's an evolving strategy with separate budgets identified for each channel and different KPIs for search and display since the intent is different.
Search is hugely important, it's core to most retailers including us, but you have to separate investments and analysis for brand and non-brand search behaviour. Brand searches are where people know about us already and they search for Dunelm on its own or with a product name or category. It's important to connect these searchers with the right product, but even more important to attract visitors searching more generally. To help here we have invested in a non-brand SEO strategy, which has involved improvements to site content and architecture, on-site optimization and off-site optimization looking at linking patterns. This is a fixed-line investment, which has seen significant improvements year-on-year.
We have a rolling series of test for different channels. For example, we have a display retargeting budget where we conduct different trials each month. We are reviewing budget for prospecting – attracting new customers via Ad networks and have a new affiliate programme too.
As we review the effectiveness of our media spend we review relative return on investment from different categories, for example focusing on higher average order items. With the breadth of our product range we need to! For each category we review brand, non-brand, direct response and email sales for the previous year and then where can show.
With the importance of branded search, non-branded search visits is separated out as a separate channel in our analysis. The team has a weekly visit and sales target to hit. Year-on-year performance weekly review is a key part of setting performance targets and spend analysis. We also have separate targets for reserve and collect against home delivery linking through to profitability of these channels.
Join To Our Newsletter
You are welcome