Many online stores powered by WooCommerce sell products in different variations. A t-shirt, for instance, might be available in a range of colors and sizes. As a result, all these product variants might have different EANs or UPCs and other global identifiers that you like to add to the product data. In addition, you want to add all this to your product structured data. Unfortunately, WooCommerce doesn't let you do this very quickly. Luckily, there's a solution in our WooCommerce SEO plugin.
What are unique product identifiers or global identifiers?
Every individual product has a code to identify it. This unique product identifier helps us make sense of the different variations a product might have. Not only us but search engines like Google also use these different product identifiers to learn what product variation we are talking about and what they need to show in the search results.
One of the most used unique product identifiers is the GTIN or the Global Trade Item Number. These come in various forms, like GTIN8, GTIN12 (also known as the UPC, the Universal Product Code), or GTIN13 (also known as the EAN, or the European Article Number).
Adding these product identifiers to your product data in your WooCommerce store increases the chance that Google will show the proper variation of your product. You also need to add the correct structured data to your product.
Of course, humans also use these codes to verify that we're looking at the right product. It's not just for machines.
What are variable products and product variations in WooCommerce?
In WooCommerce, a variable product is a version of a product that lets you set various variations, like the t-shirt we mentioned before. You get complete control over prices, images, stock levels, and more for these individual variations.
You can make product variations after making a variable product and setting the different attributes they need to have in the product settings. Once you've done that, the product variations settings will open. Here,you can fill in every detail — except global identifiers like the EAN and UPC.
Why can't I add global identifiers to WooCommerce?
We're not sure why you can't add global identifiers to your variable products in WooCommerce natively. Also, there's no easy way to add the necessary product Schema structured data to the product. Google needs this to fully understand the product options to show in the search results. In the Yoast WooCommerce SEO add-on, we have both options available for you.
Help your online store stand out!
Get this and much more in the Yoast WooCommerce SEO plugin!
How to add product variations with global identifiers in WooCommerce SEO
After installing the latest version of WooCommerce SEO, you can make your product variations the way you're used to. You will notice a new set of options in the variations screen, labeled Yoast SEO.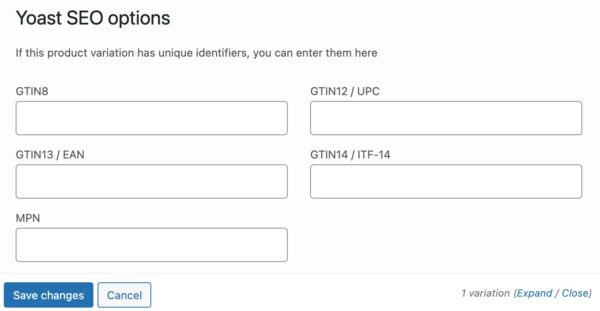 You can add your unique global identifiers in the Yoast SEO section of the product variants screen. You'll find fields for GTIN8, GTIN12/UPC, GTIN13/EAN, GTIN14/ITF-14, and MPN. Fill in the ones that make sense for your product variation.
The details you fill in will be added to the structured data of your product automatically.
Check your product structured data in the validator
After filling in all the details for your product and its variations, you should check the structured data to see if it validates appropriately. Yoast SEO automatically adds the proper product structured data and stitches everything together so search engines can easily digest it.
You will now notice that the global identifiers (e.g., GTIN8, UPC, etc.) you've added to the product variations will show up in the Schema structured data of the product. In addition, you'll also see that the SKU and URL of the variations are visible in the structured data of the product.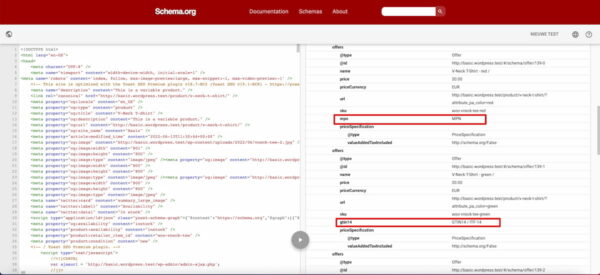 Product variations and global identifiers in WooCommerce
Thanks to the WooCommerce SEO add-on for Yoast SEO, you now have an easy way of adding unique product identifiers to your product variations. Not only that, but it also automatically generates the structured data for your product that Google so desperately needs. Here's to improving your ecommerce SEO!
Join To Our Newsletter
You are welcome