Getting on the Instagram Explore page is the social media equivalent of striking gold: when it happens, life gets easier. It is also like striking gold in that there are no guaranteed ways to make it happen. But with some hard work, keen-eyed strategy, and gritty perseverance, your odds of success go way up.
(That said, getting on the Instagram Explore page is not like striking gold in that you do not get to ride your trusty pony naked and laughing through the streets of San Francisco.)
In this article, we'll outline the what, the why, and the how of your journey to Easy Street (a.k.a. the closest thing to free reach and engagement an Instagram brand can get).
But first, let's answer our most burning question
What is the Instagram Explore page?
The Instagram Explore page is made up of photos, videos, Stories—and, of course, products—tailored for each user based on "the people you follow or the posts you like," according to Instagram.
In other words, it is an endless scroll of accounts you might want to follow, posts you might want to like, and products you might want to buy.
More than half of Instagram users check out the Explore page every month. (That's about 500 million people, according to the latest Instagram statistics.) So, what, exactly, does the feed show people? That's decided by the Instagram algorithm, which considers things like:
Posts that people you follow have liked
Posts with high engagement
Accounts similar to ones you already follow
In May 2019, Instagram overhauled the Explore page to make it easier for users to take deep dives into their niche interests. Specifically the platform wanted to help people discover what they're looking for, and what they like, more easily.
The biggest change is a navigation bar at the top of the screen, which features filter shortcuts, as well as Instagram's next big bets on user experience: IGTV and Shopping.
Let's take a closer look at each of these channels.
IGTV is a personalized feed of long-form (i.e., longer than one minute) videos. The algorithm will include creators you already follow, but also ones it thinks you should follow.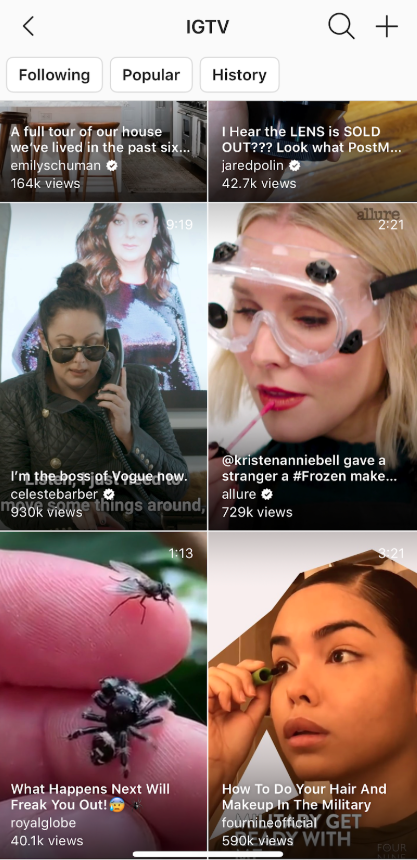 Shop is a personalized feed of shoppable posts from brand accounts. There is also a convenient wishlist tab in the top right corner (the ribbon icon). And beside that (the storefront icon) is a list of brand accounts you follow—along with some pertinent suggestions as to ones you might want to follow.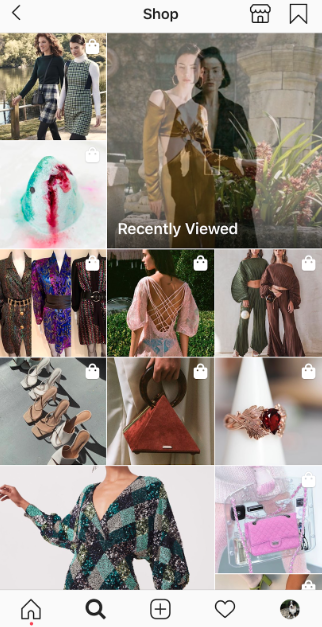 Topic channels are personalized subject-oriented feeds. For instance: Nature, Travel, Fashion, Food, Home, Beauty, Science & Tech, etc.That said, the algorithm is better at populating some topics than others.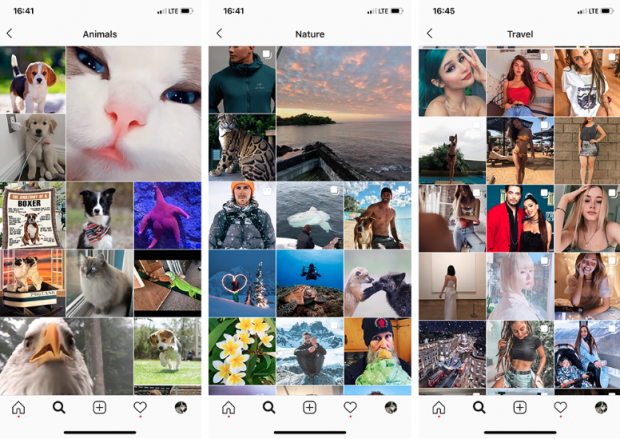 Stories are still rolling out in Explore, so not all accounts will see them yet. (Of course you can search for them.) But those of you that have access will see auto-playing Stories in your Explore grid. Once you tap the Story, the algorithm will cue up similar stories to provide you with an endless rabbithole of new content, all by accounts that you don't follow and would never otherwise see.
Benefits of getting on the Instagram Explore page
This is simple: landing a post on the Instagram Explore page means more people will see your content. Accordingly, the benefits may or may not include:
An engagement spike on the post or Story that made it to Explore, as your content gets surfaced to a wider audience than your followers;
A bump in new followers (those that like your post enough to check out your profile and are impressed by your amazing bio, highlight covers, etc.);
Residual increased engagement going forward (from those new followers);
More conversions (if you have the right call-to-action ready for all those fresh eyeballs).
Convinced? Let's take a look at how to make it happen.
How to get on the Instagram Explore page: 7 tips
1. Post when your followers are looking
This is our number one tip because it's the easiest win. Instagram algorithm prioritizes timeliness (a.k.a. recency), which means if your post is brand new it will be shown to more of your followers. And earning high engagement with your own followers is the first step towards getting a spot on the Explore page.
Check out our analysis of the best time to post on Instagram for your industry, take a look at your analytics, or use Hootsuite's post composer to figure out when your audience is online.
Pro tip: If your audience is online when you're not, an Instagram scheduler is truly your best bet.
2. Learn from high-performing posts that you see on the Explore page
If you're already following accounts that are relevant to your industry and your audience, your own Explore page should have plenty of insights for you as to what the algorithm is noticing. And what your prospective audience likes.
Because, even though Instagram isn't showing like counts anymore, you can still get a sense of what's working for other brands just by seeing what the algorithm promotes. In other words: if a post shows up on your Explore page that has absolutely nothing to do with your interests, you can probably bet that it has killer engagement.
So go ahead and do some low-key recon—or high-key social listening—to break down themes, aesthetics, formats, and value propositions of the posts that you wish you'd posted.
3. Pay attention to analytics
Take a look at what you're doing that's already resonating with your audience. You may find that they like your boomerangs more than your carousels, or that they like your jokes better than your inspirational quotes.
If you can get your own audience tapping hearts and leaving comments consistently, their engagement will help propel you to the Explore page.
Pro Tip 1: Use Hootsuite's post performance tool to identify your top-performing posts, and adjust your strategy accordingly.
Pro Tip 2: If you have a business profile on Instagram, you can check your native analytics to see whether your biggest posts have already hit the Explore page. Tap the blue view insights button below your precious post, and swipe up to check where all your impressions came from.
4. Post visually compelling Stories that are representative of your brand
Not everyone is seeing Stories on Explore yet, but we can only imagine it will roll out quickly. You're going to want to optimize your Stories for discovery. But how?
According to Tech Crunch's interview with Will Ruben, a Product Lead for Discovery at Instagram, the Instagram algorithm has some specific preferences when it comes to bumping Stories up onto the Explore page.
A user's potential "interest" (a.k.a., Stories similar to ones from accounts that are already followed) is the most important ranking signal. But the algorithm prioritizes the following, as well:
Videos (they tend to get more attention because they auto-play in Explore, but a good photo will do better than a mediocre video)
Highly visual Stories (that don't have too much text)
Stories that are similar to/representative of your account's usual content
Meanwhile, what are some tactics that will make a story less likely to get featured on Explore?
Noted.
5. Try long-form video, a.k.a. IGTV
Let's look at the facts:
IGTV has its own dedicated space in Explore. (Its button is pinned to the top!)
IGTV was derided as having a lackluster first year due to lack of buy-in from content creators.
I don't know about your IGTV channel, but mine is full of… um, the nice word for it is 'clickbait.'
Instagram is pushing IGTV hard, but so far long-form video has not been as popular as Stories. Sounds like an opportunity for a creative brand to enjoy a push from the full force of the algorithm, yes?
Experiment with an IGTV strategy to capitalize on this under-served channel. (We sure are.)
6. Make your shoppable posts stand out
The Shopping channel is similar to IGTV in that Instagram is promoting it hard in Explore. Of course, it's a lot more popular than IGTV because what B2C brand in their right mind isn't using shoppable posts?
With this kind of market saturation, your product posts need to be flawless and enticing to make it onto the Explore page. Read our full guide to Instagram Shopping.
7. Buy an ad on Explore
As of June 2019, brands can buy Explore page ads. These ads don't show up in the feed, but after a person clicks on a video or photo, in order to be less intrusive to people.
And lest you think this is the easy way out, it's not. In order to get ROI on an ad on the Explore page, it's going to have to be as compelling as the posts that surround it. Tall order, right?
For a complete rundown of how to nail ads on Instagram, we've got a guide.
Use Hootsuite to easily create and schedule Instagram posts, engage the audience, track competitors, and measure performance—all from the same dashboard that manage all your other social media channels on. Try it free today.

Get Started
Join To Our Newsletter
You are welcome