Published Date: December 6, 2017    Author: Sunil HebbalkarShare   



In an era where clean energy is continually being propagated, lithium ion battery industry has been gaining exceptional prominence, given that the product is extensively used in phones, computers, cordless power tools, battery operated vehicles, and more. The popularity of this business space has been validated through a recent instance, when LeydenJar Technologies, a spinoff of the Dutch energy innovation leader, ECN (Energy research Centre of the Netherlands), unveiled a lithium-ion pouch cell prototype that is capable of increasing the storage capacity of rechargeable batteries by almost 50%. Apparently, this would help enhance the durability of smartphones, electric vehicles, and other battery-based products, eventually augmenting lithium ion battery market trends. Considering the energy benefits of lithium ion batteries, many regional governments and end-use companies have also shifted their focus toward the development and implementation of this product for various applications. In addition, the renowned giants in lithium ion battery industry have been looking forward to innovating products, in compliance with the set regulatory norms, which would also have a powerful impact on the overall business expansion.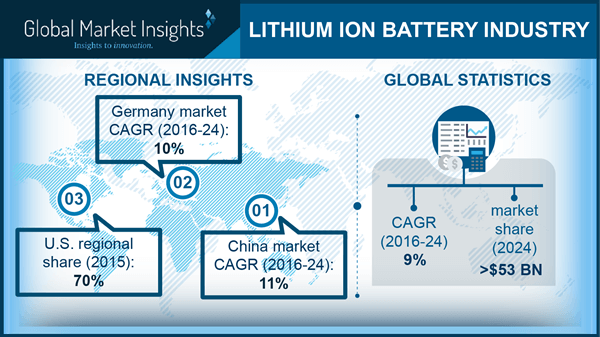 One of the most pivotal driving forces of lithium ion battery market is the depleting fossil fuel resources and the subsequently increasing awareness among people about the hazardous impact of pollutants extracted from the combustion of fossil fuels. In consequence, most of the well-known automakers have been shifting their focus from the development of conventional vehicles to battery-based vehicles. In fact, to reshape future of mobility, many more electric startup companies such as Rimac Automobil, Elextra, Uniti, Lucid, Faraday Future, and Weltmeister have been making huge investments in energy saving technologies. Several glimpses of the same have been observed in lithium ion battery industry lately, a couple of which have been enlisted below:

 
Daimler, one of most renowned automakers, has recently invested millions with regards to electric vehicle charging – a move that is likely to push lithium ion battery market size. The Germany based automotive giant has collaborated with an Israeli startup, StoreDot, the battery technology of which can charge EVs within a matter of minutes. In addition, StoreDot is also involved in the development of next-generation lithium-ion batteries – the startup claims that after a full charging session, these eco-friendly batteries would allow vehicles to travel more than 300 miles. Undeniably, Daimler's investment in Storedot is likely to impel its position in lithium ion battery industry. In fact, recently, Daimler has even launched an all-new fully electric school bus in the United States. For the record, U.S. contributed more than 70% toward the lithium ion battery industry share in 2015.

 

The Indian government aims to completely electrify all the passenger cars by 2030 – a move that has now generated lucrative opportunities for startup companies in lithium ion battery market. Most of the startup companies in India in fact, have begun to sell electric conversion kits to diesel and petrol based vehicle owners. In order to improve efficiency and performance of vehicles, these companies are giving preference to Li-ion batteries, which will further propel lithium ion battery industry size in India.

 

A California based electronic vehicle startup, Lucid Motors has recently invested USD 131 million to produce luxury electric cars, that are certain to emerge as a game-changer for lithium ion battery market. In order to encourage entrepreneurs to develop electric vehicles, regional governments have also been providing considerable funds – for instance, the Chinese government has provided funds for several China based companies such as NextEV and Weltmeister. Aided by the contribution of regional governments, lithium ion battery industry outlook is likely to witness a transformation in the years ahead.

 
Renowned behemoths across several countries are now prioritizing battery-powered EVs over combustion engines pertaining to the latter's long-range benefits such as usage of clean energy, zero noise, and air pollution. In order to increase the deployment of fossil fuels and curb pollution levels, various regulatory bodies have been enforcing stringent norms, that would eventually help increase the adoption of electric vehicles. In consequence, this is expected to have a lucrative impact on the revenue graph of lithium ion battery industry.

 
How the Indian government's energy storage capacity expansion plan will propel lithium ion battery market share
Th Indian sub-continent, in recent times, has emerged as a profitable hub for lithium ion battery industry. The Indian government had scarcely framed a policy to add over 1 GWh of Li-ion battery storage capacity by the end of 2017. With the implementation of this policy, India is looking forward to becoming one of the most profitable avenues for lithium ion battery industry, and has already set up the framework for numerous Li-ion battery manufacturing plants. Currently, in India, more than 1 GWh energy has been distributed from lithium ion batteries mainly for ATM machines and telecom towers, however, this threshold has been achieved via imported battery packs.

 
In order to reduce the dependency on the same, the Indian government has called in upon key lithium ion battery market players to invest in India. Owing to the country's favorable Foreign Direct Investment (FDI) Policy, many companies have been looking forward to placing their bets on this nation. In this regard, one of India's prominent passenger vehicle makers, the Japan-based Suzuki Motor Corporation, has been planning to establish a lithium ion battery plant in tandem with Denso and Toshiba. Collectively, all three companies are expected to invest INR 1,150 crore to construct the new plant for manufacturing lithium ion batteries. This massive project is expected to further catapult India across APAC lithium ion battery market, and help the country emerge as a major provider of electric mobility over the coming years. In addition, this investment is likely to generate considerable employment for the Indian masses.

 
It is prudent to mention that The Indian Space Research Organization has also collaborated with BHEL to develop low-cost lithium ion batteries for electric vehicles, which would further spur the regional lithium-ion battery market.

 
Taking into account the proliferation of electric vehicles, major tech giants in lithium ion battery market have shifted their focus toward the development of advanced battery packs. For instance, the Tokyo-based electronics manufacturer, Toshiba has announced the development of its next-generation SCiB battery, which is incorporated with the newly developed titanium niobium oxide anode material. Generally, graphite-based anodes are used in Li-ion, but this newly replaced anode is expected to double the battery capacity. Apart from deploying innovative technology to encourage people to adopt Li-Ion battery based products, key players in lithium ion battery industry are working continuously to reduce the overall capital costs. Considering the shifting trends toward the implementation of renewable energy technologies, it has been predicted that in the future, the deployment of Li-ion battery would not only increase for automotive applications but also for the household sector, consumer electronics, and energy storage systems for manufacturing plants. Driven by a strict regulatory frame of reference that mandates norms to adopt clean energy facilities, lithium ion battery industry size, as per Global Market Insights, Inc., is likely to surpass a revenue of USD 53 billion by the end of 2024.

 
Global Market Insights, Inc. has a report titled "Lithium Ion Battery Market Size By Technology (Cathodes, Anodes, Separators, Electrolytes), By Application (Automotive, Industrial, Consumer, Renewable and Grid Energy Storage), Industry Analysis Report, Regional Outlook (U.S., Canada, Germany, France, Italy, UK, Spain, China, Japan, South Korea, India, Australia, Saudi Arabia, UAE, South Africa, Argentina, Brazil, Mexico), Growth Potential, Competitive Market Share & Forecast, 2016 – 2024" available at
https://www.gminsights.com/industry-analysis/lithium-ion-battery-market
Join To Our Newsletter
You are welcome