Marketing is a critical business imperative for MSPs of any size; yet, for small and medium-sized MSPs, promoting your company and services can pose a major challenge. MSP marketing activities require time and resources, as well as an understanding of marketing tools and techniques for targeting potential sales leads.
Here, industry observers highlight rookie MSP marketing mistakes and how to fix them.
Crafting a website for your target customers
The company website is one place MSP marketing efforts tend to fall short. MSPs often set up their websites without knowing or making clear the customer pain points or problems they are looking to solve with their offerings. Additionally, MSP websites frequently fail to identify the type of customers they are trying to reach, said Michael Corey, co-founder of LicenseFortress, an Oracle license management and audit protection service provider headquartered in Westlake, Ohio.

The solution? Corey advised MSPs to add "lots of calls to action" to their websites, "because people are busy and you're not going to [capture] their attention for very long. Whatever your message is … get it out like an elevator pitch and then have a call for action." This will compel people to keep reading about your services, he said. For example, LicenseFortress' homepage prominently displays messages that encourage visitors to enhance their business operations and learn more about LicenseFortress' offerings.

MSPs' websites tend to talk about things they care about, not the things a potential customer would care about, observed Steve Burnside, director of business development and marketing at Clever Ducks, an MSP based in San Luis Obispo, Calif. "I see that a lot. For example, 'secure access anywhere, anytime, from any device.' When you go to an MSP's website, often on the homepage, they're talking about very technical things or issues the provider thinks are hot buttons," he said.

The information is generally not what the potential customers are looking for. "They're not going to be more interested in your company because you're using jargon," Burnside said.

The headline on Clever Ducks' homepage is "Local IT support for your business 24/7." This was chosen so that "we're not pigeonholing ourselves," Burnside noted. When visitors scroll down, they see two options for engaging with the MSP: "IT has become a headache" or "You've got plans, but your IT is not going to get you there." "Our marketing [speaks] at a higher level to get people interested in what we have to offer," Burnside said.
When to outsource MSP marketing
MSPs often receive calls from marketing agencies claiming they can help, Corey said. "The first mistake is: Why do [MSPs] think someone else understands their business and marketplace better than they do? I'm not saying there's no value in working with marketing organizations … but they don't replace your subject-matter experts."

Instead, MSPs should use marketing agencies to augment and amplify in-house efforts. "Don't go looking for [marketing agencies] to solve your marketing problem. Look for them to help get your message out to more people," Corey said.

A typical issue with marketers is they don't use metrics to show how MSPs' investments are paying off, he noted: "Anytime you spend money on marketing, you better figure out how you're going to measure it."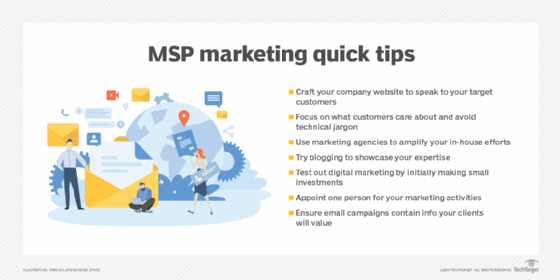 Also, MSPs that outsource to marketing agencies should ensure marketing activities use multiple touchpoints, such as customer case studies, downloadable e-books and blogs.

"A huge mistake [MSPs] make is they don't understand the power of a blog," Corey said. It's a good idea to write about a trend in the industry because that offers something of value without explicitly selling the reader on anything. A well-written blog post can have a long shelf life that prospective customers can find for years after it's published.

When MSPs outsource marketing to an agency, things can go amiss if the agency falls out of step with the MSP's voice and brand, Burnside added. This can happen if the marketing agency has only a handful of staff and is spread thin with several client accounts, so they begin working with an additional agency. "Without [a marketing agency] spending a lot of time with [the MSP], it's hard to know what differentiates them," he said.
Smart investments in digital marketing
In Burnside's experience, MSPs have put "very little effort" into paid digital marketing.

However, MSPs are increasingly using Google marketing products — an area which has "a lot of potential," according to Burnside. It can be beneficial to either pay someone to work on your search engine optimization, or SEO, and rankings in organic Google searches, or buy a Google Ads plan to feature your advertising in Google search results.

Also, don't assume a single MSP ad campaign will work indefinitely. At best, Corey said, ad campaigns are effective for 12 to 18 months. "Whatever you're doing today, within [12 to 18 months] you'll be copied by the competition if it's good — or it will stop working or lose its intensity." Marketing is like fashion; it changes over time, he added.

Corey advised that if an MSP marketing campaign strikes gold, they should put it aside once the campaign has run its course and reuse it later. "If something is successful, put it on the back burner and then put it out again in a couple of years. Understand there's a lifecycle to these things," he said. MSPs that measure the performance of a campaign will see this.

Corey's other piece of advice was to make "small bets" and not spend significantly on something you're unsure about. "Too often, [marketers] will say, 'Spend $50,000 or $100,00 on me and I'll solve your problem.' And if they don't, you have a bigger problem — you've [spent] all your marketing for the year."

MSPs should also pay attention to their competitors' marketing activities on social media. "The beauty of the internet is I can find out a lot of information about my customers and the competition easily. Take advantage of that. If [competitors] are copying you, that's a great sign" you're doing the right things and they are playing catch-up, Corey said.
Look around you for marketing support
Pretty much anyone with a technology background can do a decent job with MSP marketing, Corey asserted. However, as people doing the work move up in the organization, they will have to outsource portions of their marketing strategy, such as web design, for example.

Before taking the outsourcing route, look at the marketing skills you have internally and nearby. MSPs often don't take advantage of resources like local colleges, where a student might be willing to do a logo design or graphics for your website, he said.
The heart behind marketing is to provide value to people.


Steve BurnsideDirector of business development and marketing, Clever Ducks

Burnside said he believes MSP needs an in-house point person to act as a marketing liaison. That employee should represent a single point of contact inside the organization to ensure the MSP marketing language is accurate and the messaging is consistent. That employee should advocate for the overall marketing plan as well.

"This is often difficult in our space. For most of us MSPs, there isn't a full[-time] marketing job role" in a 20-person company," Burnside said. "So, it's important to have someone inside that cares about the marketing plan driving change forward."
Steering clear of the spam folder
All too often, email marketing messages go straight to a recipient's spam folder, Corey said. Additionally, the emails MSPs send out are sometimes overly verbose or complicated. "Sometimes a simple email is the easiest way to get someone's attention."

Burnside agreed, saying there are a lot of email marketing companies that offer to provide MSPs prewritten emails around a certain topic — and those emails typically end up in spam folders.

"Most emails don't have enough thought leadership in them [worthwhile] to read," Burnside noted.

Clever Ducks wants every email it sends out to contain something of value. "That's our North Star. We don't outsource any of that," he said. "We've tried outsourcing in the past, and it always comes back that … there's not a lot of meat on the bones."

The biggest mistake an MSP can make is to dispatch "dry, generic emails" for the sake of sending them, he said.

"The heart behind marketing is to provide value to people," Burnside said. "Our idea of marketing is: How can we bring information to people where they would miss it if were gone?"
Join To Our Newsletter
You are welcome