Whether it's curbside pickup, same-day home delivery, or streamlined app services, the grocery-tech arms race is centered around one thing: shopper convenience.
Walmart has struck the latest blow by extending its voice shopping service to Siri, Apple's voice assistant. The service, which is available through Walmart's Grocery app, allows Apple users to add items to their online carts with a simple voice command to Siri.
See Also: Shoppers Use Google Home to Order Walmart Groceries
It's yet another attempt to make shoppers' lives a little easier.
But what do the shoppers themselves think about it? We asked over a hundred iPhone users to give it a try.
"Add to Walmart": Step by Step
Field Agent enlisted 139 iPhone users to download the Walmart Grocery app and enable the "Voice Shopping" option.
With voice shopping enabled, the process went something like this…
Users cued Siri to listen by saying, "Hey Siri, add to Walmart."
Siri responded with, "What would you like to add to your cart?"
Shoppers then named one item, and Siri responded with a picture of a popular item meeting the user's description. Depending on the circumstances, Siri then asked shoppers to tell her how many items they wanted…or gave them the option of saying "next item," in which case a different but similar item was displayed.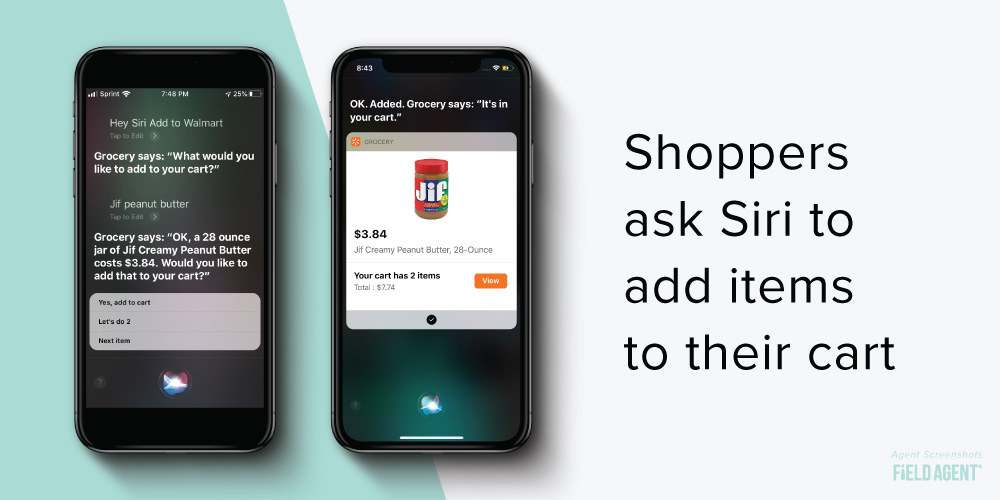 Based on our agents' experiences, Siri also knows when a similar product is already in the shopper's cart, and, moreover, the voice assistant can use the shopper's previous purchases to recommend items. 
The process ended with Siri confirming that the item had been added to the user's cart.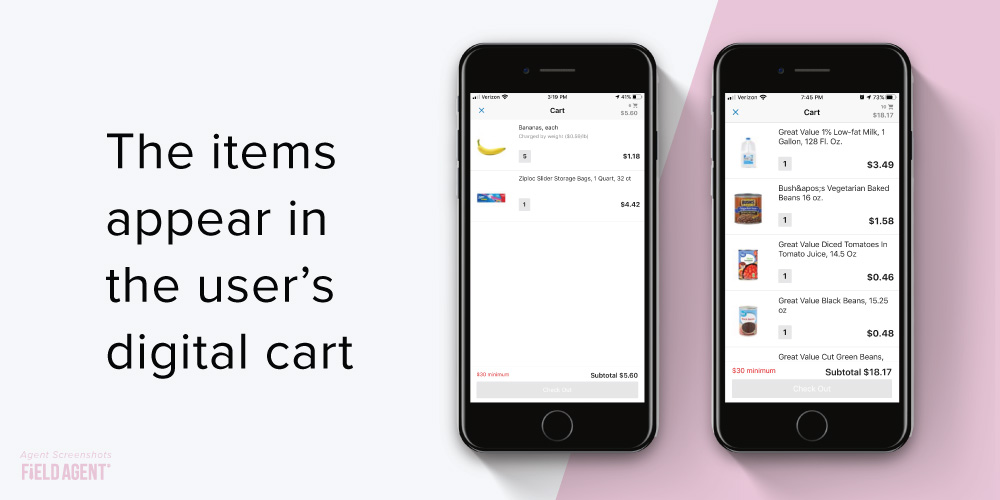 Did Walmart Voice Order Speak to Shoppers?
Shoppers were overwhelmingly positive about the ability to summon groceries with only a word. Sixty percent of participants (N = 139) said they would be either completely or very likely to use Siri to shop with Walmart again in the future, and 83% said they were at least moderately likely to do so.
Among shoppers who purchase groceries from Walmart at least once a month (n = 125), 64% were completely/very likely to use the service again and 86% at least moderately likely.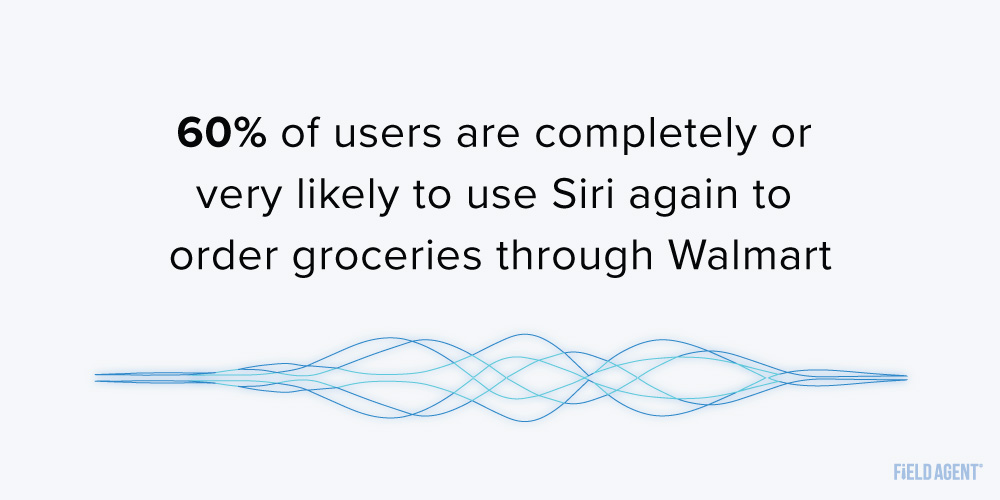 Agent reviews praised the convenience of Walmart's Voice Shopping. Many appreciated how the service saved time and simplified the process of keeping a shopping list.
Some agents, however, found it difficult to browse similar options, and others questioned whether Siri was offering the most economical option.
In their own words:
"Using Siri to add to my Walmart grocery cart was incredibly easy. It is great to use while walking through your kitchen looking for items you might be getting low on."

"Part of shopping is the ability to browse and always ensure you're getting the best deal with fluctuating prices. [Voice order] is convenient but does not allow for that."

"I liked that I could just use my voice and didn't have to type any items in. This is a great option!"
But does Walmart Voice Order, powered by Siri, make shoppers more likely to use the Walmart Grocery app?
Seventy-seven percent said their experience shopping with Siri made them at least a little more likely to shop through the grocery app, and just over a quarter (27%) said they were much more likely to use the app now that they have Siri's assistance.
While it remains to be seen whether this service will take off in popularity, many of our agents see it making their lives easier. When asked to suggest words that describe Walmart Voice Order (via Siri), agents overwhelmingly chose convenience-related words like "easy," "simple," and "fast."
All good signs for Walmart and its efforts to make shopping more convenient for its digital customers.
Speaking of online grocery shopping, Field Agent's popular report, "Groceries 2.0, Vol. III," takes a deeper look at this important topic. Read more below.
Free Report: Groceries 2.0, Vol. III
Based on surveys and studies with approximately 4,500 everyday shoppers, Groceries 2.0, Vol. III is a fun and informative look at "the rise of online grocery-shopping." Spanning almost 30 pages, the free report explores questions like:
How many U.S. households purchase groceries online for store pickup, package delivery, and "fresh" delivery?
Which retailers are leading the way in the digital-grocery era?
What are shoppers' top concerns about buying groceries online?
The free report also includes several "digital-grocery spotlights," with up-close looks at pickup operations among regional grocers, grocery-shopping with smart speakers, and more.
Download Groceries 2.0, Vol. III today…and get up to speed on all things digital-grocery.
Join To Our Newsletter
You are welcome