Samsung just announced the Cardinal Red Galaxy S10 series (S10 and S10+) and a Galaxy S10+-only Diamond Silver variant. Both color variants are only available in Switzerland and Hong Kong respectively. However, those are not the only two color variants that have just been announced. There is a third, with a stunning gradient finish but it is a limited edition variant – to be precise, the Galaxy S10+ Park Hang Seo Limited Edition.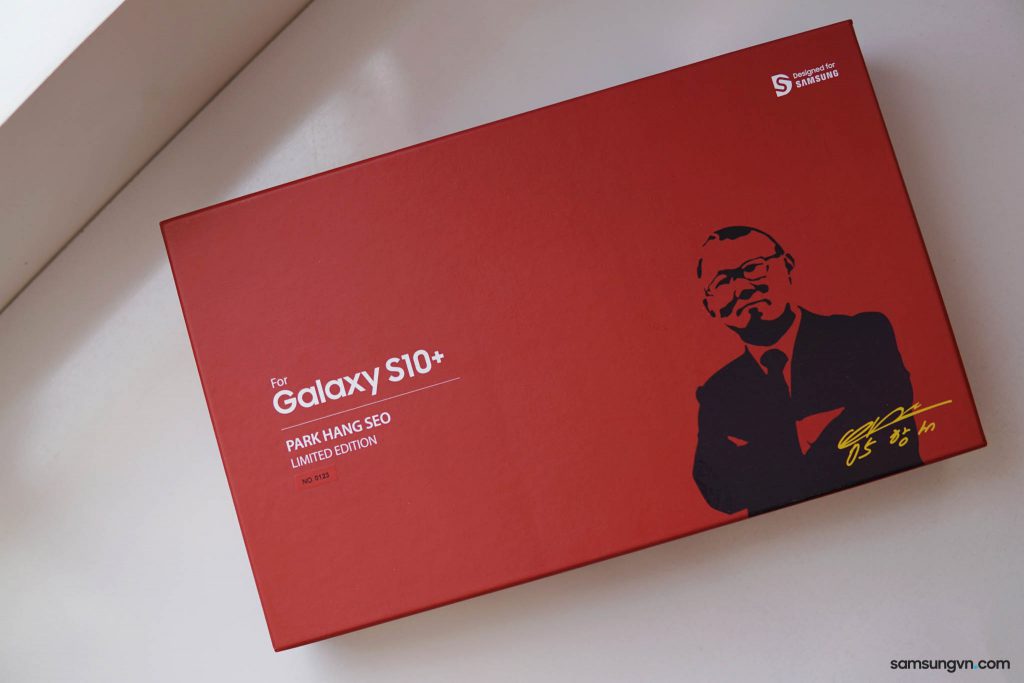 For those who don't know, Park Hang Seo is a former South Korean footballer that is now the head coach of the Vietnam national football team. This limited edition Galaxy S10+ was released to honor him and will be exclusive to Vietnam.
The phone not only has a different finish from the other variants, but it also comes in a special box along with additional accessories.
Seeing the red box, one might presume the phone inside has the same color but it doesn't. The color is actually called Prism Silver and is similar to that of the Honor 10 GT Lily White Edition but with a wider spectrum of colors, for lack of a better way to describe it. It sure will turn heads as it switches from purple to green to orange to pink.  This limited edition has 8GB of RAM, 128GB of storage and dual SIM support.
Included in the box is a customized hard case in red. It is a sturdy case but the font and color used to write the veteran footballer's name look off. The case has a few tricks of its own. Slap it on and you are prompted to download AR stickers designed to show your support for the Vietnamese team and a custom theme for the phone. There is also a prompt to get news related to the sports team and the coach.
There is also a Samsung 10000mAh wireless battery pack included in the package. The power bank will allow you to charge the S10+ wirelessly while you use the port to charge another device. It has a Type-C port and also supports fast charge.
The Galaxy S10+ Park Hang Seo Limited Edition is priced at VND 23,990,000 ($1033) and will be available or purchase on June 16 at Samsung Showcase, at Samsung Stores, and on the official Samsung website.