Handbrake is a popular software that lets you convert videos and rip DVDs. Though it offers you many DVD ripping and video converting features, it lacks at many places.
People who have used Handbrake would know the limitations and the problems faced during video converting and DVD ripping. Firstly, it is very slow and error-prone. Users face unexpected crashing, don't support encrypted DVDs, don't allow you to crop, rotate, trim, flip video, poor output quality, missing subtitles and so on.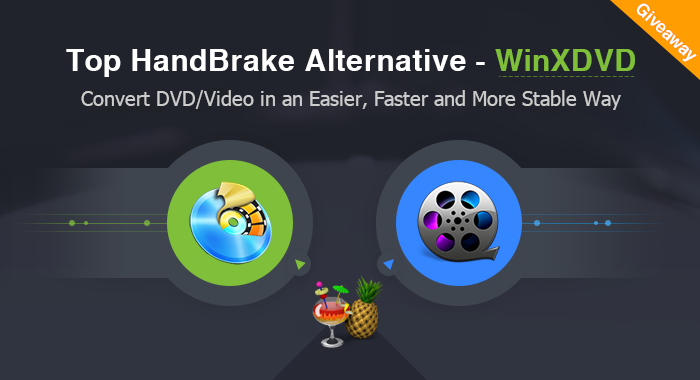 So, if you too are looking for a better alternative to Handbrake then WinX software ( WinX DVD Ripper Platinum + WinX HD Video Converter Deluxe) are the best options for you. But why? I'm glad you asked. Let's discuss.
What Makes WinX Software Better Alternatives To Handbrake
User-Friendly
There are many factors which make WinX software ( WinX DVD Ripper Platinum + WinX HD Video Converter Deluxe) better Handbrake alternative. So, let's start with the interface of the software. If we see the interface of Handbrake, you would know how old and unattractive is the design of the software. Not only the design but it is not that user-friendly as compared to the WinX software. Both WinX HD Video Converter and WinX DVD Ripper provide a user-interface with rich design and easy navigation. You would love using WinX software as they are quite easy to navigate and use, unlike Handbrake.
Rip Any Kind of DVD
With the help of WinX DVD Ripper, you can rip any kind of DVD. It enables you to rip all types of DVDs. You can rip almost every DVD to MP4 or any other format using this tool. It's like a one-stop solution for all your DVD ripping needs. Whether it's 99-title DVD, homemade DVD,  TV shows DVD, music, movies or workout DVD, it can rip them all. Even if you have a scratched DVD, damaged or unplayable DVD, you rip those DVDs too without any issue. Also, region-restricted DVDs can be ripped by WinX DVD Ripper.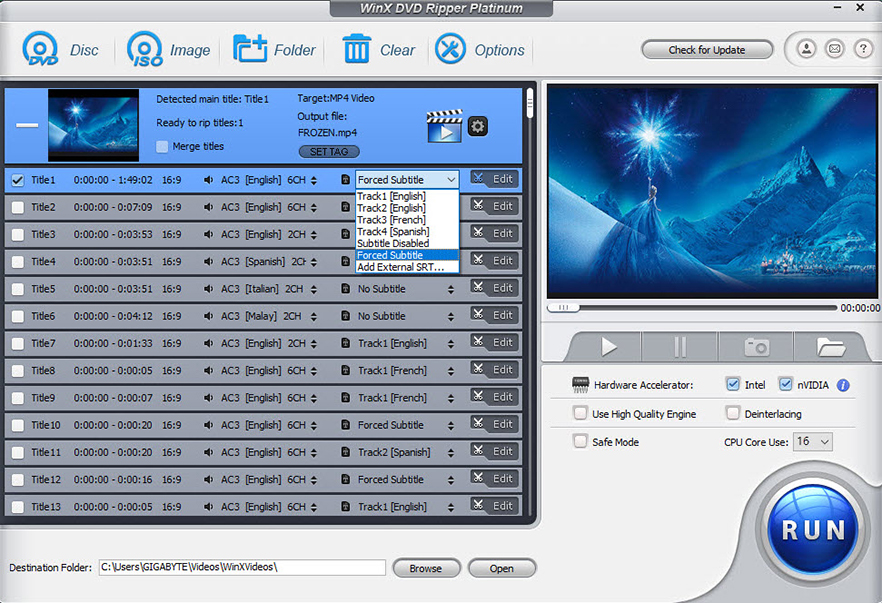 On the other hand, Handbrake only lets you rip simple DVDs and IOS images without DVD protection. You don't get all the benefits of DVD ripping in Handbrake as provided by WinX DVD ripper.
Multi-format Support
When it comes to video converting, WinX HD Video Converter enables you to convert videos from any format to another video format. It offers a huge number of supported formats including MPEG-4, M2TS, AVI, MKV, HEVC, H.264, ISO images, MOV, MOD camcorder videos to 1080p multi-track HD videos and so on. You can even make your videos device compatible so that you can play them anywhere on any device. If any of your videos are not compatible with your device whether iOS, Xbox, PS4 or any Android device, you can make videos any device compatible within seconds with this HEVC video converter. it offers you 420+ preset profiles.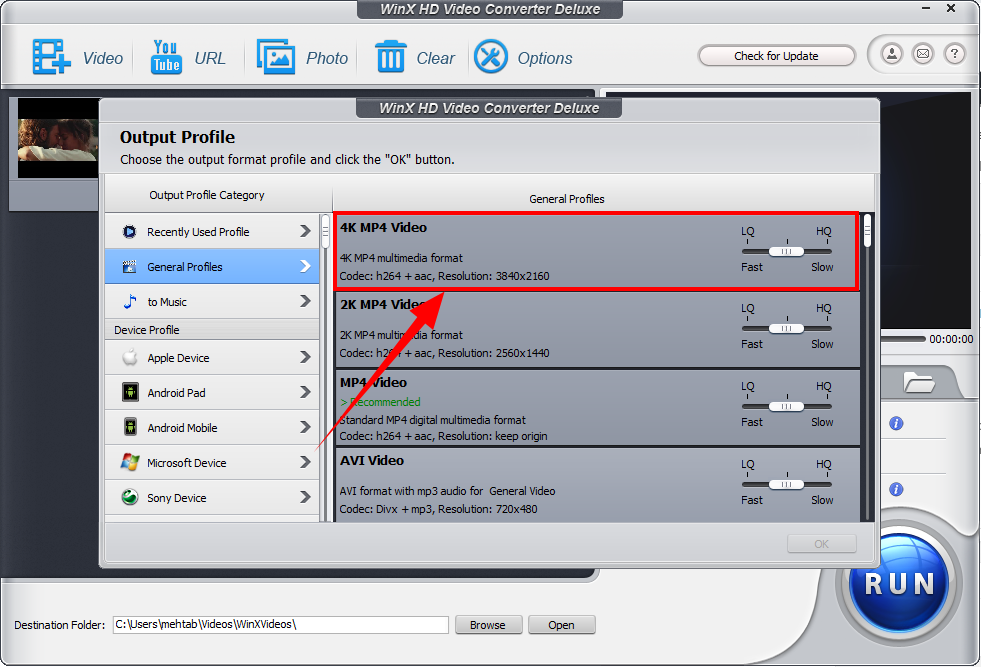 Whereas in Handbrake, you only get a fewer number of formats than WinX HD Video Converter such as MKV, MP4 container, HEVC, MPEG-2, MPEG-4, MP3, AAC, Vorbis, FLAC, AC-3 and so on.
DVD BackUp
Another feature of WinX DVD Ripper which makes it a wonderful Handbrake alternative is the backup option. You can easily backup your DVD using this tool. It lets you 1:1 DVD clone to IOS image with ease. You can even backup your DVD to MPEG2 file.
On the other hand, Handbrake doesn't provide you backup feature at all. There is no option to back up your DVD.
Edit Videos easily
Editing options in WinX software are quite diverse. Editing DVDs is not an easy task but with WinX DVD Ripper, you can easily edit DVD. It allows you to crop the DVD content and remove all the extra unwanted part and you can even merge multiple DVD titles into one.
WinX HD Video Converter allows you to edit videos with the basic video editing features such as crop out border, remove unwanted video parts, add subtitles and more.
But if you are using Handbrake, you get limited editing options and it is also quite difficult to operate with the complicated command lines in CLI interface.
Orginal Output Quality
If we talk about the quality of output video whether the converted video or ripped DVD content, you get almost original quality output. WinX software doesn't compromise on the quality of the output content and offers you clean and clear HD quality output videos just like their original ones.
Handbrake, on the other hand, does alter the quality of the output content and provides you lesser quality output videos.
5X Faster
Ripping and conversion speed does matter a lot and WinX Hd knows it well. It offers 5X faster conversion speed. Handbrake takes hours to rip a full-length DVD but with WinX DVD Ripper it only takes about 5 minutes to rip a feature-length DVD. Its level-3 hardware acceleration helps to increase the conversion speed about 32X faster.
Offer! Offer! Offer!
Well, you have known all the benefits of using WinX DVD Ripper and WinX HD Video Converter over Handbrake and I'm sure you are looking forward to grabbing this product as soon as possible.
But to make it even more interesting here is a giveaway campaign by WinX which offers you to get a free license of WinX DVD Ripper Platinum worth $67.95. And the round 2 of this campaign offers you a free license of WinX HD Video Converter Deluxe.
You only have to do one single thing, simply visit the campaign page and enter your email ID. The license key of the software and other details would be sent to your email. So, grab Handbrake alternatives for free before it expires, Hurry Up!
Conclusion
From the above comparison of Handbrake and WinX software, it's clear that WinX HD Video Converter Deluxe and WinX DVD Ripper are the best alternatives to Handbrake. You get more features, intuitive interface, simple and easy process, 5X faster conversion speed and not to forget the amazing giveaway campaign. The full versions of WinX software are affordable and cost you $29.95 (WinX HD Video Converter Deluxe) and $29.95 (WinX DVD Ripper Platinum) and totally worth your money.
Join To Our Newsletter
You are welcome