Do you want to show appreciation for your top clients this holiday season, but don't know what to get? If so, then you're in luck. In this post, I'll share with you some great gifts you can send to your clients this holiday season.
Choosing Which Clients to Gift
One question you might have in relation to client gifting is to whom you should send gifts. If you have a small number of clients, then the number is easy – all of them. If you have a large number of clients, then the selection might get a little tricky.
There are a few ways to approach selecting the right clients to send gifts to. You can go with your VIP clients – clients who spend a certain amount with your business, clients who have been with your business for a long time, or clients who belong to a loyalty program for your business.
The challenge to selective gifting is envy. Your clients might snap a photo of their gift and thank you for it on your Facebook page, through a tweet, or on some other social platform. Clients who didn't get a gift might feel left out or unappreciated. So this is something to keep in mind in your selection process.
Setting Your Client Gift Budget
There are great business and corporate gift options for every budget. So how can you determine how much to spend on your own clients?
Many businesses will base the number on the revenue they generate per client. You'll likely think something much smaller for clients that are spending under $10,000 per year with your business and, conversely, something much larger for clients that are spending over $1 million per year with your business.
In most cases, it's going to be the thought that counts more than anything else. An expensive but thoughtless gift will be worse than an inexpensive but thoughtful one.
Gift Ideas
Now, let's look at some ideas for gifts you can give to your clients so you can skip the fruit cake! These gifts are also great for business partners, employees, and anyone else you would like to introduce your business to in a professional manner this holiday season. Most offer discounted pricing based on volume, so be sure to take advantage!
Holiday Greeting Cards
Cost: $1–$5 per client
At an absolute bare minimum, you should send your clients a holiday greeting card. It can be as simple as running out to the store and buying a package of cards that you sign and send to your clients. Or, if you want to do something with more pizzazz, you can use services like TinyPrints to customize cards with your business name and logo, like the one shown above.
You don't have to write a long, sappy message inside each card. Depending on the size of your company, you may have the business owner only sign the card or have everyone in the office sign it. Or, for certain clients, you may want their salesperson, their project or account manager, and their customer support person to sign it along with the business owner.
Gift Cards
Cost: $5–$$$ per client
Stop thinking of gift cards as the most impersonal gift option available during the holidays, and start thinking of them as the most personal. Your clients can do anything they want with a gift card. They are not pigeonholed to what you believe would make a great gift.
You can get gift cards that are delivered digitally, gift cards that you include with the above-mentioned holiday cards, or gift cards that you get boxed and shipped to your clients. You can get gift cards that work for anything – Visa and MasterCard gift cards, gift cards to restaurants, gift cards to stores, gift cards to massage and spa services, etc. The sky's the limit on both price and application.
M&Ms
Cost: $4–$160 per client
Love M&Ms? Think your clients do too? M&Ms has business gift options that will allow you to customize packages of M&Ms with your company colors, logo, or name. This is a sweet and simple gift that can go a long way with a lot of your clients.
Gourmet Chocolate
Cost: $10–$200 per client
Chocolate is usually a safe bet, unless you have a health-based business or one that might cater to an audience with specific food allergies and sensitivities. Godiva offers a variety of business gifts to choose from, from small four-piece favors to outrageous gift towers.
Executive Gifts
Cost: $11–$850 per client
When you browse the business gift section of Pottery Barn, you will find an assortment of choices sure to please any executive clients you may be gifting this holiday season. Business card holders, cribbage sets, leather drink coasters, crystal stemware, and more can be monogrammed for personalization or sent as is to your favorite clients.
Wine
Cost: $12–$500 per client
Do you know your clients enjoy wine? If so, Wine.com has a variety of gifts to choose from. You can send your clients an individual bottle of chardonnay or a quintessential wine collection.
Food Assortments
Cost: $25–$300 per client
Cookies, cheeses, and croissants are a few of the many business gift items that Williams-Sonoma have to offer. In addition to food, they also have bar tools, carving boards, and espresso makers that can be monogrammed with initials or your company logo. Think of it as a holiday gift dedicated to your client's kitchens or office breakroom.
Embroidered Gifts
Cost: $25–$100 per client
Want to make sure that your clients don't forget about you in the new year? Consider giving them something they can use all of the time. L.L. Bean offers a variety of packs, throws, jackets, and pullovers that can be sent as they are to your clients or customized with your company logo. Be sure to consider where your clients are located, as someone in Phoenix will have a limited time to enjoy fleece apparel.
Desktop Accessories
Cost: $25–$350 per client
Brookstone offers business gifts that will help your clients spruce up their desk or travel in style. You can send your clients Bluetooth virtual keyboards, Newton's cradles, orthopedic desk chair cushions, global twist outlet adapters, leather passport wallets, stress-relieving sand, and many other useful items for professionals in the office and on the go.
Elegant Gifts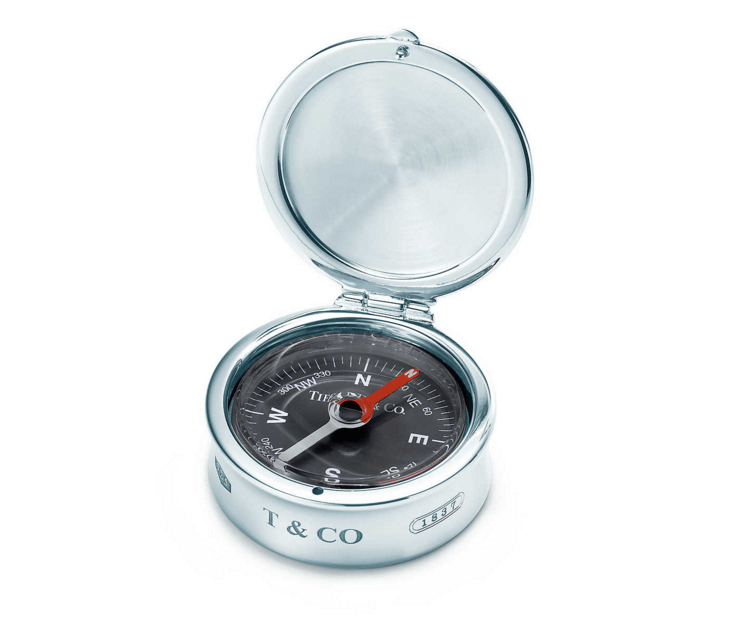 Cost: $25–$12,000 per client
Do you want to make an elegant impression on your clients this holiday season? Tiffany offers a business gift selection that includes crystal glasses, sleek pens, planners, business card holders, watches, jewelry, and more.
Living Gifts
Cost: $40–$300 per client
No, you don't want to send your clients a fish or other pet for the holidays. But FTD offers the next best thing – plants. You can send your clients a real bamboo, money tree, or bonsai to decorate their offices for the year to come. In addition, you can also find some great gift baskets for those clients who like fresh fruit, kosher items, Starbucks, nuts, cheesecake, and much more.
Smart Technology
Cost: $40–$400 per client
While I wouldn't recommend any personal grooming tool for your clients (unless you are an ear, nose, and throat doctor or have a very specific client base), Sharper Image has an interesting selection of smart technology items to choose from in their corporate gifts section. Travel alarm clocks, digital password vaults, air purifiers, jellyfish aquariums, and other gifts will definitely stand out and keep your clients entertained throughout the new year.
Edible Arrangements
Cost: $50–$600 per client
Looking for something a little more unique? If you live near an Edible Arrangements store, you can send beautifully arranged fruits and sweets to your clients as business gifts. These gifts will appeal to both the health-conscious and the chocolate lovers at the same time. And they are sure to make a lasting impression.
In Conclusion
As you can see, there are lots of great holiday gift ideas for your clients and others related to your business that go beyond the cheesy stuff you can pick up at your local pharmacy. Best of all, you will find something great that both your clients and your budget will love.