The rise in voice search has stolen the marketing tech headlines for 2018
If comScore and Mary Meeker's annual internet trends reports are to be believed, 2018 could indeed be the firing of the starting pistol in the race for brands to optimize for voice. Both of these industry sources reported that:
"40% of adults now use voice search once per day and Google voice search queries were up 35 fold in 2016 from 2008 levels"
But before jumping head-first into exercising a "voice strategy" let's take a brief look at the opportunity and what it means for brands looking to take advantage of this tactic when it comes to content marketing. For those who have not subscribed to the free online digital marketing conference, Digital Olympus, I would seriously recommend subscribing to it.
The event brings together expert speakers from the world of digital marketing to present slide decks on specific subject areas, one of these was Voice Search presented by speaker Jono Alderson.
Jono presented a fascinating glimpse into the origins of platforms and technology through to the dawn of voice-enabled devices and how this could be impacting brands, their future and what brands need to be considering to adjust their strategy to retain awareness and relevancy through voice-enabled devices.
The change in Search
With voice, it's suggested that consumers will no longer be part of the buying cycle. All advertising works on the assumption you can interrupt or purchase a user's attention, So let's take a scenario of a brand promoting their product or service through a desktop or mobile platform.
In the context of a digital marketing plan, it might be to adopt a campaign to purchase display ads or optimize a product through using a mix of tactics such as SEO and a paid social strategy. The idea here is to intercept and capitalize on search demand from users looking to purchase a product or service, for example:
If I want a new refrigerator I might be aware of four brands based on, the right price range, 5-star reviews, and a good reputation. If I am choosing between these brands I will have multiple browsers open on my desktop or mobile device where I will scroll through each brand's product page to further assess which model fridge I want to decide on.
The next stage of my decision-making process might be to then reduce my choices of brands based on further personal preferences as I move further down the purchase funnel.I may reduce the initial four brands as I include even more filtering based on my needs such as the delivery time, customer reviews, voucher code available or not?
But in a voice search environment – this changes completely:
In other words, the decision making, filtering of choices and also the number of brands you initially decide on is completely taken out of the consumer's control: for example
"Hi Google, I want a new fridge"
All the processes where the consumer looked at brands or was influenced by advertising, or optimized for search no longer happens… All the points where a brand used to earn attention no longer exist with voice search.
How do you ensure your brand is positioned when your brand can no longer rely on the tactical elements it would usually deploy on a desktop?
The tech giants stealing the market when it comes to voice-enabled devices are Google Home, Amazon Alexa and Siri and it's suggested they use three concepts to make decisions to build sets for users
Availability – What is the availability of the product/service the user requests
The Suitability of the best brand relevant to my needs (is it cheap, 4 stars, locality)
Implied preference – based on all the vendors, which one looks like a good fit based on your past preferences and behaviour?
Past preference and behaviour is built from a collection of insights and data Google has on the user e.g. it will look at every piece of data on you from every connected device to build up a profile – which brands have you interacted with, where do you shop, who you've reviewed etc.
Brands will need to consider how to positively influence this consideration set (availability, suitability, implied preference). In other words, as a brand, you need to be asking the question: How can my brand retain it's relevancy through in voice search results to meet the broad criteria of the user?
What's important to understand is the changing environment for brands to interrupt the customer and their decision-making journey – it's going to get a lot tougher. Traditional digital marketing provides a number of tools and tactics to do just that – deploy a re-targeting campaign, launch a paid search or affiliate marketing strategy or even optimize product and content pages to achieve page one rankings on a search engine.
The reality is these types of tactics won't have a role to play when it comes to voice and when the voice-enabled device has built up its own understanding of your search history and brand preferences – it's going to provide you with a single option based on your instruction or "moment"
So what are the opportunities for brands?
We could be seeing a shift in brand strategy to look to engage in the concept of mass marketing: can brands get users to read an article, like a post, download our app, subscribe to our newsletter? By doing this, you're developing brand reach across potential customers who would have interacted with your brand through a digital touch point and therefore you will be recommended as a brand within the decision-making system (as discussed)
Brands will need to market proactively to consumers many months before they exhibit a specific need – the marketing might not directly convert but its job is to ensure it is building out "brand currency" that is considered an attribution to final conversion and visibility through voice.
To expand on the logic of mass marketing and driving wider touch-points with more diverse audiences, this could see brands venture into new markets through product development or through content marketing – appealing to new audiences via related industries.
For further reading on this approach, I would recommend you take a look at Blue Ocean Strategy – this is a framework, created by W. Chan.Kim and Renee Mauborgne: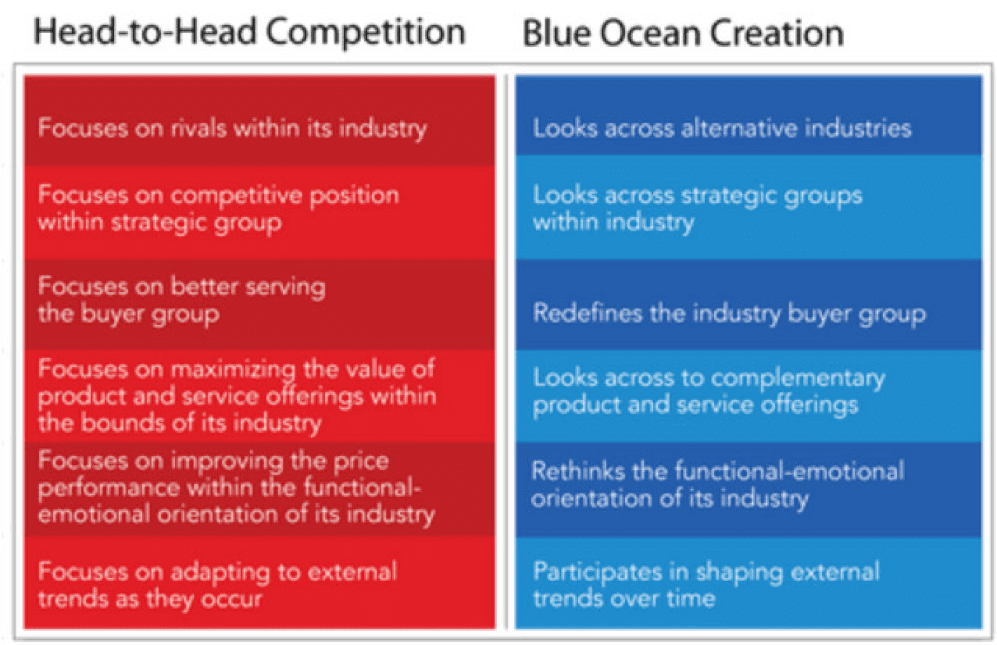 Blue Ocean suggests that rather than compete in "bloody red oceans" where competition is rife and price-led strategies are the key point of difference, organizations should ignore the competition and opt to create new markets (Blue Oceans). A good example of a brand that did this is Starbucks and how they redefined the coffee industry and experience
In the context of voice search – this similar strategy could be applied to organizations that are looking to shift their brands into new, uncontested marketplaces (where their competition does not exist) and look to create new products and services that will help fuel the opportunity of new audiences who can build "brand currency".
How to influence the consideration set to increase your "brand currency":
To take advantage of growing your brand visibility there are a number of practical techniques and tactics to consider when looking to driving potential touch points of your brand for example:
User Engagement – Has the user already installed the app, are you driving social shares, have you built out opportunities to build a content model, are you actively driving email subscribers, are you driving reviewed services? If a user has read an article, you are likely to be included in the consideration set
Build out your Questions and Answer Content – Are you addressing user questions within your industry? Start with keyword research and ensure your content efforts are answering the questions of your audience (who, what, why, where, how, when) – map out these types of questions and create useful content that addresses their needs
Understand Intent – Don't just focus on the keywords but understand the intent surrounding the keywords. Is there an opportunity for your business to develop content associated. Take a listen to this podcast by Dan Shure – http://www.evolvingseo.com/2018/03/08/090-aj-kohn/
Customer Service – Data alone is not going to provide the full picture. You need to be getting first-hand information from your customer-facing departments and look to adapt customer feedback into relevant content that could be used, what are the common questions, pain points to be adapted to content structure in supporting awareness of your brand
Analytics – Begin to plot out opportunities to explore new markets by data mining Google Analytics and Audience reports, specifically Interests and Affinity Categories and look to identify the types of categories that drive users to your desktop/mobile platforms – are there opportunities here to create new markets for your brand?
Domain Authority – A recent article by Backlinko.com analyzed 10,000 Google home results and identified a number of findings to consider when optimizing for voice. For brands with that have developed a high domain authority the research suggests that "authoritative domains tend to produce voice search results significantly more than non-authoritative domains" 
Building your brand's domain authority will, therefore, provide additional opportunities in maximizing brand exposure through voice
Now is the time for marketers and more importantly the wider organization they operate to better understand how and what voice search may mean and a good place to start is to better understand the position of the brand, as well as the opportunity voice search, may mean.
As discussed in the article, there are a number of both quantitative and qualitative insights available that can help to piece together what this opportunity or threat may be and how as a brand it can take advantage or indeed create new uncontested markets in satisfying the needs of your audience and new audiences
A recent video by L2 suggests that to understand the role of voice, brands need to be clear on what their goal is e.g. is it to sell product? Is it to support smart & connected homes, content and category authority e.g. providing utility supporting and assisting your audience.
If voice presents the decline in interrupting the consumer through a range of online/offline tactics, then brands will need to take an organisational view as to how this medium will be supporting and enhancing the brand and that means a move to understand and start with their audience, build a better understanding of their needs and wants and the role their brand plays in building a direct relationship.
Thanks to Simon Swan for sharing their advice and opinion in this post.