10 ecommerce platform marketing features you can't live without
Why these 10 ecommerce features are essential to your online marketing efforts
Choosing the best ecommerce platform for your needs is difficult. You've got dozens of choices, and it can be hard to tell the difference between the truth and the marketing hype.
When you factor in your shopping list of features to consider and the parameters specific to your situation that go into the decision, it's easy to get overwhelmed, which makes it even easier to make the wrong decision. And the stakes are high.
Making the wrong decision can leave you spending way more than necessary to set up your online shop with all of the features you need, paying too much in payment processing/transaction fees, or so frustrated that you go back to the drawing board. It's easy to see how analysis paralysis can happen.
Viewing the decision from the perspective of your marketing needs presents its own set of considerations. In ecommerce, after all, marketing is different from other types of businesses.
While sub-disciplines like transaction-triggered email marketing, conversion optimization and customer experience are key in every vertical, in ecommerce, they can be downright pivotal.
As an ecommerce marketer, your shop needs features that can support the types of activities you'll be emphasizing. Here are some must-have ecommerce platform features that marketers can't live without. Hopefully, -this guide will help you choose the best platform for you.
1. Trigger Personalized Emails
With email marketing, there's a ton you can do to reach out to people in your target audience based on what kind of transactions they've completed on your website and what their browsing patterns tell you about the audience segments they belong to.
For example, you can send upsell and cross-sell emails to people that highlight certain products based on a shopper's purchase or viewing history. You can keep your shoppers coming back for more with newsletters that feature product updates and exclusive discounts only available to subscribers. You can also send special offers to customers who've bought from you in the past but haven't visited your store in a while. You can also trigger emails to people who've abandoned their shopping carts, hopefully getting them to come back to your store and complete the purchase.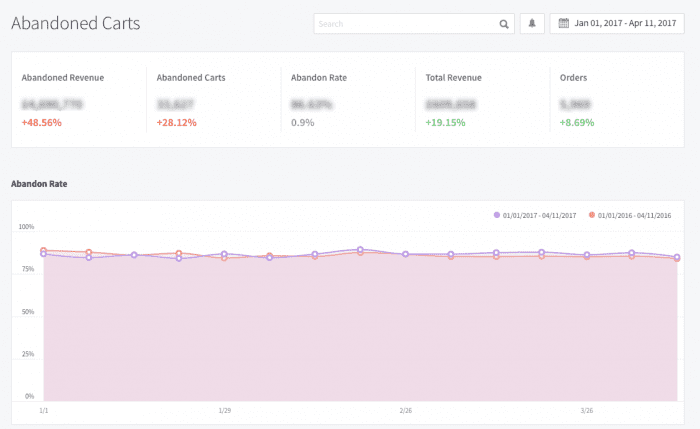 Image source: BigCommerce
BigCommerce's built-in "customer groups" functionality supports automated segmenting according to many of the above parameters and more. It also syncs with leading email marketing platforms like MailChimp, InfusionSoft, HubSpot and Constant Contact, so you can build out your messages in the environment you're used to – and know that the right contacts will see the right creative when the time comes. Moreover, BigCommerce estimates that its abandoned cart saver helps the average merchant to recover 15% of lost sales.
2. Leverage Reviews and Other UGC
84% of customers trust product reviews from other users as much as they trust recommendations from friends. And 55% of customers say online reviews influence their purchase decisions. A recent report from VWO, moreover, found that customer reviews are the top driver of customer trust when someone is unfamiliar with a shop.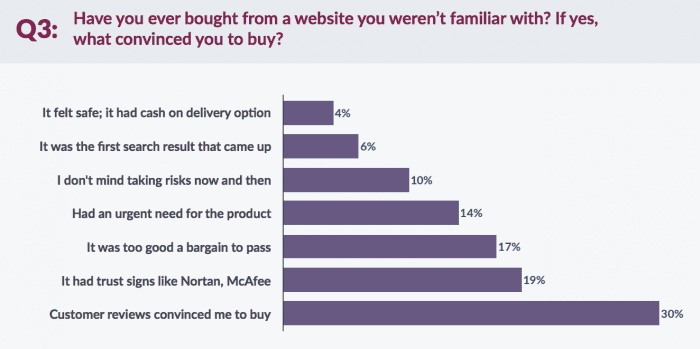 Image source: VWO eCommerce Survey Report 2017
That's why it's so important to compile as many reviews as you can from verified customers and make the most of these content assets. For consumer brands, if you're fortunate enough to have customers who produce other kinds of user-generated content (UGC) like photos or videos of your products in use, you need a way to quickly and easily use those, too.
Whatever ecommerce platform you choose should support the integration of UGC. Most of the leading platforms, for instance, offer integrations with Yotpo that allow you to include reviews, photos, and discussion threads.
3. Rich Analytics for Audience Insights
Analytics information is essential to help you make educated decisions about your business. You need to know who your top customers are, where new customers are coming from, the most and least popular products and categories in your store, your conversion rates, funnel stage dropoffs and more.
The more insights you have about your customers and what they're doing, the better you'll be able to double down on the marketing tactics and channels that are performing the best – and ditch those that aren't. These types of insights are also great for personalizing and optimizing your website's customer experience. The more you know, the more you can do to keep sales moving upward.

Image source: Magento
With Magento's business intelligence "essentials" features, for example, you can get access to all the data you need to keep your store booming. Pre-fab reports visualize month-over-month performance for metrics like average customer lifetime value, average number of products per order, average order value, new customers with vs. without coupons, time between orders among repeat customers and best-selling products by orders and by volume.
Magento BI essentials integrates with Google Analytics, supports spreadsheet exports for offline tinkering and allows users to build their own dashboard elements using custom queries.
4. Easy Onsite Promotional Unit Management
If you use sliders, banners or popups to promote any kind of sale or other special information to your audience, you'll want an ecommerce platform that makes managing these promotional units easy to handle. Ideally, the logic that drives the aggregation of these promotions should be sophisticated enough to target the right audience members with optimized messaging.
If it's not built-in, you'll have to use a separate platform to create and manage the banners and popups, which means extra time and lots of copying and pasting – or working directly with a developer to handle the work for you, which can be slow and expensive.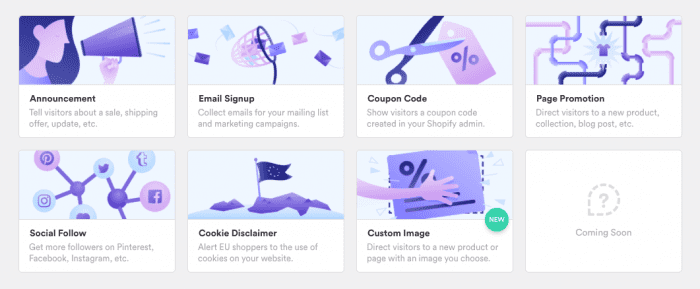 Image source: Pixelpop
With Pixelpop, an app available in the Shopify marketplace, you can control popups on your store. Use them to build your email list, promote sales and special offers, or grow your social following. Use triggers like exit-intent delays when someone tries to close the browser tab, time and scroll delays, device targeting, page targeting, geotargeting and more.
5. An Integrated Blog Platform
Blogs are great as a way to provide rich stories and engagement for your audience – if you want to build long-term relationships with people, not every touchpoint should overtly be part of a sales funnel. Particularly great blog posts can attract powerful backlinks and can rank for long-tail search queries, in ways that product pages simply can't.
Each post can also boost your SEO, because Google favors sites with dynamic, diverse, consistently growing troves of article content. And blogging allows you to publish deep dives into product use cases, tips and backstories in ways that are not appropriate for product pages, allowing you to rank for informational, as opposed to transactional, keywords. HubSpot has found a strong correlation between regular blogging and traffic.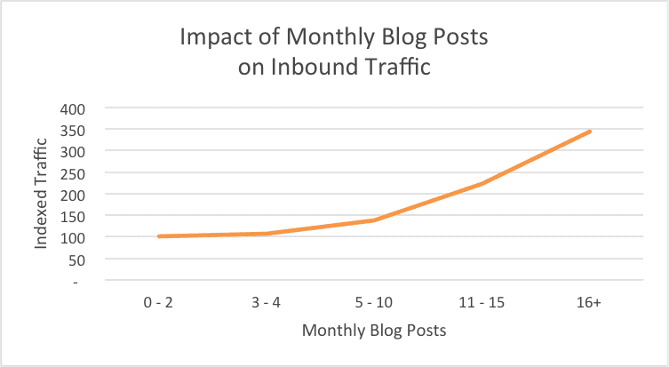 When your blog platform is integrated with your shop, it is not only easier for you to manage from an operational standpoint, but helps keep people on your store's website for longer periods of time, which also affects SEO. It's possible to create a blog that's attached to your store without it being integrated into the ecommerce platform itself – but it means running a subdomain with WordPress installed, and keeping up with two separate systems. This is why many ecommerce platforms, including Selz, offer integrated blogs.
6. Conversion Rate Optimization Options
When you design your store, you have to take your best guess as to what your audience will respond to best. Even the smallest elements, like the color or placement of a button, can have a major impact on your sales conversion rates. In a recent Econsultancy study, 74% of respondents who work with a structured approach to conversion rate optimization (CRO) experiments also say that they see sales improvements.
By serving up different versions of your pages to different visitors while tracking conversion lift, split testing is the best way to experiment with the interface design in order to maximize revenue.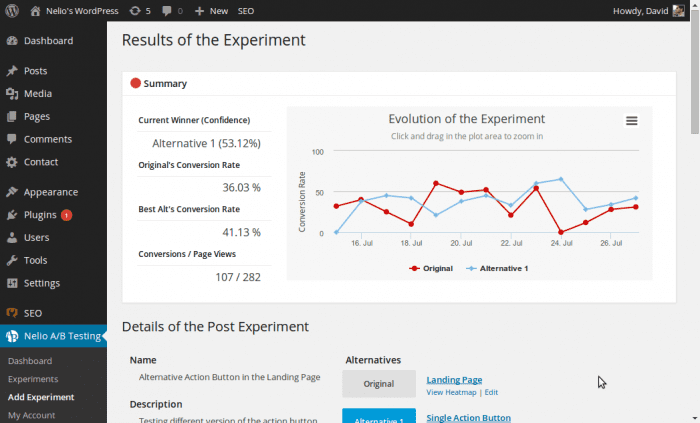 Image source: Nelio A/B Testing
One of the advantages of working with WooCommerce is that it's built on WordPress, which means that you can use any number of third-party plugins for split-testing management. Nelio A/B Testing has a particularly strong reputation.
7. Discount Codes to Tip the Scales
Discount codes and other types of merchandise promotions are key for driving traffic, acquiring new customers and inspiring repeat business. Often, if a visitor is considering making a purchase, the availability of a discount can make the difference. A recent Valassis study found that coupons have influenced 86% of consumers to try new products.
You can use any number of third-party apps to handle this aspect of your online store, but they vary a lot in terms of capabilities. Using a platform where the features are built-in not only gives you more control over the kind of promotions and discounts you're running but makes it way easier for you manage in the long run.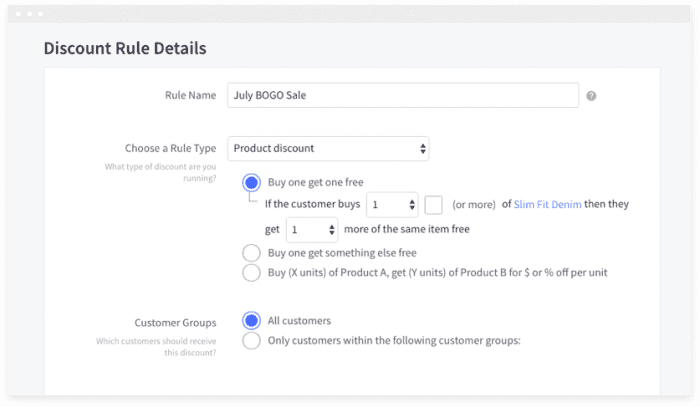 Image source: BigCommerce
BigCommerce, for example, supports more than 70 discount options right out of the box, so there's less work to do on your end. Choose the promotion type, tweak your settings, and it's ready to go.
8. SEO Features to Maximize Your Discoverability
When it comes to online marketing for ecommerce, you need the ability to take charge of your SEO, so you can make it easy for prospects to find you on Google. But that organic ranking takes time to establish, and it can be especially difficult if you're working with a platform whose developers didn't have SEO features in mind when they built it.
For example, you'll want to look for a platform that has an editable robots.txt file, so you can control what the search engine bots crawl and index. You'll also want a platform that lets you control the text on the page titles and the URLs. It's likewise a good idea to look for a platform that handles canonical URLs and automatically manages your redirects, especially if you have a lot of inventory turnover.
Some platforms have one or more of these features, so it's important to consider as you shop around.
9. Live Chat for Convenient Customer Service
Your online store needs to have multiple customer service contact points. While email and social media are important, demand for phone support is on the wane. One study even found that a third of consumers would rather scrub a toilet than deal with customer service over the phone.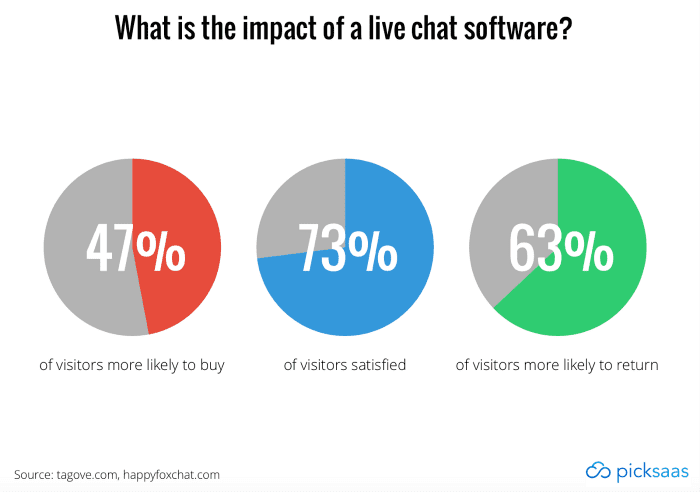 Image source: edium
But you still need something for people who need a more immediate solution. Quick answers can make the difference between a bounce and a sale. Live chat can be a good option, since it's relatively affordable to manage, and it's the most popular channel for consumers to interact with retailers. It's also been proven to improve customer satisfaction, loyalty, and conversions.
There are a number of third-party live chat solutions that integrate with various ecommerce platforms, so you can choose the one that works best for you after you know which ecommerce platform you'll be using.
10. Smart Social Media Functionalities
Social media is a great way to get your message out there and connect with people who may be interested in what you have to offer. That's why it's important to make sure you have your social media buttons in place on your store's website, but also make it easy for people to share their purchases on their favorite social media platforms.
For example, Volusion offers the ability to quickly and easily add your social media profile links to the buttons on your site, and for visitors to post on social media without leaving your store.
All they have to do is authorize the platform to post on their social media profiles, and then they can share the products they love. You can also use Volusion, as well as other platforms, to set up a shoppable presence as a tab on your Facebook Page.
Make Your eCommerce Business Boom
All of these features are essential to supporting your success with an online store. While you can get away with not having all of them, each of them serves an important purpose in how you operate your website – from the marketing to customer service, and analytics, to customer acquisition and retention.