3 advanced strategies to boost your ecommerce store's revenue
Powerful digital sales strategies to ensure you make the most of your ecommerce site's traffic
Research by Big Commerce shows 51% of people prefer shopping online and 95% shop online at least once a year. It is a trillion-dollar market. This popularity has catalysed the rise of more than 12 million ecommerce stores. But only around 650,000 of them generate more than $1000 in revenue annually.
When ecommerce stores struggle with generating revenue, they assume that it is a traffic problem only. Hence, they invest more into ads and SEO.
But before they rush in and purchase ads they should implement a digital sales strategy that converts more of the traffic driven. A conversion optimized ecommerce site will generate more revenue with even small amounts of traffic.
Therefore, in this post, I am going to share some advanced strategies to boost your ecommerce store's revenue…
Implement upsells and cross-sells
If you have ever been to a restaurant or a store and were persuaded into purchasing a more expensive product along with the main product you wanted, you have experienced upselling. Those fries and drinks you were made to buy with your burger at the fast food joint are a result of upselling.
Cross-selling is when you are made to purchase relevant products that complement the main one.
These sales techniques are used in the online sales world too as they bring in results. Upsells and cross-sells contribute to 35% of Amazon's revenue.

Here are a couple of examples of Upselling and Cross Selling in action on Amazon: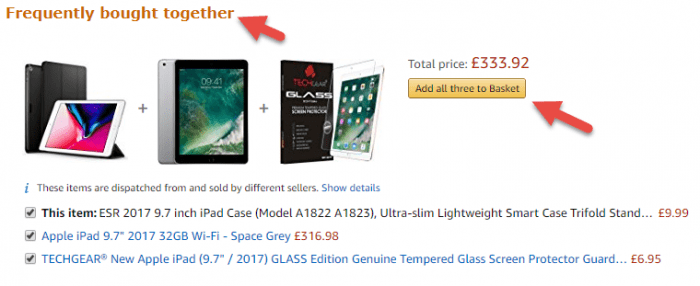 I was on a page promoting an iPad cover and on it, they display an upsell promoting an iPad. They also try to cross-sell a glass screen protector.
The wording 'Frequently bought together' adds social proof and is persuasive. And they make it easy to add all three products with a single click of a button.

But when I am on their iPad product page they only try to cross-sell me the cover and the case.
Even if I ignore these upsells and cross-sells, they continue to attempt to upsell me in the page before the checkout.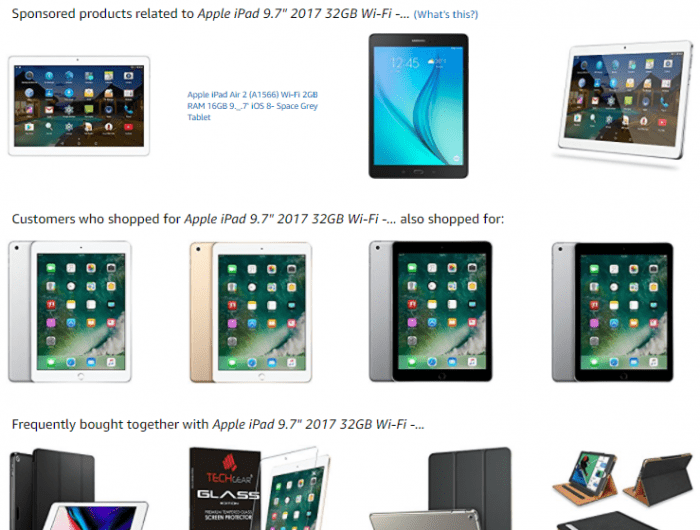 This is why upsells and cross-sells contribute more than a third of their revenue. You too should take steps to upsell more expensive products and cross-sell relevant ones immediately to boost revenue.
You can easily set up upsells and cross-sells, similar to Amazon's, on your site if you are using ecommerce software like Shopify as they have built-in upsell apps. If you want more advanced features like one-click upsells and offer bumps, you will need a tool like Samcart. But it can only be used to build checkout pages and not fully-fledged ecommerce stores.
Try drop shipping
If you do not have many products and don't know what to upsell or cross-sell, you should try drop shipping.
Drop shipping is when you display and sell products created by other manufacturers or retailers on your site. And when someone places an order, you transfer it to the manufacturer or retailer and they take care of everything including shipping.
The amount of profit you make will depend on your retail price markup against the wholesale price. Some businesses only drop ship products from other businesses instead of selling their own. Hence, it should increase revenue even if you sell them plainly and not as upsells and cross-sells along with your products.
It should be easy to find products to drop ship as 22 to 33% of online retailers are already using it. You can either opt to only sell drop shipped products or combine it with your own products. I recommend the latter because as aforementioned they can be used as upsells or you can either use your own products as upsells and cross-sells and make more as your profit margin can be higher.
You will also have more pages on your site to which you can drive organic traffic through SEO and social media. People might come looking for drop shipped products and in the process discover your own products as well. This can boost overall revenue.
Drop shipping can be either done manually by adding images and copy promoting the products to your site and setting everything up or by automating using a tool like Oberlo. It simplifies importing products directly from AliExpress and the Oberlo marketplace into your Shopify store. It also makes it easy to fulfill orders on their behalf. Pricing can be automated as well so that you don't have to adjust prices every time the retailer changes it.
Use automated marketing Funnels
Not everyone who visits your ecommerce store will be interested in making a purchase right away. As the below graph from Digital Marketer displays the majority of traffic visiting your store is cold and warm traffic.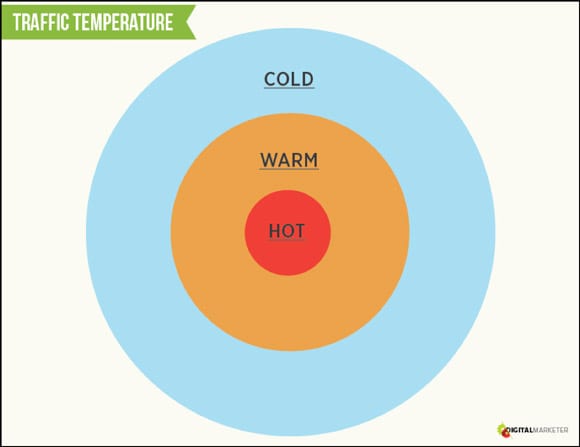 The hot traffic will make the purchase and turn into customers immediately, but the hesitant warm and cold traffic will probably abandon your site.
Therefore, if you have a strategy to convert the warm and cold traffic to customers too, your ecommerce store will generate far more revenue. They might not make a purchase immediately but will do so in days, weeks or months.
The strategy you should implement here is an automated marketing funnel that nurtures potential customers. There are usually 2 main reasons warm and cold traffic resist buying. It's either because they aren't in any hurry to purchase the product or because they don't trust you.
Hence, if you convert them into a lead by getting them to opt-in via a free offer, you can nurture them using emails and free content. This will build trust. After that, you can get them to make a purchase when they are ready.
This strategy can be executed simply with landing pages and popup opt-in forms that capture their email address and an autoresponder email series that nurtures them. It can be set up using simple email service providers like Drip.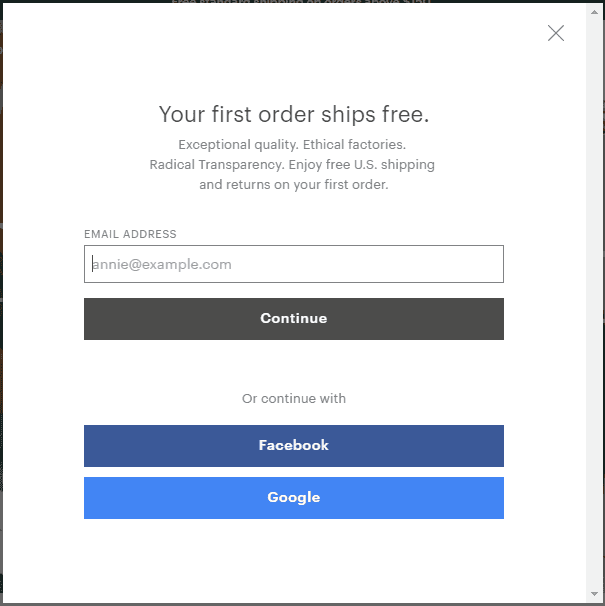 A company that is taking the right steps to convert all types of traffic to customers is Everlane. When you visit their website, the above popup turns up. It informs you that your first order ships free and asks you to sign up with your email address or Facebook or Google.
An offer like this will get warm and cold traffic to sign up along with hot traffic. All of them might not make a purchase, but Everlane will obtain their email address. Hence, they can nurture potential customers and make a sale in the future.
If you don't want to immediately display popups to everyone who visits your website, you can try exit-intent popups. They track visitor behaviour and only show up when someone's about to abandon the site.
When you have an automated funnel, you can also implement another sales technique similar to the upsell and cross-sell known as a down sell. This is where you offer a cheaper product to turn free subscribers into customers when they resist making the initial purchase.
Once they make the purchase and like your products you can begin selling them more expensive ones.
For most ecommerce stores a simple email autoresponder series should do the job. But if you are selling very expensive products, you can add in other content like white papers, webinars, case studies, videos, etc.
Implement these strategies and increase sales now
These are the 3 advanced techniques that can be used to boost your ecommerce store's revenue. Setting them up might require some work, but they can be automated. After that you just need to monitor and make tweaks here and there.