Continue with our easy-to-follow guide and create an effective business website even without all the technical know-how
We have already made a few steps toward launching a professional-looking and successful website. In the second part of this step-by-step guide, I want to keep on with this journey into the world of website building for non-techies.
Before we plunge into the next steps, let me refresh your memory about the previous ones covered in part one.
First of all, I spoke about the right choice of the domain name (DN) – it should be a worthwhile and unique one. Keeping it short, expressing what your business is about and the including keywords are three factors you should keep in mind when coming up with a DN.
The next step was all about buying your chosen domain name. I also recommended keeping hosting and domain name separately from each other. In addition to this, I looked through a list of the most popular CMS options and found that those building websites prefer using WordPress to do so.
Are you ready to continue with learning every single thing about building an incredible website? Here's part two of our guide. 
4. Choose the hosting plan
To make things easier, let's avoid the most popular mistake among beginners. Some users still think that there is no difference between domain registration and hosting. The confusion mostly happens when companies offer both services together when, in fact, they are completely separate things and you will need both of them to create your website.
Keep in mind that:
Hosting is the place you will put your the website's files.
Domain registration is gaining legal ownership of a piece of the digital place.
For example, there is WordPress.com and WordPress.org. The second one is the general location for the WordPress software. It contains lots of documentation, forums, etc. When it comes to WordPress.com, this is not a place. WordPress.com is the service that offers multiple WP themes, premium plugins, trendy assets, and much more.
Needless to say, to choose the right HP, you should know all the options. Basically, now they can be divided into three main groups:
Shared hosting
VPS hosting
Managed hosting
As always, your choice depends on your needs. How many online projects are you going to create? Are you the only owner or there will be some subdomains? How big is your budget? Are you sure about your needs? Once you know the answer to these questions, you can choose your hosting.
What is Shared Hosting?
To make a long story short, shared hosting (SH) is a popular option that is widely used by big companies. There is a single server that houses hundreds of different websites. The costs will be split between all domain owners, so you pay around $5 a month. The price looks more than affordable and you won't overrun your budget with SH.
Are there any downsides? Well, there are always some. When buying SH, you should remember that it houses lots of different websites on the same hardware. If there is a coding issue or any other bug, the biggest part of all available memory will be used. As a result, many of the hosted websites will slow down or stop working until the issue is resolved.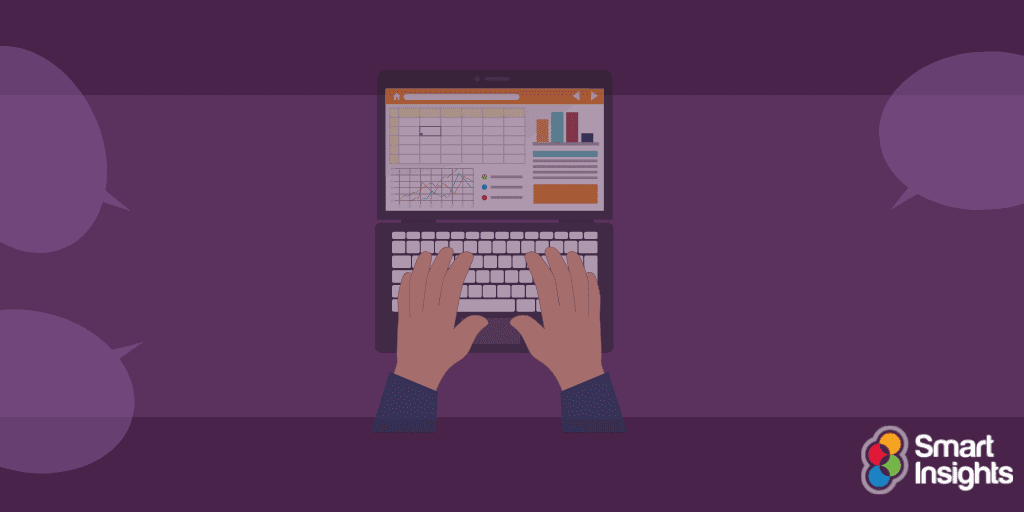 This means that your website could be down for some time, even if the issue is not on your site. Another disadvantage is that SH can increase security risks. All in all, if a hacker gets control over the main online project, they will also get control over all the other websites that share hosting with it.
So how do you avoid these problems? To start with, check the technical support your hosting has. When you are a beginner, this is the most important part of any project, as you want to know there's help at hand if you need it.
What is VPS Hosting?
A virtual private server (VPS) is similar to SH but the security risks are lower. One of the main benefits to VPS hosting is that you only share the server with a few other users. Another advantage of VPS hosting is that the hardware is partitioned equally. As a result, one account can use only 25% of the resources to avoid bugs, compared to SH, which can see one account use up to 80%.
VPS hosting also provides a site owner with extra flexibility. It allows you to be able to use various management systems and you can transport your project from one platform to another.
How much does it cost? On average, VPS hosting costs nearly $15-$20 a month and the price increase could well be worth it for the extra security and flexibility.
What is Managed Hosting?
Managed hosting (MH) is the option that supports only one platform. MH uses server technology in its own way and does not allow you to transfer the domain to another CMS due to security reasons. This simple reason means that it is the safest, most secure hosting option.
In case you aren't sure that WordPress (or any other CMS) is the one you want to work with, MH is just what the doctor ordered. Firstly, your online project will be 100% protected. Secondly, the pack you get will be made exclusively for your website. Choosing MH means you get everything geared to a single software package.
Here are the main advantages of MH.
Better security.
Free and automatic updates.
Server-level caching.
Free, friendly and 24/7 support.
Leading hosting providers
In order to find your perfect service, you should know who the top hosting providers are today.
HostPapa has lots of advantages, including expert support. It is available 24/7 via chat, phone, or email. This highly trustworthy hosting option has just added built-in WordPress security and monitoring.
Here are the hosting plans to choose from.
WP Starter plan will cost $3.95 per month.
WP Business plan costs $5.95 per month and is ideal for small business owners.
WP Business Pro costs $12.95 per month and gives you enhanced capabilities, security, and speed.
Kinsta is a young but fast-growing hosting company that focuses on performance and expert WordPress support. Here are some features it offers:
Google Cloud Platform's premium tier global network
Free white-glove site migrations
Free SSL certificates and CDN
24×7 uptime monitoring
17 global data centers
One-click staging area
Daily auto backups and manual backup points
One-click backup restore
24/7/365 support by WordPress experts
WP-CLI, SSH access, and Git integration
PHP 7.2 support
Detailed performance analytics
New Relic integration, and more
SiteGround is the next leading web hosting provider. It offers a 24/7 expertly-trained support team and is actually one of the few services officially recommended by WordPress.org.
Among the free tools you get, there are:
Daily backups
Free SSL certificates
Built-in CDN and caching to make sure your website is secure
5. Choose a marketplace
We know that there are more and more new themes appearing, just as there are a lot of new companies popping up that offer these products.
In 2019, template marketplaces are a regular thing and they make it much easier than having to look for every product separately. To help you with the final decision-making in terms of where to get your site template from, let's compare three of the most popular marketplaces selling ready-made themes and assets.
TemplateMonster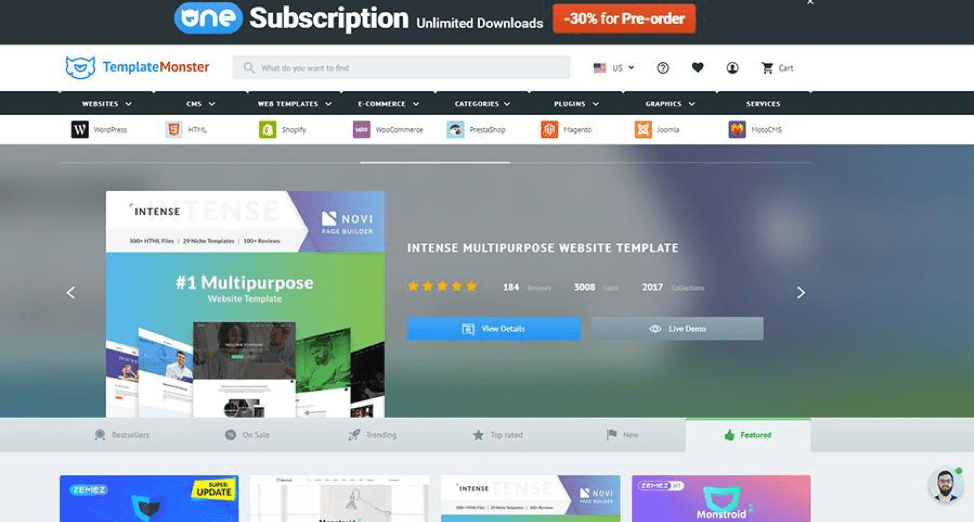 For starters, TemplateMonster is a big digital products provider that offers a rich variety of items. When it comes to the marketplace, it provides templates for any business niche, no matter how specific your topic is. TemplateMonster also works with all of the most popular platforms. There are products made with a huge number of CMS providers, including:
WordPress
Shopify
MotoCMS
PrestaShop
Magento
Joomla
OpenCart
What can you expect to pay? Templates tend to be between $45 and $75. The price of multifunctional themes starts at $75. TemplateMonster also hosts regular sales that offer discounts on certain themes, which can make setting up your website even more affordable. Among the many advantages offered by this provider is free lifetime customer support, which is available 24/7.
Elegant Themes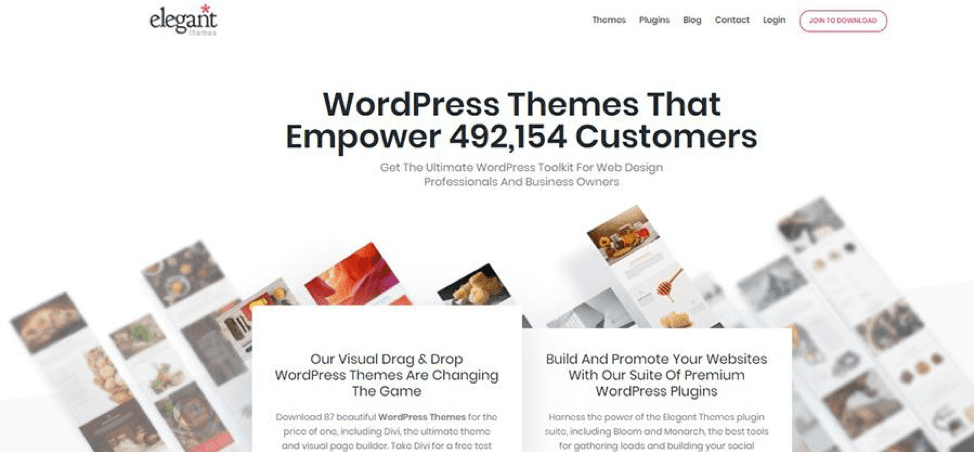 Elegant Themes is a marketplace made for WordPress templates only. There are around 90 WordPress themes available and some useful assets and plugins for them. When it comes to cost, there are three options to choose from because Elegant Themes does not sell their templates separately.
$69 for a 0ne-year Personal plan.
$89 to get a one-year Developer plan, which provides access to all the plugins and layered Photoshop files to enrich your site.
$249 to get lifetime access to all the templates, plugins, files, design elements, and features.
Unfortunately, there is no customer support on offer, so the only option you have when a problem arises is the support forums.
ThemeForest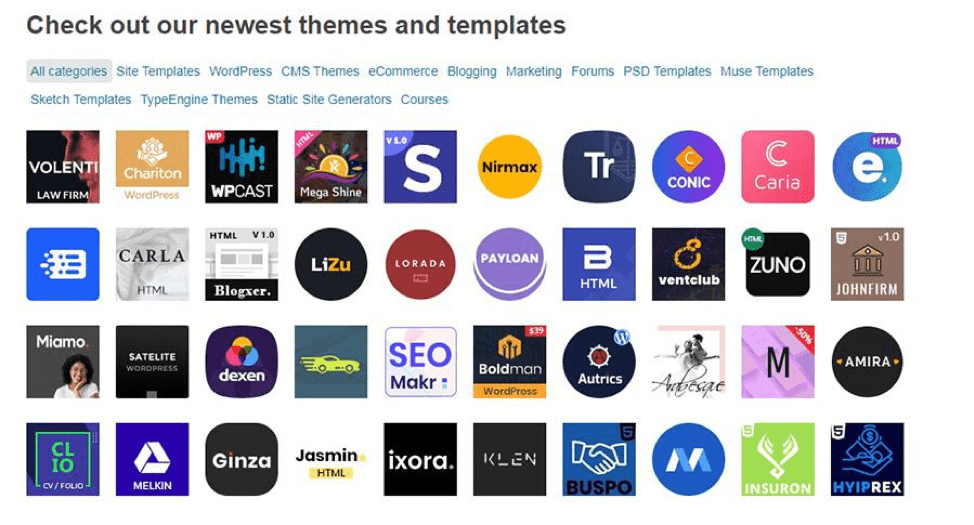 ThemeForest is another well-known marketplace. Its gallery consists of over 45,000 themes. If you are interested in WordPress themes and HTML templates, it's a great option. As with TemplateMonster, ThemeForest provides templates that have been specifically made for different niches.
In terms of the cost, on average, your template will cost between $28 and $65. However, there's no technical support at all. If you experience any issues, it's up to you to contact the developers. Needless to say, this isn't the fastest process. The good thing is that there are WordPress products that have a fixed period of tech support. However, not all the WP themes come with it.
To be continued…
Now that you have chosen what type of hosting you're going for, which hosting provider best suits your needs and have taken a look at some of the ready-made site templates on offer, you're ready to move onto the next steps of building you website.
I'll take you through the final five steps in part three of this guide, helping you complete your professional website in no time at all.