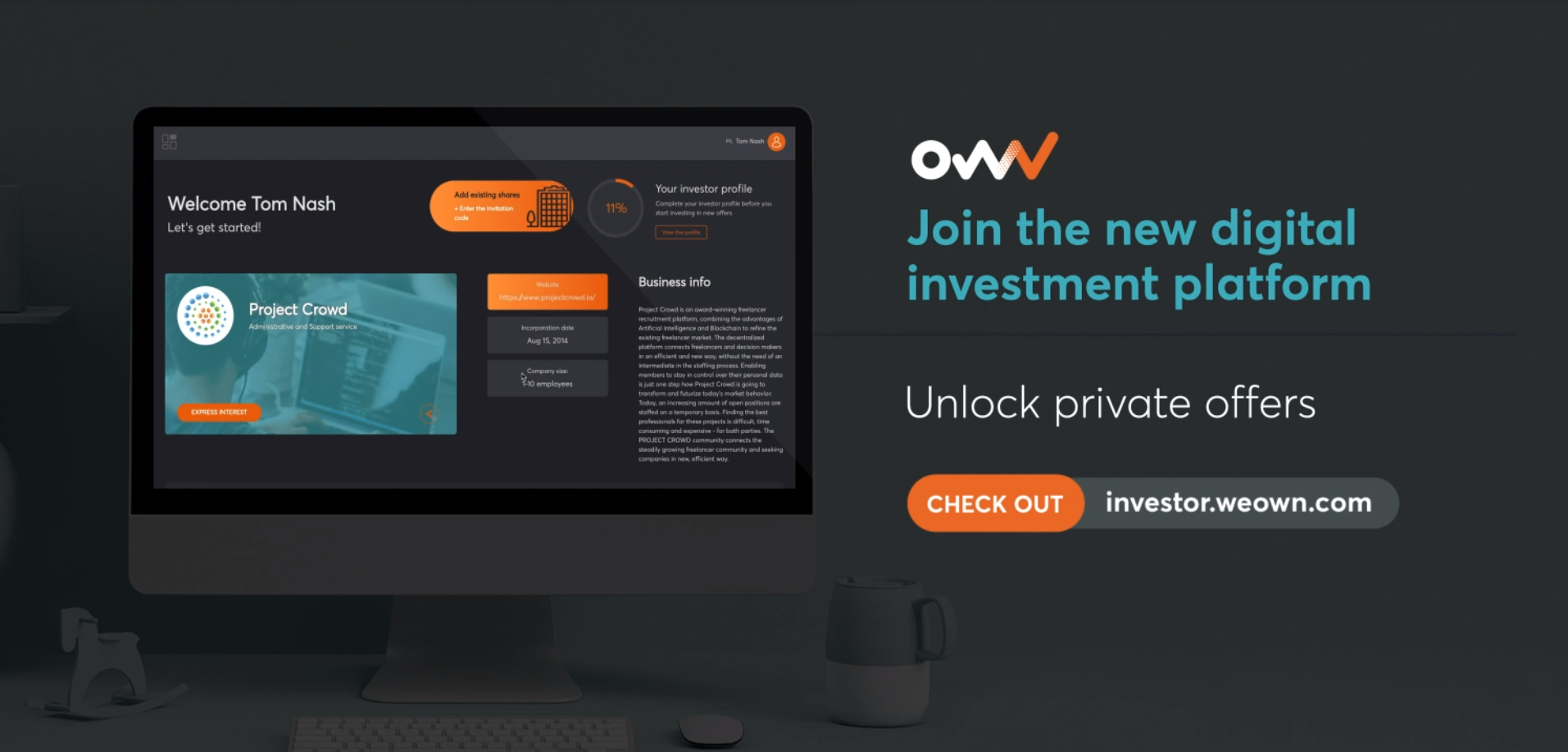 Artificial intelligence recruitment platform startup Project Crowd AG is taking a somewhat unusual route to raise funds, listing security tokens for sale on the digital investment platform WeOwn.
The offering is seeking to raise 1 million Swiss Francs ($1.01 million). Investors can buy into the company with a minimum investment of 200 CHF ($202.50). Unlike initial coin offerings that mostly aren't formally linked to securities, however, Project Crowd is referring to the tokens as shares, though they're issued as a token and managed on blockchain technology.
The company said it's developing a platform that will "address and resolve several of the fundamental issues affecting employers, recruiters and freelancers with the development of the 'Prowd platform." The platform uses an automated AI matching engine to connect employers and freelancers, recording data on the blockchain to eliminate fraud and speed up the onboarding and payment process, the company said.
The Project Crowd listing is also the first listing for WeOwn, a Maltese-registered company trying to establish itself as an alternative to venture capital funding and initial public offerings.
"Platforms like WeOwn democratize the investment process, giving everyday people an affordable opportunity to back dynamic, rapidly scaling brands like Project Crowd through an intuitive, user-friendly process," Sascha Ragtschaa, chief executive officer and co-founder of WeOwn, said in a statement. "There's none of the complexity, confusion and red tape associated with traditional stock exchanges."
According to WeOwn's site, fundraising offers can be launched in four to 10 weeks, providing instant liquidity with no settlement periods.
Security token offerings are not new, first coming of age as an alternative to ICOs in 2018 such as the successful Overstock Inc. tZERO offering. In an interview with SiliconANGLE's theCUBE in March 2018 (below),  Trevor Koverko, CEO of Polymath Inc., a company that helps other companies raise money using security tokens, said the method gives digital cryptocurrency real-money appeal.
"If you look at the exciting sexiness of having these liquid tokens that kind of feel like stocks but also utilities in the sense that you can use them to do certain things with, that's a big component of it," Koverko said.
Like ICOs, security tokens are not without regulatory risk. Neither Project Crowd nor WeOwn makes any mention as to whether the STO is open to U.S. investors. If it is, they would require approval from the U.S. Securities and Exchange Commission. Notably, rule changes to allow for an automated equity trading platform that supports security tokens is currently being considered by the SEC.
---
Since you're here …
… We'd like to tell you about our mission and how you can help us fulfill it. SiliconANGLE Media Inc.'s business model is based on the intrinsic value of the content, not advertising. Unlike many online publications, we don't have a paywall or run banner advertising, because we want to keep our journalism open, without influence or the need to chase traffic.The journalism, reporting and commentary on SiliconANGLE — along with live, unscripted video from our Silicon Valley studio and globe-trotting video teams at theCUBE — take a lot of hard work, time and money. Keeping the quality high requires the support of sponsors who are aligned with our vision of ad-free journalism content.
If you like the reporting, video interviews and other ad-free content here, please take a moment to check out a sample of the video content supported by our sponsors, tweet your support, and keep coming back to SiliconANGLE.
Join To Our Newsletter
You are welcome