Going viral is something of a dream for us B2B content creators and marketers. You'd be lying if you deny that, plain and simple
And why not? Creating original, high-quality content is a monumental task in itself, let alone marketing it and making it stand out. The thought of our content spreading across the internet like wildfire is often what keeps us going.
However, for B2B marketers, achieving virality with a well-written blog post is even more inconceivable. That's because our audience is highly targeted professionals and business leaders, and our content is not meant to entertain or amuse. Going viral with a piece of content is somewhat akin to finally getting our "big break" in the digital industry, after writing countless blog posts, outreach emails, and what have you.
Advantages of virality
Here are three big benefits of going viral:
Exponential Reach: Your brand's message is shared far beyond your social network by mere word-of-mouth, which is arguably the most effective form of marketing.
Minimal Cost: Producing a viral blog post doesn't cost a pretty penny. What it does require is you to think outside the box. Moreover, a single piece of viral content can generate a ton of leads and deliver a lofty ROI.
Instant Credibility: If your content suddenly pops up on everyone's social feed in a good light, your overall brand awareness and equity will soar through the roof.
On the flip side, there is a potential pitfall to virality. If your viral content is audacious or controversial in nature, it can spur negative brand perception (first impression) in the minds of prospective clients and you may lose out on them forever. Thus, be very vigilant when trying to create viral content, the last thing you want is to go viral in a bad way.
That said, virality is a justified ambition and deserves more attention. Admittedly, no matter how fresh, informative, data-backed, and actionable your content is, virality is never a guarantee. Still, don't make the mistake of thinking all viral posts are nothing more than a stroke of luck.
Before we try to devise a "formula" for creating viral, let's quickly analyze a couple of viral blog posts (B2B) to try and extract the secret sauce of virality.
Example 1: Inc.com
Consider the example of Inc.com's most popular post of all time, titled "7 Reasons the best employees quit, even when they like their job" published on August 1016. It has earned over 1.2 million Facebook shares since then.
A close inspection of the article suggests the following key factors contribute to its virality:
It solves an extremely rife pain-point endured by companies and businesses all over the world.
The title is very specific and the content does justice to the title, delivering what was promised without any fluff.
It is snackable and easy to read.
Example 2: HubSpot.com
Take a look at Hubspot's most popular blog post, titled "The 5 whys of feature bloat". It has earned nearly 75,000 shares, which is very impressive considering HubSpot is primarily a marketing software solutions provider, not an established entrepreneurial magazine.
Here's why this post achieved virality:
It is written in a very authoritative tone by a business leader ― the co-founder of HubSpot.
It provides practical advice to product managers, who then share the post and appear as thought leaders themselves.
It explains the nitty-gritty in an interesting and humorous manner, thus resonating with the audience.
Structuring the "formula"
These two examples evince one trait ― whether you achieve virality (V) for a blog post is decided by an aggregate of two determinants:
Objective (O): The factors you can control completely, or constants.
Subjective (S): The factors you can't control completely, or variables.
That is,
V = O + S
Below is a brief description of the six objective factors which are entirely under your control. These are closely intertwined with the anatomy of writing a potentially viral blog post.
Length
According to data collected by BuzzSumo, long-form content tends to perform better than shorter posts when it comes to generating social shares (and backlinks).
Specifically, blog posts within the 1,000 to 2,000-word range get an average of 56.1% more social shares than the ones that are less than 1,000 words.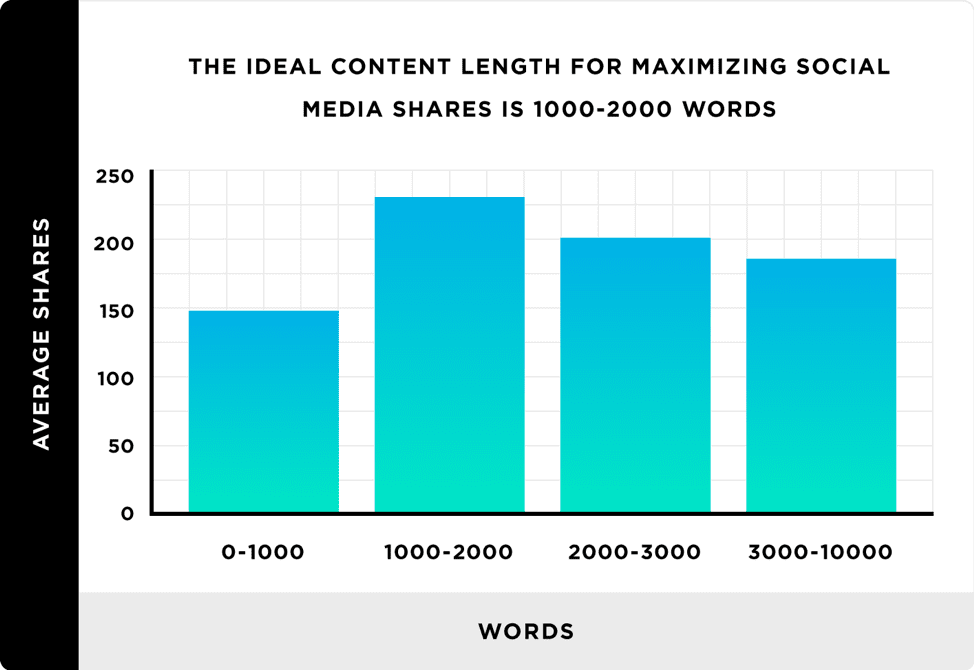 This comes as a surprise because you might think people want to consume bite-sized content due to their short attention spans and increased usage of mobile devices.
Additionally, detailed and data-driven long-form content is also better at generating backlinks, leading to more organic traffic and social shares. Posts longer than 3,000 words earn an average of 77.2% more referring domain links than the ones that are less than 1,000 words.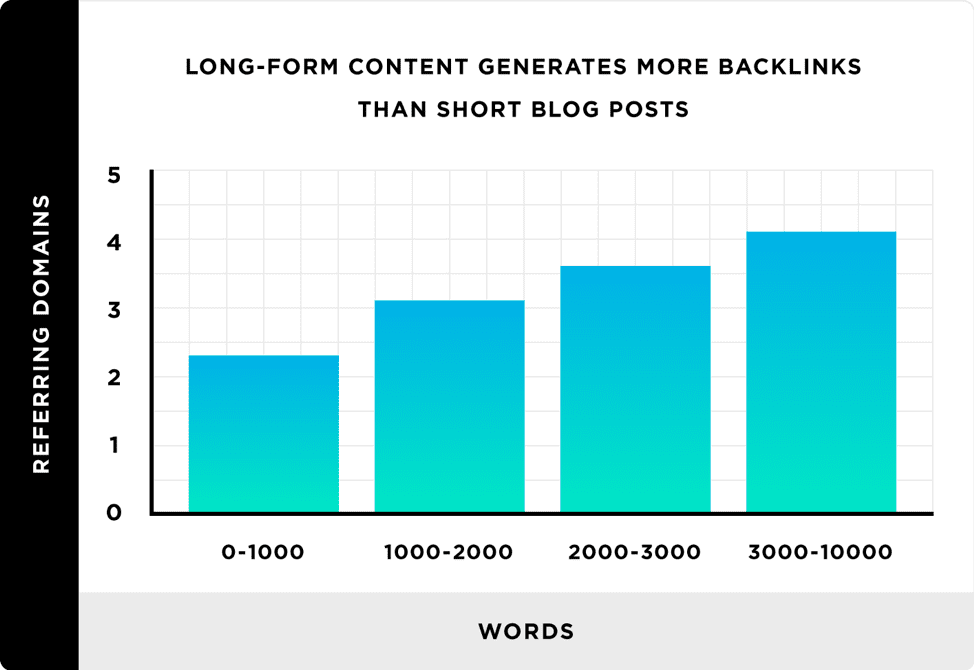 Format
As you know, there are several blog post formats, notably:
"How-to" articles
Listicles
"What" articles
"Why" articles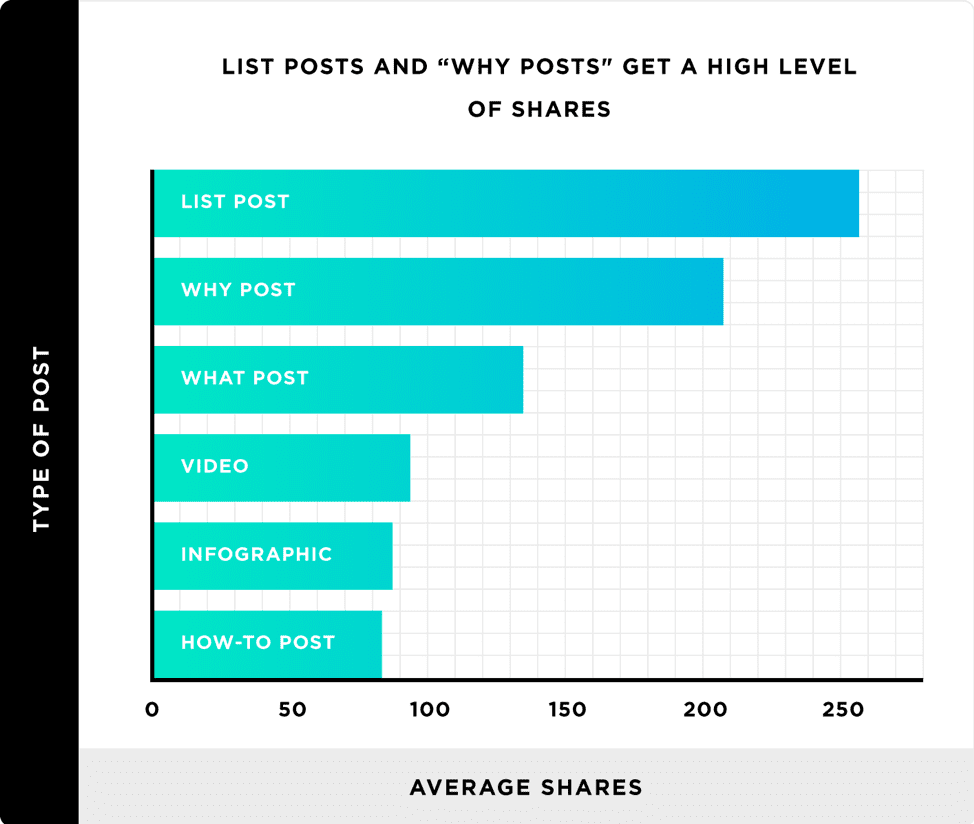 Of these, listicles get the most love on social media. They are the most heavily shared format. In fact, Backlinko's recent study found that list posts generate 218% more shares than how-to articles.
Headline
While it is often advised that the length of your post's title should be within the viewable limit of Google's SERP – which means keeping it under 71 characters – studies suggest longer headlines attract more social shares.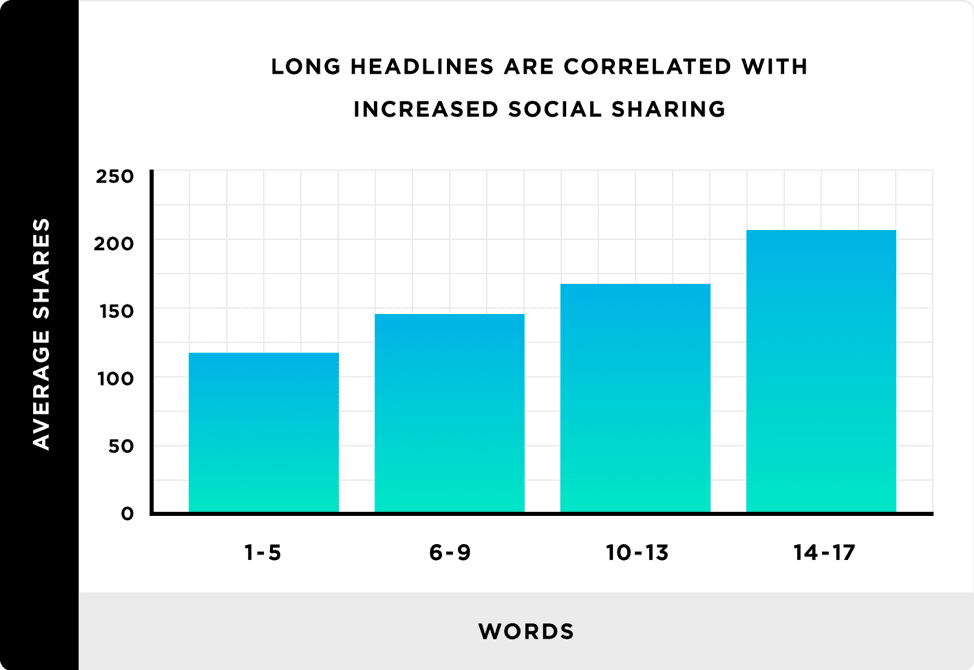 The above graph illustrates the fact that long headlines (14 to 17 words in length) get 76.7% more social shares than short headlines.
This means the recommended character count of around 70 characters is also refuted. Instead, character count within 80 to 100 generates the most social shares.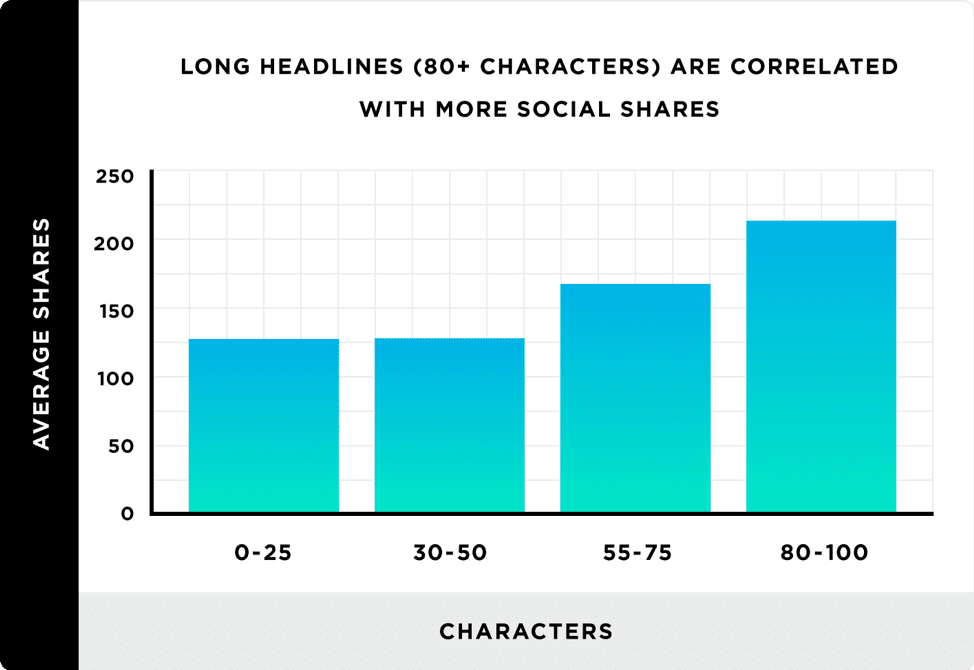 What's more, headlines with a question mark get 23.3% more social shares than non-question headlines.
Timing
True, evergreen content has the advantage of being authoritative and the ability to steadily attract traffic and social shares. Consequently, producing evergreen posts should be a priority to build strong foundations for your business blog.
But more often than not, posts go viral because they are well-timed. Newsjacking every once in a while will certainly help your odds of going viral. So, don't hesitate to tap into trending news and create relevant content around it.
Presentation
Including a ton of visuals within your blog post is another surefire way to increase social shares and potential virality. BuzzSumo conclusively proves this fact.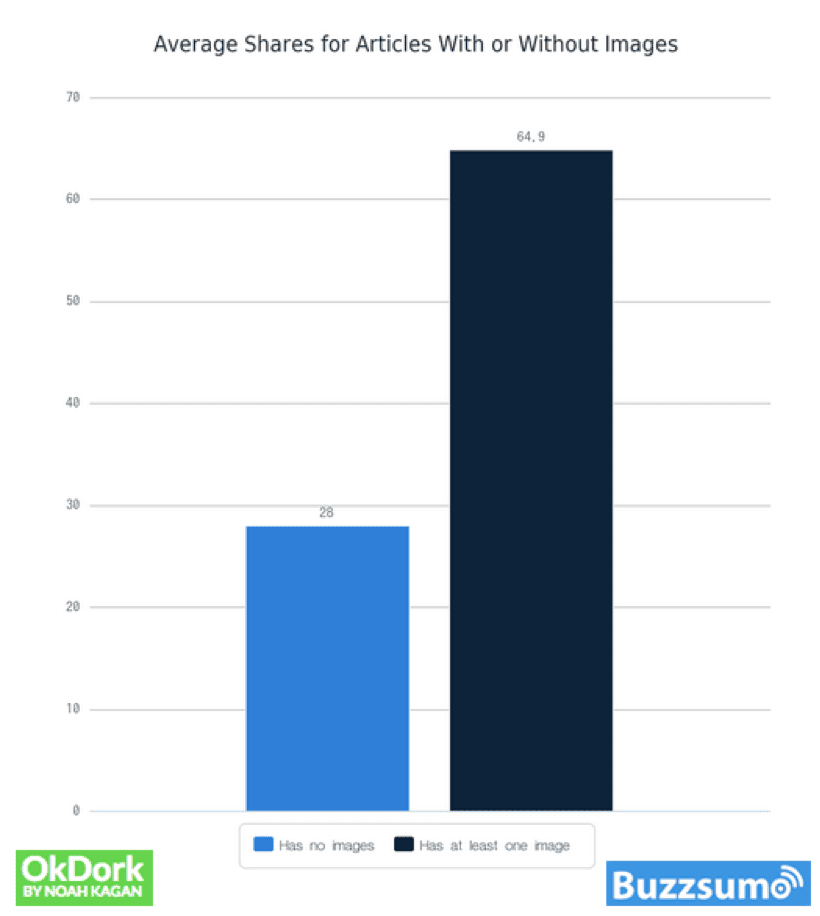 People love good infographics. They make for a great way to summarize your blog post in an easy-to-digest format. Not to mention how valuable they are in link building. Also, inserting relevant memes will tremendously boost the share value of your blog post.
Furthermore, embedding relevant YouTube videos (preferably your own) will facilitate quick learning and hence, sharing.
Byline
An author byline (ideally with a headshot) in your blog posts increases the trustworthiness of the content and makes people more likely to share it. This is especially true for B2B content, which is more shareable on professional networks such as LinkedIn and Twitter.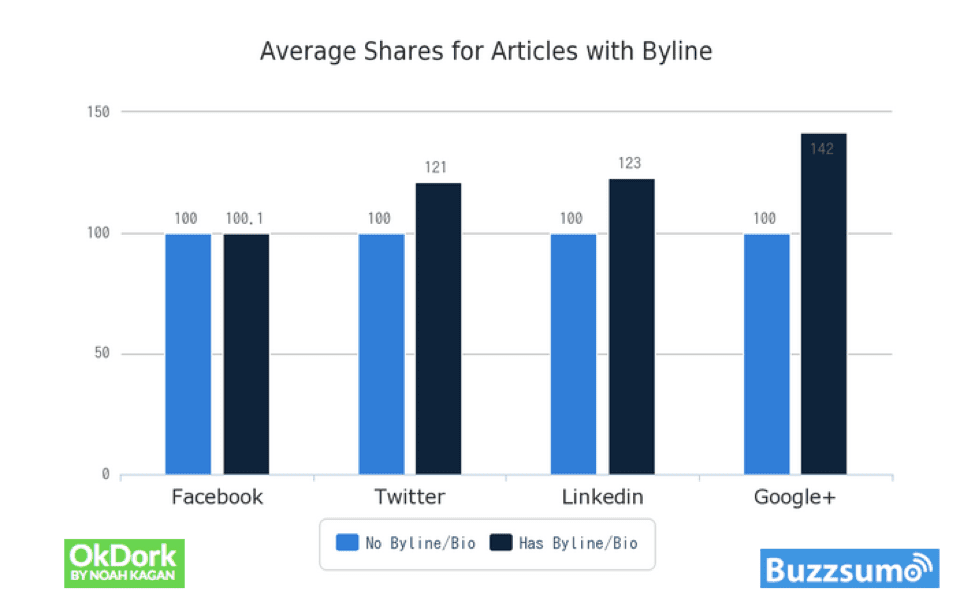 Needless to say, aggressively promoting your content is an absolute must in order to get the word out before virality takes over and shares start snowballing.
Next, below are the three Subjective factors, based on the theory of planned behaviour, which you can strongly influence but can't fully control.
Attitude toward behavior
Before sharing a piece of content, the sharer evaluates the consequences of sharing it and what they mean for his own social image or reputation. The sharer gauges the severity of all the potential outcomes and decides whether their action would result in positive or negative ramifications.
So, if the sharer concludes that sharing your article will cause controversy among their network, they would estimate how much controversy would it actually cause.
Subjective norms
This means the sharer tries to predict the potential reactions of the audience they are sharing the content with.
You may not agree, but everyone has a "personal brand" to maintain. The sharer would want to receive positive engagement rate on their shared post in terms of likes, comments, retweets, and so on, in order to establish their social authority.
Perceived behavior control
In simple words, this means the sharer's perception of the factors that might facilitate or restrain their act of sharing.
Is it easy for your audience to share your content? Are there any technical obstacles preventing them from sharing? Ensure the answers to these questions are "yes" and "no", respectively.
Putting the theory aside, just keep this in mind: people share stuff that makes them look good.
To quote Moz: "Content can be thought of as an extension of one's ego. Sharing is motivated in this respect because it bolsters or enhances our own self-perception. We consider how the content we share will influence the ways others see us, and we consider how the content we share can help us to refine our own understanding of ourselves."
Moreover, people want to share content that's useful to their social groups and adds value to their lives. Strive to combine storytelling with practical insights aimed at solving your audience's problems.
Turn subjective into objective
So how do you get into your audience's head to influence these factors? Well, you don't. You put yourself in their shoes instead.
Employ data-driven empathy by meticulously "stalking" your existing reader base on social media to see what kind of content they tend to share the most, their interests, likes and dislikes.
Create detailed personas to thoroughly understand your audience's pain points and what motivates them to consume (and share) a piece of content. Granted, this will cost you extra time and effort (not money), but it is well worth it.
Putting it all together
When combining both the factors with their respective constituents, we get:
V = O[(l) + (f) + (h) + (t) + (p) + (b)] + S[(a) + (n) + (c)]
Yes, that's one deplorable attempt at developing the "magical" recipe of virality. Still, what do you think? What are we missing? Or will this "formula" work for your B2B content marketing strategy? Let us know in the comments below.
Join To Our Newsletter
You are welcome