Newly released 2017 Salary Guides from Robert Half show that national average starting salaries for U.S. professional occupations are expected to increase 3.6% next year.
"With skilled professionals in high demand and short supply, more employers are willing to negotiate compensation with potential hires," Paul McDonald, senior executive director at Robert Half, said in a press release. "To remain competitive, especially in the technology and finance fields, it's crucial to have a solid understanding of salary trends for specific roles in your area and move quickly when making offers. Top candidates are receiving multiple job offers and will lose interest when faced with a lengthy hiring process."
Following is a summary of findings from the 2017 Salary Guides from Robert Half:
Accounting and Finance
Overall starting salaries for accounting and finance professionals are expected to increase 3.7% in 2017. Positions in demand include controllers, financial analysts, business analysts, and staff and senior accountants. Employers seek job candidates who possess technology proficiency, strong soft skills, and professional certifications.
Technology
IT professionals can anticipate starting salaries to rise 3.8% next year. Upgrades and implementations, as well as big data, mobile, and security initiatives, are top of mind for many organizations, and these business priorities are reflected in their hiring decisions. With a shortage of qualified technology candidates, in-demand positions, including data scientists, big data engineers, and network security engineers, are projected to see even greater salary gains in the coming year.
Creative and Marketing
Average starting salaries for positions in the creative and marketing fields are expected to increase 3.6% in 2017. Creative professionals with diverse skills that complement each other, like web designers who are comfortable with front-end coding and copywriters who are proficient in search engine optimization, are in especially strong demand. As companies invest more in online initiatives, positions requiring digital expertise, such as user experience and mobile designers, are seeing the biggest pay gains.
Administrative and Office Support
Starting salaries for administrative professionals are predicted to rise 3.5% next year. Hiring for skilled support staff is becoming more competitive as companies capitalize on new opportunities. Administrative healthcare and customer service/call center specialties are particularly strong growth areas, and businesses also seek executive and administrative assistants and those in senior or management roles.
Legal
In the legal field, starting salaries are expected to increase 3.6% in 2017. Litigation support/eDiscovery directors, first-year associates at large law firms, and experienced lawyers and compliance managers are likely to see some of the biggest starting salary increases. In addition, contract managers, lease managers, and mid-level paralegals are in high demand.
The infographic below highlights key trends from Robert Half's research. Click on the image for a larger view.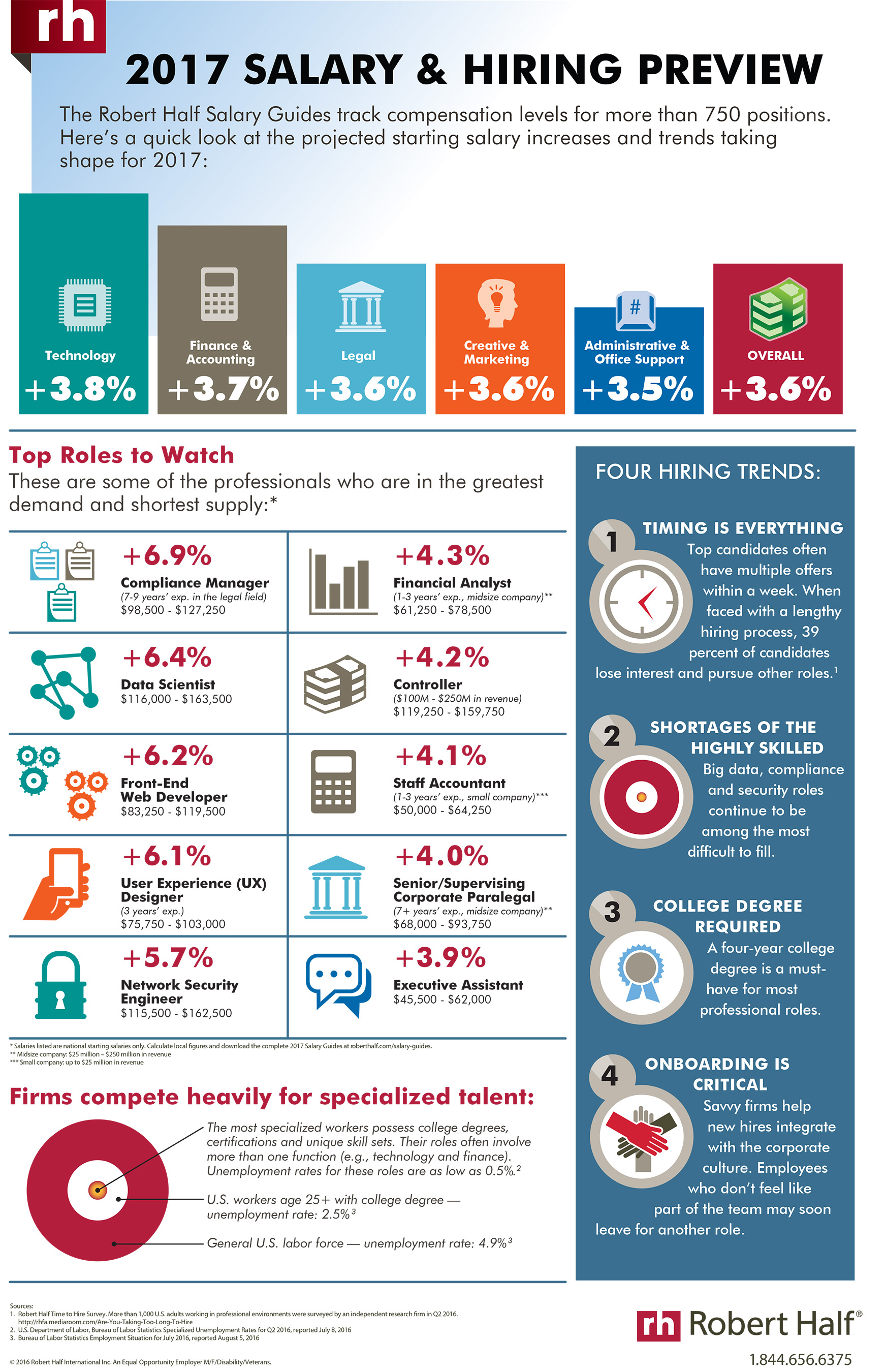 Join To Our Newsletter
You are welcome