Make the brand the central organising principle for everyone and everything in a company rather than just the products, services, logos and imagery.
Brands are assets that create sustainable wealth, both for businesses and wider society. Every successful brand has a clear positioning expressed through its name, logo, identity, in fact all aspects including its products, services and staff behaviours.
The value of brands to large, international organisations is well understood. But, even for smaller businesses, branding is critical and similar concepts can be applied to define brand identity. Ultimately, consumers and businesses are often making the choice between one brand and another. This makes improving brand identity is relevant to all businesses.
Brand positioning and identity are integral components of the overall brand strategy. Increasingly, brands require a distinctive customer experience delivered through the behaviours of its staff, consistently at all customer touchpoints. Some brands have a clear purpose that is a higher level positioning or an ideal. A purpose tends to derive from the founder's intrinsic motivation and passion – the original reason for its existence. Purpose is essentially positioning.
This brand-led approach in summary should be aligned with the vision for the business. Ideally, every employee, function, department, and partner will communicate and behave in ways that deliver an authentic and consistent customer experience.
In our new practical brand identity guide by Debbie Inglis, we explore the importance of brand vision and identity as well as two main approaches: the classical Aaker approach and the challenger approach.
What is brand identity?
The brand identity is the unique set of brand associations that represent what a brand stands for and promises to its customers. As defined by David Aaker, Brand identity is organised around 4 perspectives with 12 dimensions:
Brand as product: product scope, attributes, quality, uses, users, and provenance
Brand as organization: organization attributes, local vs global
Brand as person: personality, type of brand-customer relationship
Brand as symbol: visual imagery/metaphors and brand heritage
The core identity is the central, timeless essence of a brand and is most likely to remain constant as a brand travels into new markets and product categories.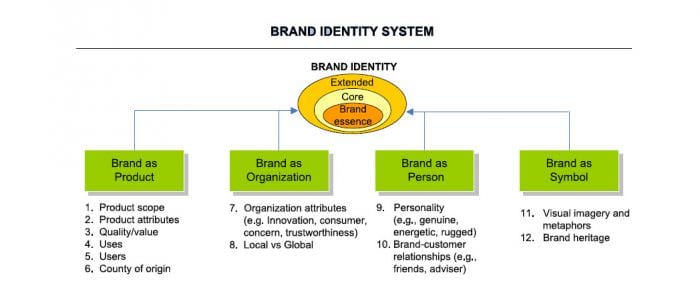 In our new guide, Debbie Inglis discusses two approaches, the classical approach and the challenger approach.
The challenger approach
Eat Big Fish created the Challenger approach – see their 8 challenger credos. Here the brand invites the customer and/or consumer to navigate by them. They behave as, what Eat Big Fish calls, Lighthouse brands with a Lighthouse identity.
Success as a challenger comes through developing a clear sense of who and/or what you are as a brand/business and why – intuitively. When distilled into a Lighthouse identity this is then projected intensely, consistently and saliently to the point where customers and consumers notice you, know where you stand and will be attracted to you if, what you stand for and why, is attractive to them. The brand is centred on an idea or ideal and not on the consumer and/or customer needs and/or aspirations.
The Challenger process of developing a brand strategy and identity is consultative with internal workshops run involving key stakeholders employed by the brand owner. Consumers/customers are not asked about their perceptions of the brand and the strategy is not co-created with them through market research.
Instead, this approach focuses on finding what people in a company think and feel the brand stands for and then shining a light beam on this to create a communications strategy, the positioning, identity and strapline.
The classical, strategic approach
David Aaker's created the classic brand identity process – see his article giving 6 reasons your brand needs a brand identity model. This process begins with a deep dive analysis of the market, the brand's customers, its competitors, performance and all available bespoke market research. This is typically part of a business planning process with a SWOT or TOWS used to compile the outputs of this strategic analysis. Strategic options are then generated and a strategy selected. This part of the process requires considerable time and effort. This is covered in more detail in section 4. In the guide we show you the models and explain how you can implement them into your business.
You can read more in our Brand Identity guide and decide which approach is best for your business. The guide explores:
The importance of brand vision and identity
Definitions for brand vision, brand positioning, brand identity and brand guidelines
The 2 main approaches to delivering a brand vision and a brand identity with a focus on the classical approach (Aaker) and the Challenger approach
How to develop your brand vision, brand positioning, brand identity

the main deliverables including brand vision, proposition, positioning, identity and guidelines. Includes 5+ B2C and B2B examples.
Join To Our Newsletter
You are welcome