In-app messaging lets you communicate with your users and keep them engaged, so they don't uninstall your app shortly after downloading
If you want to build user retention, there's more need now for user engagement than ever before. Users are spending more time on their smart devices, downloading apps they feel are of value and that will make their lives easier. There's also no shortage of apps available, which means yours needs to stand out from the rest.
This is where in-app messaging comes in. It lets you communicate with your users and keep them engaged, so they don't uninstall your app shortly after downloading.
But what exactly is in-app messaging and how can you make the most of this marketing strategy?
In-app messages are exactly that – messages that are displayed within the app and triggered according to user interaction. First-time users will have a different message and experience than those users who have already been through the onboarding phase of app useage. Returning users are ready for messages with a more specific purpose such as updates about services and useful tips.
In-app messaging allows you to communicate with your audience and build a relationship based on trust and excellent service. You'll be able to collect feedback and give users what they want, whether it's information about a new product or the solution to a problem.
Keep your users engaged and lower your abandonment rate by implementing these nine best practices for in-app messaging.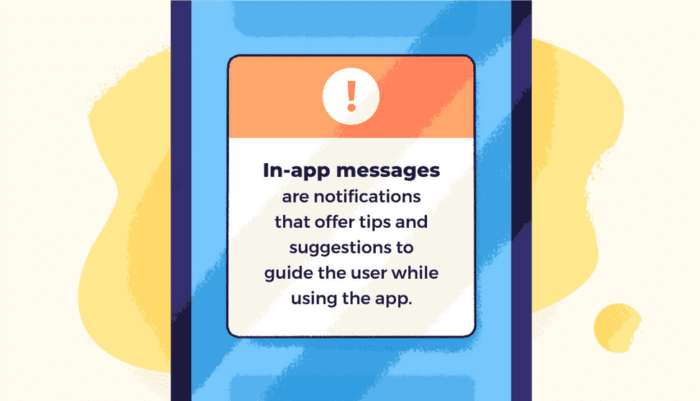 1. Onboarding
User onboarding is one of the most important goals of in-app messaging. It helps users to quickly understand the key features of your app and how to use them.
Ultimately, on-boarding should achieve two things:
Welcome users and make them feel comfortable and confident that they've made the right decision in downloading your app.
Guide users through the steps of using your app so that it delivers immediate value.
2. Personalize the user experience
Personalized messaging matters. In fact, marketers say that personalization increases user engagement by 57%.  By implementing personal messages in your app you can build stronger relationships and two-way communication with your users. You'll be able to use in-app messages to communicate at just the right time. For instance, a good way to make users feel valuable is by personalizing and using their name in a welcome greeting.
Once users have been using your app for a few days, personalize even further by using messages that guide them through to different features, such as tutorials or useful tips.
3. Inform using updates and announcements
In-app messaging lets you keep users up to date with important information and announcements such as special offers, upgrades to your app, and new products or services. Statistics show that when you're able to meet user expectations by providing them with valuable information, you can see a four times increase in conversion rates.
4. Celebrate user milestones
Keep users engaged in your app by celebrating and rewarding milestones, such as birthdays or the anniversary of when they first downloaded and signed up for the app. When you show your appreciation through in-app messages you build trust and further engage users.
Celebrating milestones also results in habit formation, when using your app becomes a personal investment for users and they keep coming back. These returning users are extremely valuable, becoming loyal and committed to your app and the services you provide.
5. Request user feedback
Asking users for their feedback shows them that you're listening and paying attention to what they think. You can request feedback about new features that you've added to the app or about new products or services that you're promoting.
A study by Microsoft shows that brands are looked at more favourably by 77% of users if they ask for and respond to feedback. Once you have user feedback, recognize its value:
Use an in-app message to acknowledge that you've received user feedback.
Use feedback to continuously make improvements and boost the user experience.
6. Enhance user experience with visuals
A good way to engage users is by using in-app messages with relevant images and videos. Visuals are more effective and memorable in reaching users, making it easier for them to process and retain information. According to marketing studies, visuals produce 650% more user engagement than only text.
Choose visuals that improve communication, designed with the user in mind. Select images and videos that are appropriate for your brand and create the message around it. In order to make the most impact, aim for visuals that quickly and easily convey the message you want the user to receive.
7. Create a CTA that's appealing
For the best user engagement and experience, create appealing CTA (call to action) buttons that are clear in their function. A CTA button should be easy to see and reach, leading the user to what you want them to do next.
You want the CTA button to stand out so there's no confusion:
Use a colour that contrasts with the rest of the in-app message.
Use only one or two words of text within a button.
Position the CTA button at the bottom of the message, so it's easy to reach with the thumb.
8. Encourage cross promotion
Every now and then send out an in-app message asking users to follow you on social media or to take a look at new products or services you're offering on another website. This marketing strategy allows you to use your app to promote your social media presence and also works the other way around. Your social media platform or website should equally guide users to your app.
You can also partner with another company, highlighting each other's products and services across social media and app platforms. This cross-promotion increases exposure to your target users.
9. Maintain your business brand
You've spent a lot of time developing your brand – it's important to maintain the consistency of this brand in your app. Statistics show that 59% of users prefer to deal with a brand they're familiar with. This includes design and colour, all the way from your logo to the font you use in your in-app messages.
This type of customization will strongly reinforce your brand and style. When your voice resonates throughout the app, your audience gets a clear sense of your image.
Wrapping up
Engaging users and keeping them interested is central to the long-term success of your app. One of your main marketing goals should be to promote a high level of user retention using in-app messaging. Users who download and engage with your app are more likely to become loyal and valuable users.
For quick reference of the above tips and best practices, below is a summary infographic from CleverTap.

Join To Our Newsletter
You are welcome