Chart of the Day: Snapchat and Instagram dominate teens' favourite social media platform
Piper Jaffrey has released the results from its twice-annual survey of US teens into their favourite brands, websites, and social media platforms. The results show that Snapchat and Instagram have been pulled away from their competitors in the minds of the American youth.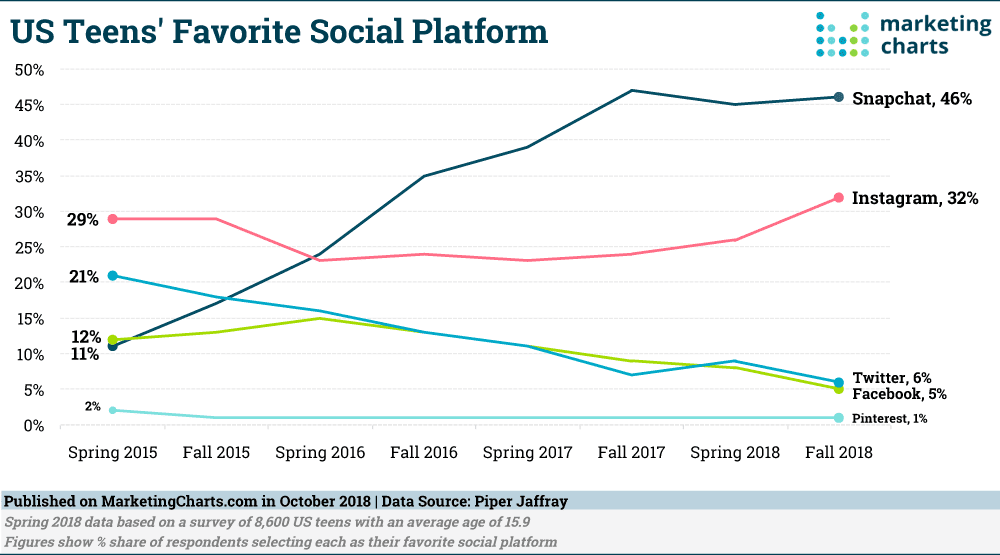 Snapchat has held the top spot since the Spring 2016 survey, and now has a dominant 46% of people stating it's their favourite platform. Instagram has seen a major upswing from the Spring 2018 survey, moving from 26% to 32%.
Interestingly, Instagram's growth in popularity hasn't encroached on Snapchat, but it seems to have made a huge impact on Twitter. Facebook's status as 'most popular social platform' has more than halved from 12% (in Spring 2015) to 5%, while Twitter has plummeted from 21% to 6% in the same time.
It could be worse. Look at Pinterest.
Also of note is that when it comes to overall usage, Instagram and Snapchat are practically neck-and-neck (85% vs 84%). If you want to make an impact with a young target audience, ensure your company is taking advantage of these platforms.
Join To Our Newsletter
You are welcome