0  Updated at 12:00 pm, August 30th, 2017 By: Natalia Hepworth, EastIdahoNews.com
We Matched
Google pro Stasia Kudrez teaching local business owners. | Natalia Hepworth, EastIdahoNews.com
IDAHO FALLS — This week Google professionals visited eastern Idaho to teach local entrepreneurs how to make the most out of the internet.
"We travel across the country helping businesses to get online," Google Small Business Marketing Manager Wendy Gonzalez said. "We know it's a robust small business population, so we're excited to be here."
Google hosted a free workshop Tuesday showing small business owners the best ways be found by customers online. About 100 participants came to the Waterfront building at Snake River Landing to learn about different applications to help make their business internet-friendly.
"Google wants to help small businesses expand their reach online and support them as they continue to grow and shape the economy here in Idaho Falls," Google Small Business Outreach Program Manager Emily Harris said in a news release. "This program makes it fast, easy and free for businesses to get online."
Participants were involved in hands-on workshops for services like Google Search, Google Maps and Google Plus.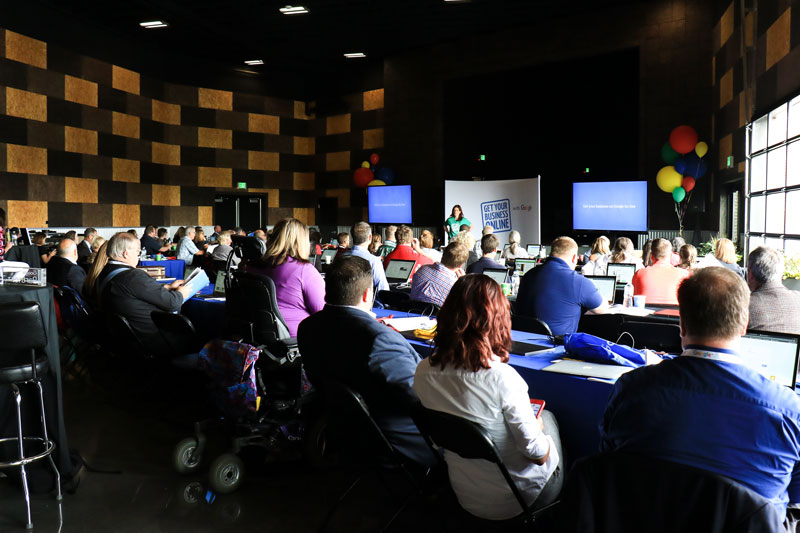 Natalia Hepworth, EastIdahoNews.com
"Everything from the very basics of search engine optimization and web analytics to also how you claim your Google business listing and make sure it's updated," Gonzalez said.
U.S. Senator Jim Risch (R-Idaho) attended the event as a special guest. Risch serves as chairman of the Senate Small Business Committee.
"What Google is trying to do here today (is) to engage small businesses in how they actually use these tools that are available to them, and become successful and be able to reach the billions of people that they can reach on the internet," Risch told EastIdahoNews.com.
Risch said having had several small businesses himself, he believes the best way to assist them is by guiding them to the public and private resources.
"I welcome Google to the great state of Idaho and am glad this event will provide local eastern Idaho businesses a number of tools they can use as they move forward in their pursuit of the American Dream," Risch said.
Business owners can find more information and additional resources to help grow their businesses online at Gybo.com.
Stories You May Be Interested In:
Join To Our Newsletter
You are welcome