Chart of the day: Know how and where to target Generation Z consumers in 2018
Generation Z, also known as post-millennials, are the latest generation to take to online media consumption, adopting a social and mobile-first approach to online research channels.
Targeting millennials has, in the past few years, become a buzzword for any business that wants to delve into the minds of consumers who want more brand engagement, charity-inspired campaigns, and tech-savvy marketing. However, Generation Z are, what some call, the future of social consumerism. Starting from the mid-1990's (approx 1995) these are the generation who live and breath online, where social media, staying connected and latest trends are vital to daily life.
By these dates, Generation Z are approximately 21-22 years old, starting their careers or in full swing knowing who they are and where they want to be. It is the generation where traditional advertising might not cut it anymore, they aren't looking at billboards because they're looking at their phones and they aren't listening to the radio because they're playing iTunes, Spotify or Youtube for music needs. So getting online and advertising on these platforms is crucial to planting the seed for purchase.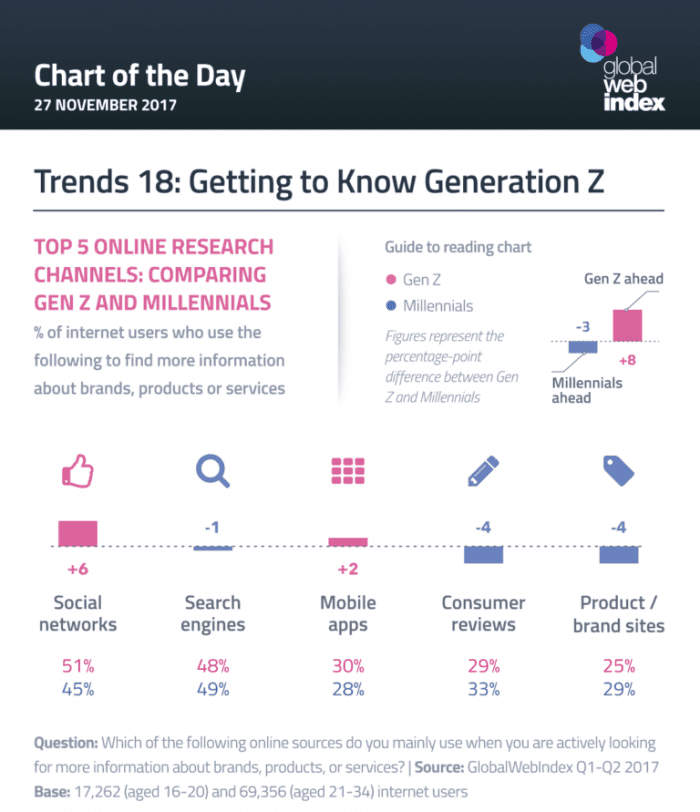 In Global Web Index's Trends 18 report, we find proof for our general thoughts – Generation Z is primarily a social/ mobile-first generation. Social networks and mobile apps are used more often than millennials for online researching and can be channels that represent the most influencer for buying decisions. This is no shock given the rising trend of influencer marketing appealing to younger generations.
Brands are using vloggers and social influences to promote their products on social platforms where they can't reach their audience.
To reach Generation Z consumers think about:
Buyer Personas 
The social platform they are using – using the same strategy across all social platforms may not work. different platforms have different social feed algorithms so potential reach is limited if each individual social strategy is not defined. on top of that, each social platform is used for a different reason, make sure you're in the right conversion on the right platform, or else you risk poor reach and engagement.
When your audience is online – posting content and social updates is only good if your audience are online to see it
Content – what content do they want to see on each platform (you don't want to be posting blog post links on Instagram – use visuals to attract their attention)
Have you thought about ephemeral and user-generated content? – get your audience involved. Younger audiences want to be more engaged and feel valued by brands – have your customers send in pictures of them using products etc. this will also create a great 'public' brand ambassador program with real-life testimonials. Using ephemeral content will keep the social-savvy Generation Z constantly checking social media (more than they are now) for content they don't want to miss.
Join To Our Newsletter
You are welcome