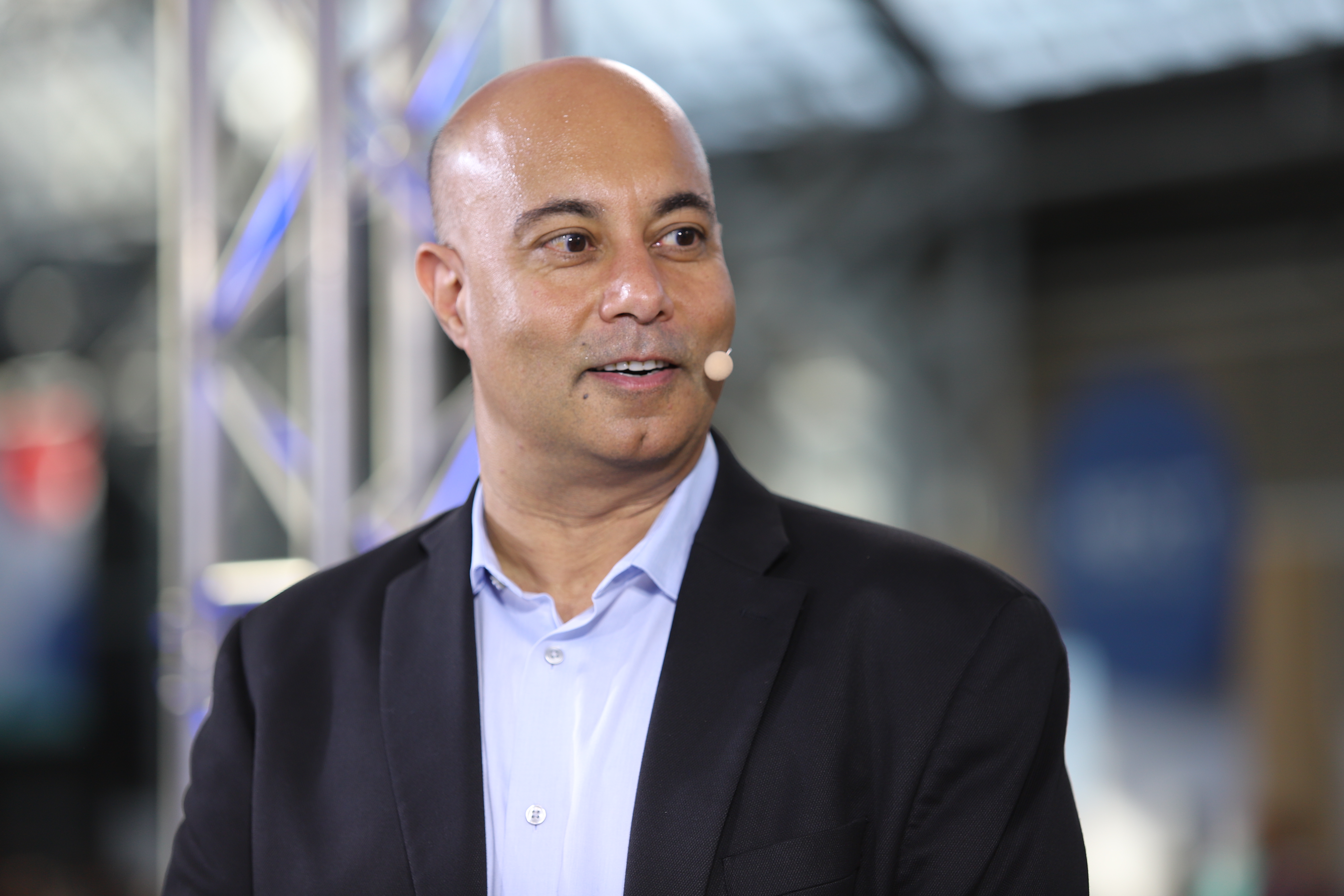 Simplicity is the byword for product design these days. Seamless, intuitive, one-click … consumers expect applications and products to be simple to understand — and easy to use. This expectation has trickled down from consumer devices to the infrastructure that supports them. Hands-off operations would give developers time to innovate for the future instead of constantly fixing the issues of today.
"We spend way too much time today just doing things that keep the lights on," said Rajiv Mirani (pictured), chief technology officer of cloud platforms at Nutanix Inc. "Just patching infrastructure, patching things, upgrading them. IT should be focusing on the business, delivering applications that their customers need and not so much on managing infrastructure."
Mirani spoke with Stu Miniman (@stu) and Rebecca Knight (@knightrm), co-hosts of theCUBE, SiliconANGLE Media's mobile livestreaming studio, during the .NEXT Europe event in Denmark. They discussed how Nutanix has changed its core hyperconverged infrastructure software and is aiming its new solutions toward hybrid cloud deployments (see the full interview with transcript here). (* Disclosure below.)
[Editor's note: The following answers have been condensed for clarity.]
Miniman: We all know that Nutanix is a software company. How is Nutanix making sure that its software — primarily its core HCI software platform — can support new hardware advancements, such as NVMe, Intel Optane, etc. Can you balance getting all of this new stuff with making sure that you keep that simplicity?
Mirani: The idea is to make it simple for 99% of the people while still offering the all-vast options that 1% power users would need and making sure that we understand what 99% of people need.
So, [we do] a lot of customer focus studies and a lot of design reviews. But also this constant going back. You take workflow like provisioning of [virtual machines]; when we started it was pretty simple. Then as you start adding more and more options, suddenly you realize that now there are 30 things that people are filling in to provision a VM. Most of which nobody cares about. So, you go back [and] rewrite. And keep doing that again, and again, and again.
Miniman: It's one thing when you talk about living on different servers. It's got to be a little bit different if you're talking about where you're going with HPE GreenLake, or with the Xi clusters in AWS. Will Nutanix be able to keep that simplicity and bring that homogeneity to these dispersed environments?
Mirani: Absolutely. So, the point is: What's your layer of abstraction? The way we are going to public cloud; the way we go to every server when we're out there; the way we are doing things in Xi [cloud services], all of it starts with the hypervisor and the storage stack and networking the three layers of abstraction.
And if you have the same three components everywhere, everything we build on top of that remains exactly the same. So, higher level constructs — like [Nutanix Calm Application-centric IT Automation] provides and so on — don't have to be aware of what the actual substrate is. If they're creating a Calm blueprint, whether it works on Xi on AWS, or whether it runs on [VMware] ESXi, or whether it runs on Nutanix AHV, the blueprint remains exactly the same.
Miniman: So tell us where automation fits into some of these new things that you have been talking about?
Mirani: We look at automation in three steps. Anything that's automated better be safe first of all. Safety is paramount. So, it starts with security. It has to be simple, and Calm provides for that.
Then you can start adding in this new wave of technologies around artificial intelligence and machine learning. Really, it's not so much about automation right now; it's all about autonomy. It's autonomous operations, not just scripts that do a task.
That's an area we invested in very heavily early on with our Prism Pro product. We built our own patented algorithms for machine learning, [and] applied them to operational metrics like capacity planning, and what-if modeling, and dynamic alerts. And what we've been doing with that is extending that more into the application layer so that not only can you apply these algorithms to CPU and memory, you can actually get insight into "Hey, the latency on this particular application looks somewhat unusual," or "The amount of cache available on a SQL server is unusually low," and act on those.
The other part is acting on alerts: If something happens, does a human being need to get involved to solve for that? And if it does, then well it's not really automatic right? Autonomous data centers by definition have to be invisible. If you were to get in to managing an autonomous data center, then what's the point? So the whole idea is that human involvement in day-to-day operations become so low that everybody's focused on applications and line of business use cases.
Knight: One of the things that really comes across at this conference is just how strong Nutanix's culture is. The company culture; the humble, honest, hungry, and another word that's creeping in now is resilient. I'm wondering if you can describe how the company's resilience has really displayed itself?
Mirani: Anytime you go through the kind of growth we have, there's the forward momentum that everybody sees. And there's also a lot of setbacks that people don't really see. There have been areas where literally the product has had a flaw, which was so fundamental we called it internally a "near-death experience."
What has been really great, from an engineering point of view, is how the teams come together at that point. We set up these war rooms; people are working weekends. Everybody's there. Everybody's on it. Nobody talks about "Where's my work life balance?" or things like that at that point, especially when there is a customer involved.
If there's a problem that's causing customer outages, our engineers will give up everything. Not just at work, but in their lives, to make sure that gets fixed. That has helped us get past the setbacks and get back in stride. It happens less now, but it has built this real culture of resilience.
Watch the complete video interview below, and be sure to check out more of SiliconANGLE's and theCUBE's coverage of the .NEXT Europe event. (* Disclosure: TheCUBE is a paid media partner for the .NEXT Europe event. Neither Nutanix Inc., the sponsor for theCUBE's event coverage, nor other sponsors have editorial control over content on theCUBE or SiliconANGLE.)
https://www.youtube.com/watch?v=kpLx9lT71uw?feature=oembed
Photo: SiliconANGLE
---
Since you're here …
… We'd like to tell you about our mission and how you can help us fulfill it. SiliconANGLE Media Inc.'s business model is based on the intrinsic value of the content, not advertising. Unlike many online publications, we don't have a paywall or run banner advertising, because we want to keep our journalism open, without influence or the need to chase traffic.The journalism, reporting and commentary on SiliconANGLE — along with live, unscripted video from our Silicon Valley studio and globe-trotting video teams at theCUBE — take a lot of hard work, time and money. Keeping the quality high requires the support of sponsors who are aligned with our vision of ad-free journalism content.
If you like the reporting, video interviews and other ad-free content here, please take a moment to check out a sample of the video content supported by our sponsors, tweet your support, and keep coming back to SiliconANGLE.
Join To Our Newsletter
You are welcome