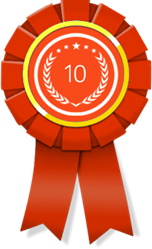 CHICAGO (PRWEB)
September 18, 2019
Awards organization 10 Best SEO has selected the latest winners of its monthly award for Best Enterprise SEO Agency category. For August 2019, Straight North and Boostability were chosen as the top honoree in the category.
This award is significant because large organizations depend on many different marketing strategies in order to get noticed today. There is a lot of competition globally for the same pool of customers. With the website being the primary marketing tool that companies and organizations of all sizes use today, it is critically important that an effective search engine optimization strategy be deployed. Without it, competitors will attract new prospects and leave others in the dust.
Consequently, enterprise SEO has emerged as a specialized field that is useful for helping the largest companies grow over time and increase revenue. The agencies that implement SEO strategies for these companies must be highly specialized as well. Not just anyone can do it. This is why 10 Best SEO has come up with the following list of firms that are the best in the business. This is a monthly award and they are pleased to announce the most recent winners.
The August 2019 award winner for best enterprise SEO agency is Straight North. This is a Chicago based agency that excels in helping the largest of its clients get noticed when a search is conducted in their area. This requires a team that is highly specialized and knowledgeable about the shifting algorithms that Google and other search engines are deploying today. Understanding how the principles of Enterprise SEO work is critical to the success of any firm in this industry. Straight North has the experienced personnel that large organizations today depend on to get the job done right. The end result is an increase in organic traffic that is meant to increase revenue over the long term.
Earning second place on the list of top enterprise online marketing companies for August 2019 is Boostability. They are based in Lehi and have developed into a large agency that clients can depend on to get the job for them done right. It is their mission to work with large organizations and help them to maximize revenue. This is best done by maximizing marketing exposure, and that is what Boostability is adept at doing. They understand what it takes to get noticed in today's busy and heavy-laden world of digital media. They can get companies noticed above all the noise by developing refined marketing companies that target a specific audience.
For more information about the August award winners, please visit http://www.10bestseo.com.

Share article on social media or email:
Join To Our Newsletter
You are welcome