A step-by-step approach to using identify-based targeting to drive relevance for your digital ad campaigns
One of the huge advantages that digital advertising has promised marketers is the ability to target audiences more precisely and deliver personalized content and creative. Whilst TV, billboards, print and radio can reach mass audiences at scale, highly targeted digital advertising gives marketers the opportunity to drive relevance and accuracy that no other media can match.
Although digital advertising has always had a degree of targeting and personalization, the introduction of identity-based targeting has taken this to a new level. Identity-based targeting has now been adopted by many of the world's largest advertising companies, opening up new opportunities on a range of channels including Facebook, Google, Amazon and Twitter.
The advantages of identity-based targeting
Good advertising always starts with a clear objective. For brands looking to build mass reach and frequency to drive awareness, broadcast media is a highly effective channel. However, for brands looking to drive brand consideration and purchase, digital can play a very important role.
Identity-based targeting, also known as Custom Audiences (Facebook), Tailored Audiences (Twitter), Customer Match (Google) or Advertiser Audiences (Amazon), enables advertisers to deliver laser-targeted ads to their existing customers within different channels. If these customers have been identified as more likely to purchase, then you can make more efficient use of your ad spend and maximize ROI.
The opportunity to reach existing customer means that marketers can optimize towards relevance and be more accurate with the audiences they're targeting. This helps reduce wastage and means that content and messaging can be more accurately personalized.

Identity-based targeting also allows marketers to create lookalike audiences; new audiences who share similar behaviours and characteristics with existing customers. From the basis of an initial set of existing customers, marketers now have the opportunity to expand their custom audience lists further and achieve relevance at scale.
Putting identity-based targeting into practice
In order to describe how identity-based targeting works in practice, I'm going to use Facebook's Custom Audiences as a working example. Whilst there are differences between each of the platforms' propositions, they all work broadly the same and many of the steps and principles can apply to each.
Prepare your audience list
Facebook has over 1.5 billion daily active users. With an audience so large, unless you're a large brand with an objective to build awareness, it's prudent to be targeted with your advertising in order to reach users who are likely to be interested in your business.
The first step is to prepare your audience list. Facebook Custom Audiences has a number of options, however, the theme of this post is related to 'Customer file' option.

The audience list you prepare will need to be based on any of the following customer data (for which you have gained first-party permission):
Email addresses
Phone numbers
Facebook User IDs
Although the data for these people is likely to be based on past purchases or consideration (e.g. following interaction with a newsletter or Facebook page promotion), Facebook will not be able to identify them until you have uploaded your list to the platform.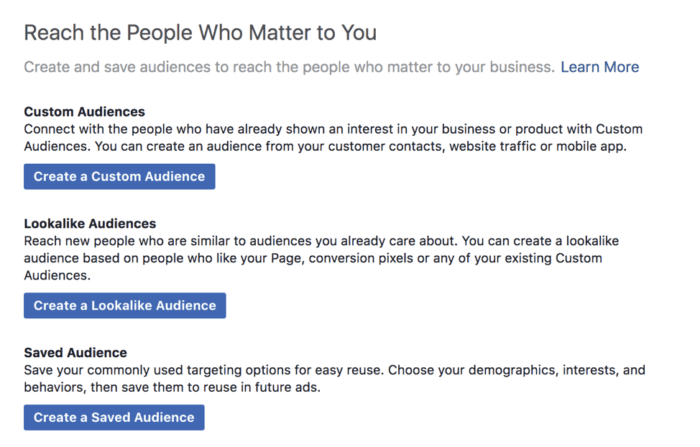 Add your customer file
Once you've checked over your audience list and are happy that it aligns to your campaign criteria, you'll be ready to add your customer file to Facebook.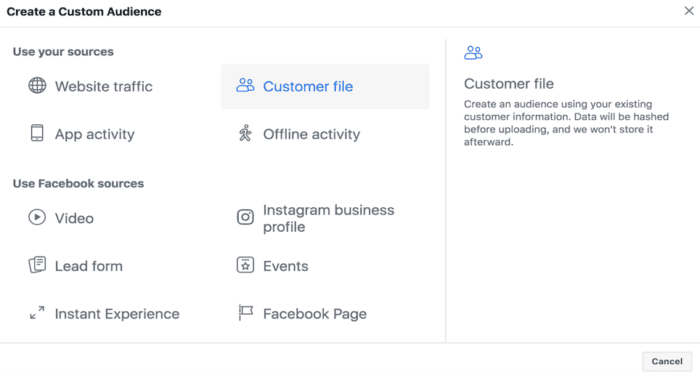 After selecting 'Customer file', you'll then be taken to the next step where you can start the process of uploading your customer data to Facebook.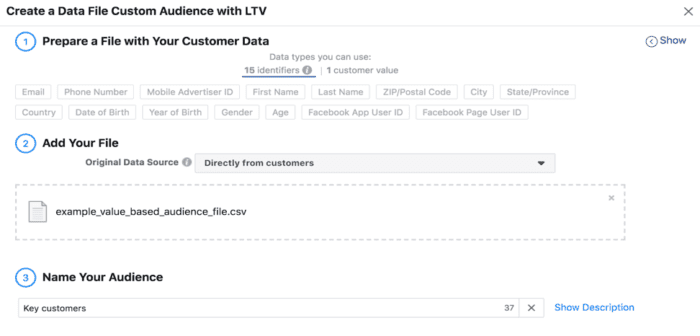 The more information you can include in your data file, the more accurate the matching will be by Facebook. You can typically expect a match rate between 60-80% of the contacts on your list.
Edit data mapping
Facebook will show you a preview of your data and how they've classified it. There are three statuses:

means Facebook thinks it knows what type of data this is and will use it when trying to match the information in your customer file to people on Facebook. Only the data with this symbol gets uploaded for matching.

means Facebook is not sure what type of data this is or you've told the platform to leave it out of matching.

means the data type has been identified, but Facebook can't detect a supported format. You may have to reformat the data in your file or select a formatting option.
If everything is given the green light, you'll see something like this: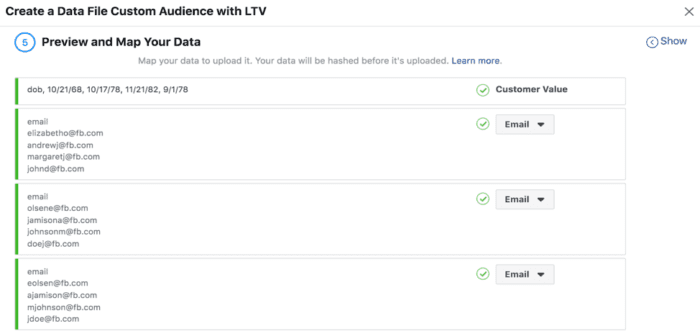 After this point, you can select 'upload' to send your data to Facebook.

Hashed upload and creation
Before uploading your data to create the audience, Facebook will first hash the data. This essentially turns the email addresses, phone numbers, Facebook IDs, etc. into numbers to protect both your audience's data and the platform's.
Facebook describes this as turning the data in your customer list into 'short fingerprints' that cannot be reversed. This all happens before the data is sent to Facebook and appears within your asset library.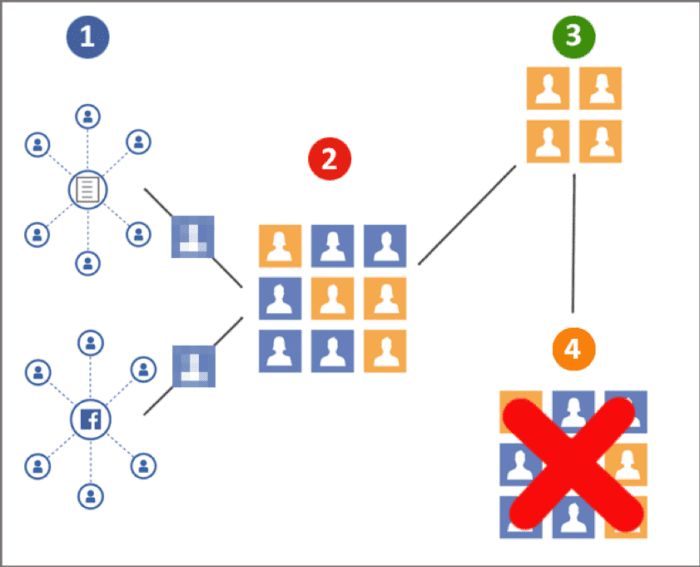 Facebook hashes the data our users have provided us. You begin uploading your customer list and it's hashed locally in your browser before it's uploaded to Facebook.
After your hashed data is uploaded to Facebook, we match it against ours.
The matches are added to a Custom Audience for you.
The matched and unmatched hashes are deleted.
Once Facebook has matched your data, the audience information will appear in your asset library and if ready, you can start running ads with the audience right away. However, be mindful that if you have uploaded a large audience list the audience size will increase as the audience is populated.
Summary and conclusion
Recent digital advertising innovations, such as identity-based targeting, gives marketers new opportunities to reach the audiences that matter. Facebook's Custom Audiences, Google's Customer Match and Amazon's Advertiser Audiences are just a few examples that give brands with limited marketing budgets or very specific audiences new ways to drive relevance and personalized ad experiences.
Using data from customers who have previously interacted or shown an interest in a brand enables marketers to create highly specific target audiences and tailor content for a very narrow set of people. The feedback and lessons learnt open up new opportunities to target larger, broader lookalike audiences that have similar behaviours and characteristics of those who have previously shown a strong affinity with a brand.