A year after GDPR's introduction, 42% of US news sites flatly block connections from Europe, limiting the potential reach of marketers' stories.
It's been one year since GDPR was introduced, which should be more than enough time to adapt to the changes. However, some sectors still haven't adjusted to accommodate the new rules.
One key area for marketers is the United States' news landscape. When GDPR was first introduced, many newspapers in the United States opted to simply block all connections from the EU while a new solution to handling customer data could be developed.
However, a year later, this is quickly becoming the permanent state of affairs. We tested a group of over 500 US news sites and found that 42% of these sites still simply block any attempt at connection from Europe, while a further 9% offer users an inferior experience with limited content.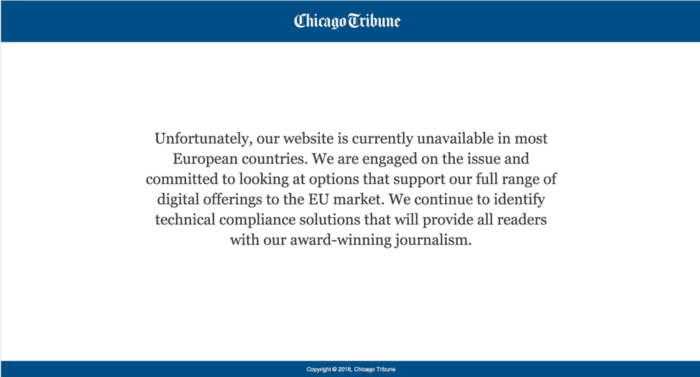 This has real implications for users in Europe, especially emigrants from the United States and travellers, as the current state of affairs makes it significantly harder for them to keep up to date with news in their home towns and states.
But what does this mean for marketers?
Any impact on internet accessibility has a knock-on effect on the potential reach of the stories we want to tell. In a post-GDPR world, concerns about marketing ROI have come to the forefront. While email marketing has survived GDPR for the most part, the prevalence of non-compliant news sites in the United States will have an effect on the viability of content marketing, traditional ads and advertorial in these publications.
Even the democratizing factor of social media has limited potential to solve the problem. Even if a user in Europe clicks through to a piece of your content through a social link (an increasingly unlikely prospect), they still won't be able to access the content in question if the site it's hosted on chooses to block European connections.
While some tech-savvy consumers would be able to circumvent these blocks by using a good-quality virtual private network (VPN) to appear as though they are accessing the internet from the USA, this technology is not yet mainstream enough for consumers in Europe to make the problem ignorable.
The US is known for its diverse media landscape, from tiny town and village papers through to global brands. However, it's the state-level news sites that prove the most illustrative of the problem of GDPR compliance in US online news. At the national level, accessibility in Europe isn't too bad, as 93% of the national brands we tested are accessible for users in Europe. However, when drilling down into the data on a state-by-state level the story is much different.

Most US states have a few significantly large sites that would be huge wins for marketers to gain a backlink from. From an SEO perspective, a backlink from a site like Florida's Sun Sentinel or Wisconsin's Madison.com would be valuable, but if there's no further reach to the story you want to tell then your potential ROI won't be maximized. It may simply be that your time and money is better spent in states with more widely accessible online news outlets.
The most significant "dead zones" are in the Midwest – only 10% of Indiana and Iowa's major news sites are available to users in Europe, while Michigan and South Dakota aren't much better with 30% of sites available.
However, marketers looking to make the most of their budget shouldn't fall into the trap of writing off the state of regional news accessibility as being a simple case of 'the coasts versus the centre'. While this does generally correlate with the data, some rural states have plenty of Europe-accessible sites that still hold a great deal of potential from an SEO perspective.
Our study found that 70% of news sites in Arkansas are accessible from Europe, a number roughly equivalent to New York. Meanwhile, Nevada should be held up as a national example of GDPR compliance, with 90% of the news sites we tested fully available in Europe – more than California.
How to get past the problem
Aiming your content marketing efforts at these states prevents your pieces from siloing themselves off into a regional news ecosystem. Regional news stories from the US routinely find their way into mainstream publications in the UK and Europe, but these backlink opportunities fall by the wayside when the sites of original publication aren't accessible from the EU.
One best practice for marketers hoping to maximize the impressions on their stories should be to invest in access to a good-quality VPN, as these allow their users to route their internet traffic in a secure tunnel to a server based in the country the user has selected. This allows the user to experience the internet as though they are accessing the internet from their country of choice.
Using a VPN to test the accessibility of a US news site in Europe should inform pitching decisions in content marketing. It's simple – the more accessible a site is, the greater potential you have for international syndication.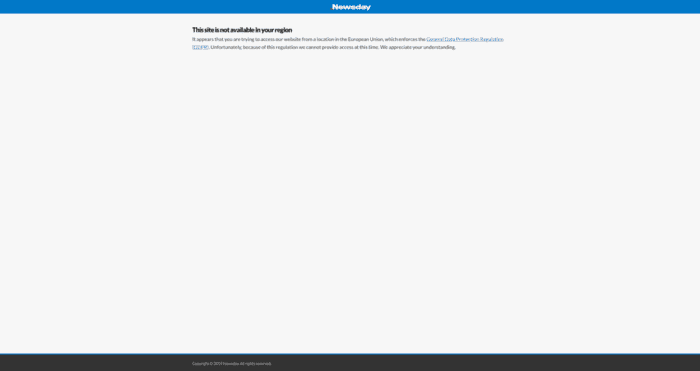 Final takeaways
Even though it's been a year since GDPR took effect, the US news market is still in a period of transition to compliance. This situation is likely to improve over the coming months as the market continues to acclimate to GDPR, but there is every chance that we could see the US news market continue to stagnate in terms of accessibility from Europe. In the meantime, here are the key takeaways from our research:
We tested 500 news sites from across every state and level of notability and found that 42% block all connections from Europe, and another 9% offer users in Europe a lesser experience with limited content.
There is a wide variation in European accessibility on a state level.
States to target include New York, California, Connecticut and Nevada.
Most of the Midwest has extremely limited European accessibility, especially the Dakotas, Indiana and Iowa.
Marketers should be aware that working with sites that are blocked for users in Europe limits the potential for their stories to breach out into the wider world. A best practice when pitching to state-level news outlets should be to first test each site on your planned outreach list with a good-quality VPN from a reputable firm. This will let you find out if the sites you plan to pitch to are blocked in Europe, and will help inform your strategy.