More choice means it not only becomes harder to persuade customers to engage with a particular proposition but also to retain their interest post-transaction.
Digital has leveraged the greater array of choice available to consumers now, which is much more than at any other time in our economic development. At the same time, it has made it this choice available to far more people than in any previous period of history.
This combination of choice and availability does two things:
It disrupts traditional or established relationships, particularly where the choice becomes limited or stale.
It creates an enhanced set of expectations for customer experience.
As a consequence, it not only becomes harder to persuade customers to engage with a particular proposition but also to retain their interest post-transaction. In our experience, this is primarily down to a failure to deliver the best possible customer experience both during and after the initial transaction.
The risk of failure is significantly enhanced by the fact that e-commerce is a disintermediated transaction.
You can't trust a machine
The definition of trust is that it is something inter-personal. It's what one person gives another. It is also vulnerable in that it is given, not taken; so, it can't be retained by the recipient but it can be taken away by the giver. Trust is given and removed in response to how you behave toward or interact with the other person.
This is important as you think through customer experience and how to ensure the best possible choice of not just getting the customer back, but doing so in such a way that they will bring their friends and family with them. It frames a number of key issues for online engagement:
Brand trust comes not from an interaction with a single person but with many people, the impact of your decisions about communication, what you choose to associate with your brand and the processes you require people to engage with.
To establish and maintain trust, brands have to figure out how they get everyone involved in the process of brand promise delivery to understand their role in ensuring that the customer gets what they think they have bought. As a result, the customer, therefore, not only accepts an ongoing relationship with you but can also be persuaded to encourage others to join them. This is particularly acute in e-commerce where virtually no-one involved in the process has regular active engagement with the customer unless you develop powerful processes that make them pay attention to the customer before thinking about anything else.
To do this well requires leaders to think strategically about their total customer experience and how they can encourage customers online to become engaged with their brand.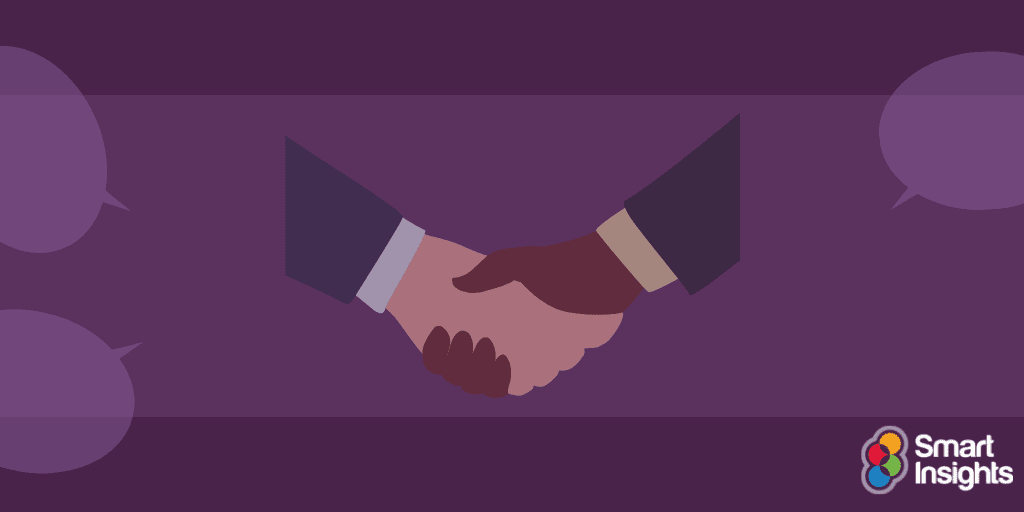 My friend likes you
Deciding whether or not to engage with a product or service proposition is nearly three times more likely to be influenced by a known person or respected authority (yourself, someone close to you or a trusted independent expert) than it is through receiving a marketing email. Research by AC Nielsen across 60 countries found that of those surveyed:
85% said they trusted the recommendations of friends and family.
66% indicated that they trusted consumer opinions posted online and more than half of global respondents (56%) trusted emails they signed up for.
There was very little difference in the level of trust in online between Millennials and older demographic groups – they were slightly higher amongst millennials but still, nearly 50% did not trust what was presented to them. Like other demographics, they showed a greater willingness to trust friends and family most and other marketing channels such as TV.
Conversely, the lack of trust can drive customers away. In an Accenture report, 43% of consumers switched providers because they lost trust in the company and 38% said their loyalty to brands is more driven by trust (for example, in how they handle personal data security).
Never ask for everything on a first date
In any relationship, trust is built over time and if the data above tells us anything it is that a customer-centric approach is more likely to deliver customers who decide to transact (buy or become a lead) and, thereafter, develop into a long-term loyalist.
We have found the following way of thinking a useful starting point to help brand leaders think through the key touch points in the online customer experience: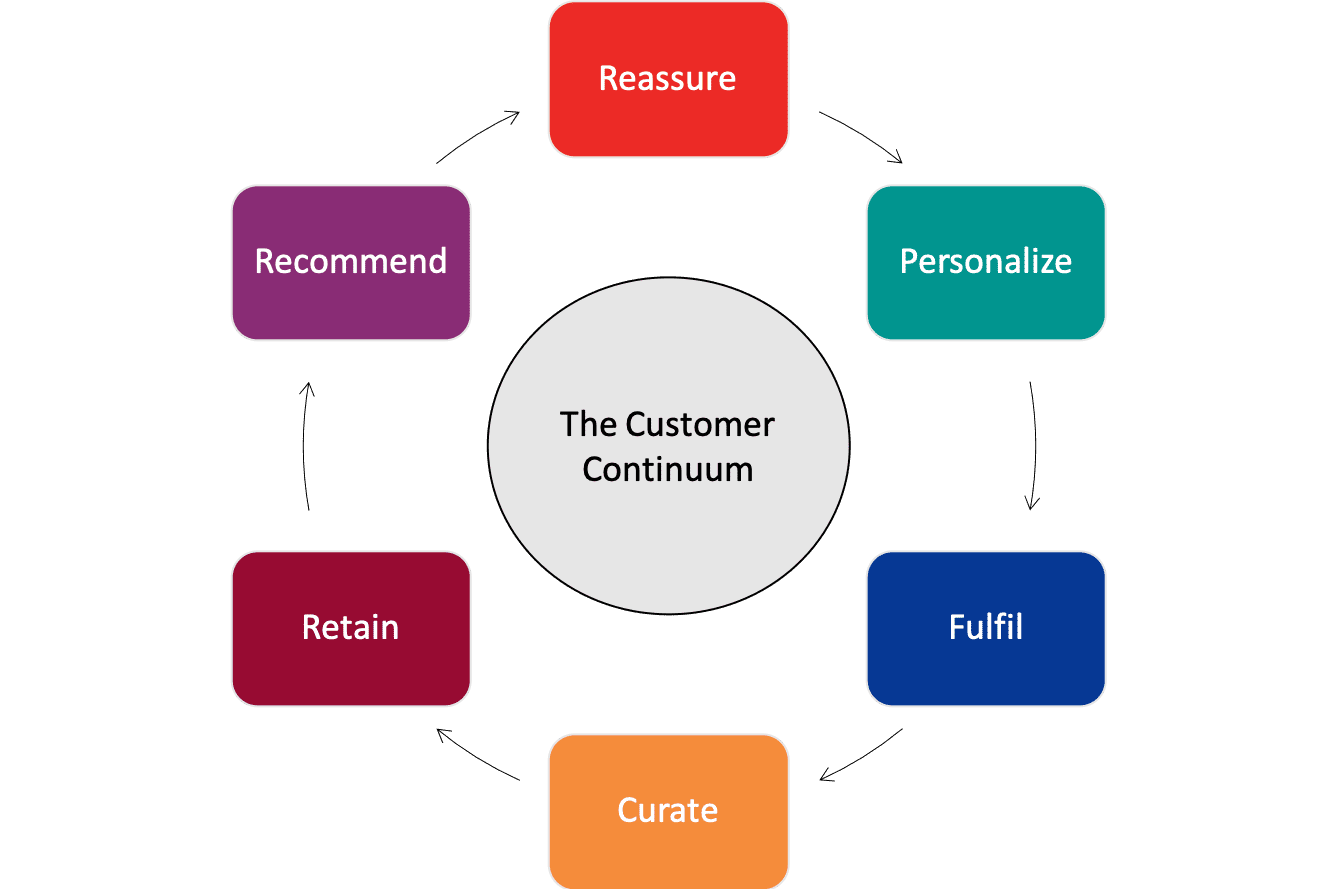 Reassure
Make it easy to engage by removing the barriers associated with unfamiliarity. Look for third-party and social proofs, but more importantly, establish a way for your customers to become advocates to their friends and family in a way that benefits both them and those who they recommend your brand to. A great example is the incentive of a shared benefit – you get 10% off your next order and they get the same off their first one, for example.
Personalize
Segment as quickly as you can in the sales engagement and, if it's complex, offer quick escape routes into direct human contact. If people disengage, find human, personal and engaging ways of enticing them back – don't do the equivalent of digital shouting and send endless impersonal emails. Find clever, personalized ways of re-engaging.
Fulfil
Transact as quickly as possible and fulfil the commitment not just through good email communication but by making sure that your delivery partner is as committed as you are to meeting expectations.
Curate
Aftercare is as important as the persuasion that goes into closing the sale. Don't ask for a review the minute the parcel arrives or the moment they have left the venue. Don't bombard people with random and generalized emails – build a relationship. Think of how to do that and work with your most loyal customers to learn how best to do it. Look for reviews of both product and service – identify a preferred solution and use this actively in your engagement.
Retain
Loyalty programmes and structures continue to be an important part of a customer-centric ecosystem and they are soaring. A study by Accenture in the United States found that 77% of consumers participate in a retail loyalty programme, 46% have joined a hotel programme, and 40% are part of an airline programme. Why is this important? Well, after building a relationship, customer spend grows alongside trust. Eventually, loyal customers spend 67% more than new ones.
Recommend
Once established as loyal (the definition of which changes hugely across different sectors) ask them to recommend friends and family. This model can be increasingly seen in marketing programmes across a number of sectors in the United Kingdom. Grocers such as Aldi, with a mutual 10% discount offer, and banks such as Nationwide, with their offer of a £100 deposit in both accounts, are good examples.
The importance of loyalty
Loyalty is not a scheme. Nor is it a set of disaggregated activities. It is a mindset. It is almost a universal truth that selling more to a current customer is a far easier and cheaper undertaking than trying to sell to a new one. Retaining customer loyalty and building long-term relationships delivers growth at the greatest margin. Companies that operate their e-commerce as an integrated system and which understand that lifetime value should drive the thinking will have this as a focus for investment and effort to create value over time.
Loyalty marketing, therefore, is the maximizing of returns on known customer data, and to help leaders deliver this we have developed a process that uses data-led insight to drive innovation that delivers growth. The key stages are:
First sale success
This covers the aspects associated with the delivery of seamless service experience from payment, through delivery to the conclusion of the sale process and the establishment of an early stage relationship. Vicious circles start here as organizations fail to engage with their distribution arrangements at anything other than a cost or efficiency level.
There is a huge difference in using a courier that gives your customers the option to select delivery arrangements, organize to have parcels left and to send messages to the driver about say, entry codes, to one that offers parcel tracking but when you call their call centre says the driver can't be reached as contact numbers are not held centrally. In addition, have you thought about how the product arrives at the door? Is it stuffed full of useless leaflets from other providers, only there to help you reduce the cost of delivery? Requiring your customer to recycle unwanted packing, particularly those incredibly irritating polystyrene pieces, is not a great experience for anyone.
Enticement
This is about effective curation of the engagement experience. It includes thinking through the initial offer and the customer experience in these dimensions:
Reward programmes
Reviews
Email marketing
Post-sale self-service (where applicable)
Remember, this is an early friendship, not a lifelong partnership and at this stage, you may have generated some interest but you are not the recipient of long-term commitment. This means, for example, that there is a high probability that drowning your new friend in heavy selling emails isn't going to do much to endear yourselves to them. Nor is asking for a product review on the day it arrived.
Engagement – This focuses on building and deepening the relationship. This is where we can think about encouraging more data sharing to help personalize the experience to enhance repeat purchases and self-service, build a belief that feedback is encouraged, and respond to and encourage rewards scheme engagement that leads people to think about a referral.
Recommend – By this stage the relationship should be committed and one where the customer is willing and able to become an advocate and can be enrolled to become a willing participant in a referral programme. The success of the process comes from thinking in an integrated fashion the whole way around the system and having a clear view of the data that you eventually want in a committed, long-term, value-creating relationship. As in any relationship, however, asking for everything on the first date is rarely a fruitful strategy.
Building a customer-led understanding of how well you do this in any context (product or service, transacted online or offline) will transform how you think about your customer experience and what you may choose to change as you look to build lifetime customer relationships that deliver value.
Join To Our Newsletter
You are welcome