If you're an ecommerce entrepreneur or marketer and want to get more sales from Instagram, you're in the right place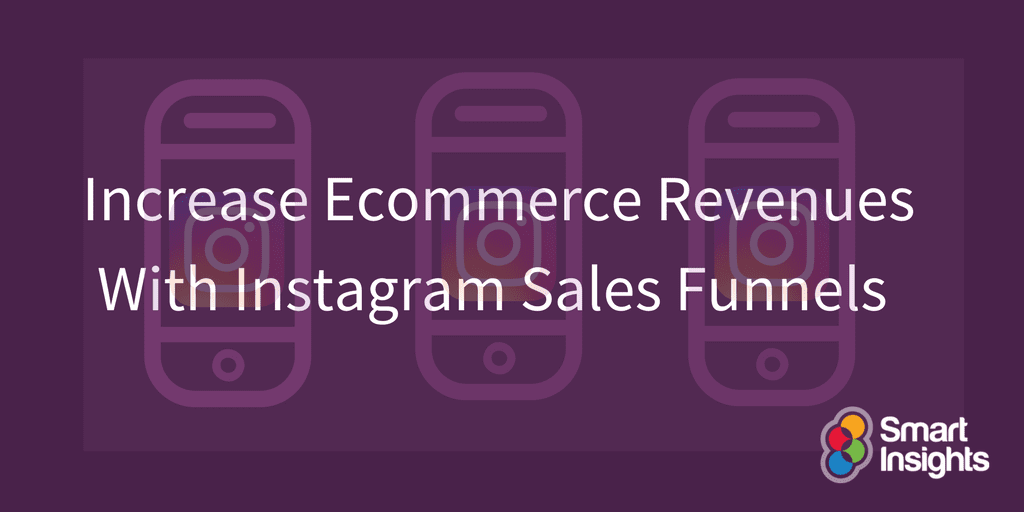 In this post, we're going to learn how to turn your Instagram traffic into sales on your ecommerce store.
You'll learn the different types of Instagram sales funnels you can consider and when to use them.
And I will show you, practically, how to set them up using different tools.
It's important to consider what happens to a new follower on Instagram once they find your brand because otherwise, you can't measure the ROI or success of your marketing efforts.
The best way to do this is to create sales funnels, measurable and optimizable steps followers are instructed to take once they follow your Instagram account.
That way you can predictably convert a certain percentage of new followers into website visitors and then on into leads or sales.
Once you understand your conversion rates through this sales funnel you can then optimize it and also increase the top of the funnel to predictably increase your revenue.
The first step is to understand the main different types of sales funnels and their variations.
The first type of sales funnels is a Transaction Sales Funnel.
These sales funnels have one focus, direct sales.
This means the Instagram user follows your account, clicks a link in your profile and gets taken to a website where they are asked to buy something.
Let's look at a few variations of this funnel and how you can set them up.
---
1. Transaction Sales Funnel – Product page
The first and probably most simple version of this is as follows:
Instagram profile link > product page > cart > checkout
This funnel simply sends all profile link traffic directly to your chosen ecommerce product page.
This could be a product you just released, a product you are discounting or one that is available for a limited time only.
---
2. Transaction Sales Funnel – Collection/Category page
The second version of this is as follows:
Instagram profile link > collection/category page > product page > cart > checkout
This funnel sends traffic from your profile link to a collection or category page, where they can then browse the website, hopefully diving deeper into a single product page and then the cart and checkout.
---
3. Transaction Sales Funnel – Shoppable Instagram page
The third and probably most innovative version of this Instagram sales funnel is as follows:
Instagram profile link > shoppable Instagram page > product page > cart > checkout
This funnel sends traffic to a specially designed 'shoppable' version of your Instagram timeline.
Let's take a look at what this funnel looks like in detail!
Step 1: Link to the Shoppable Instagram page from your Instagram profile, you can also use a Google trackable campaign URL.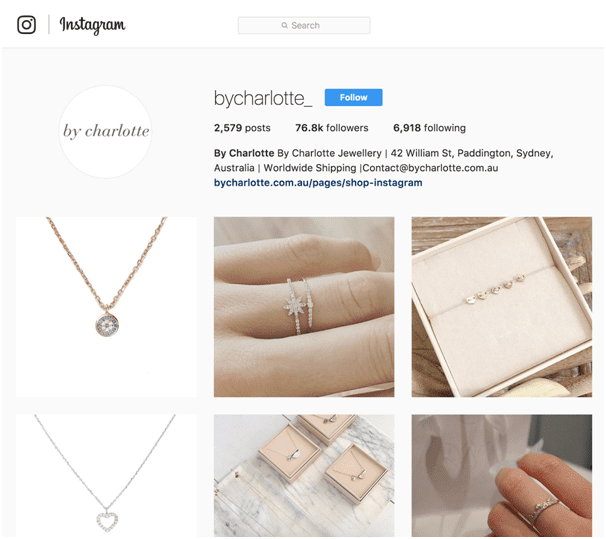 Step 2: The visitor lands on a page that resembles your Instagram timeline, however using great tools like Snappt, Foursixty and others, you can create a shoppable version of your timeline.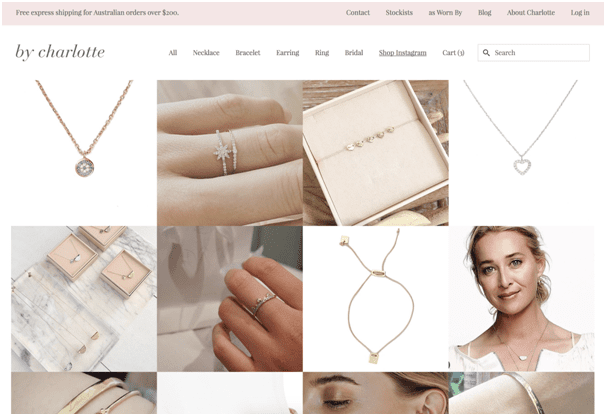 Step 3: When the user hovers it says 'Shop the Look'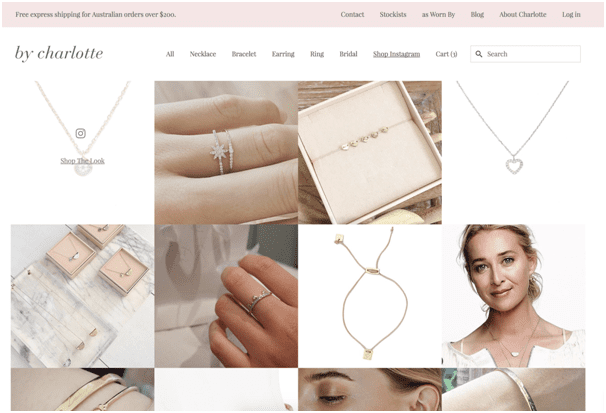 Step 4: If they click on an image, a modal window pops ups where they can see the details of any products that are in the images. NB These have to be tagged and added in manually using the app! More on that later.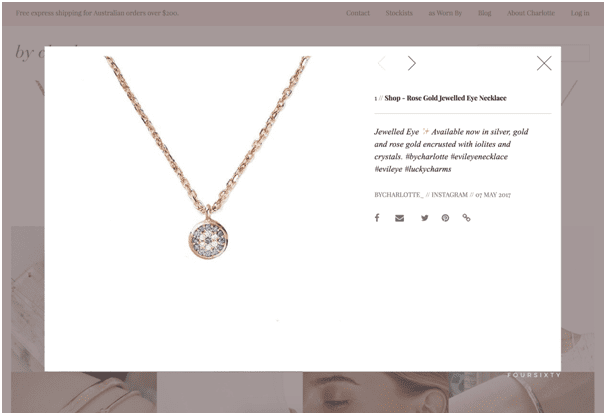 Step 5: When you hover over the product a tooltip appears that is a direct link to the product on the store.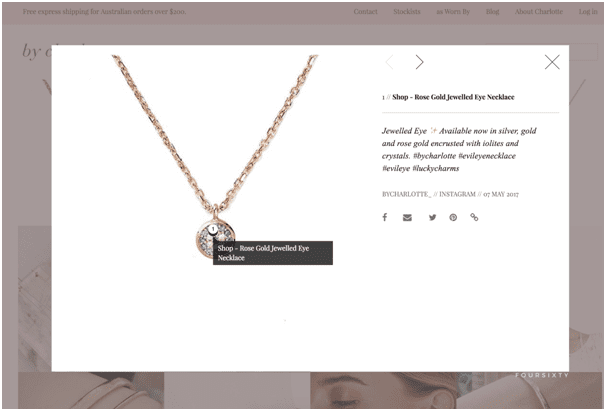 Step 6: You can add the product to cart and checkout as normal.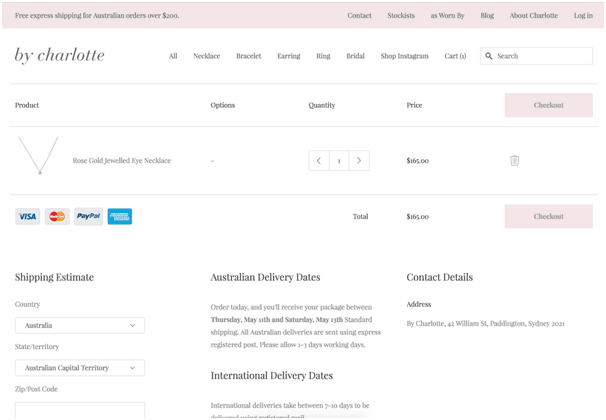 Recommended Shoppable Instagram gallery tools for Shopify
The best but also the most expensive tools is Foursixty.
This tool was the first to offer these features and is the most used by our clients and larger brands.
The reason this tool is the best is that you can embed the galleries literally anywhere and now they feature the ability to add items directly to cart from the gallery!
This app is a free version of Foursixty, great for people starting out, not recommended for established brands that want a reliable service.
This app is somewhere between the two in terms of price points and features
Learn how to integrate Foursixty into your Shopify store. 
Recommended Shoppable Instagram gallery tools for NON-Shopify stores
Foursixty now supports Magento, Woocommerce, Big Commerce, Squarespace, Big Cartel, Demandware, Lightspeed. We recommend this plugin.
---
Lead Sales Funnels
The second types of funnels is a lead sales funnel.
This is where the traffic from your Instagram profile link is sent to a website where you try to capture the visitor's email address.
These pages are normally referred to as landing pages. Sometimes people refer to the form that collect the visitor's email address as lead magnets.
Let's look at some typical examples of this and how to set them up.
1. Lead Sales Funnel – Give Aways / Competitions
Giveaways and competitions are a fantastic way to grow your email list and email marketing revenues.
This is roughly what the sales funnel looks like:
Instagram profile link > giveaway landing page > email opt in > email newsletter > store > cart > checkout
The keys to a successful giveaway campaign are as follows:
Partnerships

Giveaway tool (built in viral sharing)

Understanding what your audience wants

Time limiting the offer
To learn how to create giveaways we recommend using one of the 4 following tools.
Our #1 recommendations is Gleam.
The reason is that it allows you to run image and video campaigns which lend themselves very well to the ecommerce industry.
Watch this video to learn how to use Gleam to run your contest:
You can also check out these tools:
Kingsumo

Rafflecopter

Upviral
2. Lead Sales Funnel – Blog post with a content upgrade
The second example of a lead sales funnel is a blog post content upgrade combo.
This is what the lead sales funnel looks like:
Instagram profile link > blog post > email opt-in (content upgrade) > cart > checkout
The difference with this type of campaign is that you offer content in return for the person's email address.
For example, if you sell tennis rackets you could create a blog post which was a tennis serve tutorial and then offer a video tutorial as a bonus in exchange for the visitor's email address.
This is known as a content upgrade as you are upgrading the content from text and image tutorial to a video tutorial.
In this post, you learned the importance of pushing new Instagram followers into sales funnels.
You learned there are two main types of funnels. Transaction sales funnels and Lead sales funnels.
We also looked at typical examples of these sales funnel and how to use them.
Join To Our Newsletter
You are welcome