Social signals may not be a confirmed ranking factor for Google yet, but there are plenty of reasons to use social media to support your SEO strategy
While Google has yet to confirm that social media signals (Facebook likes, Twitter tweets, Pinterest pins, etc.) are a ranking factor for its search engine algorithm, there are still ample reasons to use social platforms to support and diversify your SEO strategies.
Why? Well, when you look at the most influential ranking factors behind Google Search, many of them are human-centered variables that go well beyond content and keywords. A recent study from SEMrush shares compelling insights behind some of those ranking factors, such as the importance of direct website traffic and user engagement, and how those variables influence search rankings.
Another study conducted by Moz indicates that higher traffic and greater levels of engagement correlate to improved search engine rankings. So regardless of a site's traffic sources, the more you can improve the visibility and traffic coming to your content, the better it may perform in Google search.
So in addition to the more obvious SEO benefits like earning links from socially-active bloggers and publishers, two Google ranking factors (which involve a site's traffic and engagement metrics) are enough to make the socially-infused SEO argument a legitimate one.
Why social media matters for your SEO strategy
For the past decade, the most significant Google ranking factors were summarized as content and links. Not only did a site need quality, unique, and keyword-relevant content, but that content needed to earn (or acquire) links to rank competitively in Google.
While those ranking factors still play a role, other variables are growing in significance. One of the most important and heavily weighted ranking factors (as highlighted in the recent SEMrush study) is direct website traffic.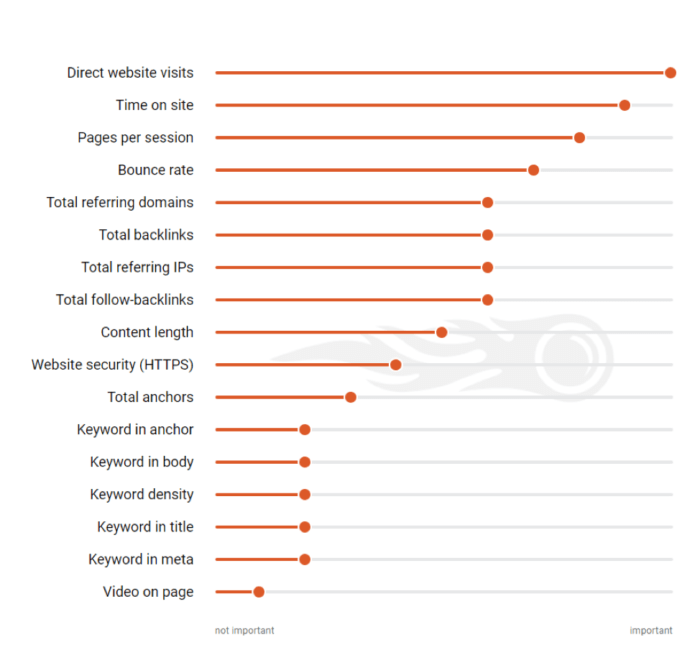 Yes, you read that correctly. The study highlights that "when many users go to a website directly it is a good sign to Google that the domain has high authority and value" – and it's thereby the most influential ranking factor.
In turn, social media has become a vital platform to not only help grow traffic but also cultivate the credibility and reputation online brands need to thrive with SEO. So while the jig about social signals and SEO is still out, the correlation between traffic and ranking is irrefutable. For newer sites that lack a strong influx of traffic, social media platforms can offer the best means to accelerate the process.
So how can you strategize your social activity around SEO? By bringing cohesion to your social media and content marketing strategies, you can expand the exposure of your optimized content and attract new, qualified traffic to help advance your SEO efforts.
Fuel your strategy with pure-value content marketing
For most businesses and professionals engaged in SEO, regular blogging and content marketing has become a best practice. However, many SEO-driven content marketing strategies are too focused on keywords and search engine manipulation.
That's not say using keyword data doesn't have its place. Search data and trends can be very useful in helping to instruct and inspire content topics. But to truly cultivate greater success with your content marketing strategy, focus on the idea of creating "pure-value content" that will effectively resonate with the questions, problems, and needs your audience.
What defines "pure-value content?" Let's take a look at the content marketing strategy behind an attorney based in Atlanta. Instead of writing generic, keyword-optimized articles on topics like "How to hire an Atlanta DUI lawyer" or "What to do if you get a DUI in Georgia?" a pure-value approach would intrigue users with a value proposition or address a specific question they may be asking themselves, like "Can you beat DUI conviction in Georgia?"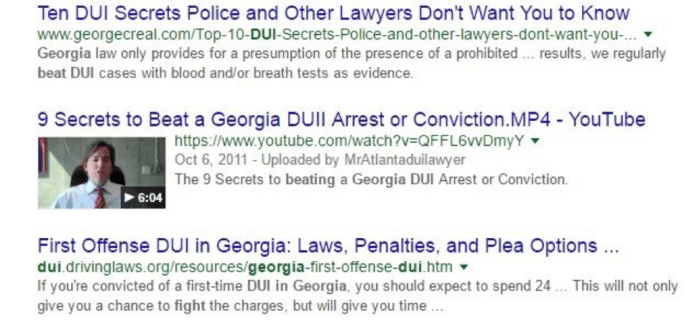 In essence, you can still make the content keyword-relevant and optimized for SEO, but with an emphasis on being more educational, informative, and solution-oriented.
Whether as a video, in-depth article, infographic, or all three, a pure-value piece of content on such a legal topic will most certainly address a common question among individuals who face such problems with the law. Not only will such content have greater potential to drive traffic and enduring levels of engagement, but such topics are far more likely to earn links from other bloggers and publishers in the legal space.
Increase visibility and engagement with social media ads
Even for the businesses and brands with thousands of social media followers, there are significant opportunities in leveraging social media advertising on Facebook, Twitter, LinkedIn, Pinterest, etc. With these social media platforms, you can earn targeted exposure and get your content in front of new audiences based on specific interests and psychographics, demographics, and geographics.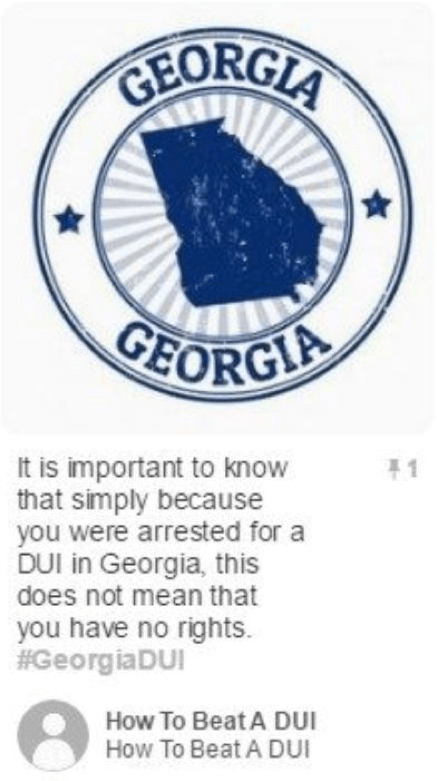 Using on the latter DUI example, an attorney could advertise its content on How Beat DUI Charges in Georgia by targeting individuals located in Atlanta between the ages of 18-45. Not only can the criminal defense lawyer earn new social media followers in the process, but he could drive in-market traffic to his website while building awareness and recognition in his or her brand.
In addition to improving site traffic, engagement, and search engine ranking with these measures, the piece of content can also rack-up social signals (i.e. tweets, likes, pins, shares, etc.) While Google has yet to confirm any influence of social signals over its rankings, countless search marketers will debate that social signals do have a positive impact on SEO and higher rankings. At the very least, the traffic earning potential will help support the lawyer's SEO strategy.
Don't put all your eggs in one basket (SEO)
At any rate, relying solely on SEO and organic search traffic to support your business is never a good long-term strategy. Like a strong financial portfolio, diversifying your traffic channels is extremely important. Especially considering the impact a strong social media and content marketing strategy can have on SEO, you'd be holding yourself back by only investing in traditional SEO practices like guest blogging to build links. However that in itself is a form of content marketing, and such is the overlap in today's SEO best practices.
There's no denying the value social media can have in helping start-jump your SEO strategy, especially when driven by pure-value content marketing and strategic utilization of social advertising platforms.
Join To Our Newsletter
You are welcome