Marketing strategy can use privacy as a strength, not a weakness
There has been a lot of controversy about data and privacy for businesses and consumers alike in 2018.This has been highlighted by the introduction of GDPR in the EU on May 25th, which has heightened consumers' concerns about privacy. When you look at recent incidents such as Facebook and Cambridge Analytica, companies have been alerted to ensuring that regulations are met and revenue is not affected. In this article, I'm going to look at ways that businesses can see data privacy regulations as a marketing tool. I'll include good and bad examples to help drive some points home.
Let's look at an example of where the response to privacy by marketing, perhaps goes too far, potentially impacting PR.
In 2017 Wetherspoons went the whole nine yards and deleted 656,723 members off its database. This makes for a very aggressive approach to marketing strategy using privacy as a strength. The reason for the removal was amid fears of litigation and fines, of which many had been handed out during the preceding months. In March of 2017, Flybe was fined £70,000 by the Information Commissioner's Office (ICO) for sending out emails with the subject line "Are your details correct?" 3.3million times. That same month Honda was also fined by the ICO for sending 289,790 emails asking if people wanted to receive marketing communications.

This can be seen as a bold marketing strategy by Wetherspoons as it generated a lot of press and most likely an increase in their web traffic. This is coupled with their decision to shut down all of their social media. In terms of business strategy this could be a PR masterstroke but is also a risk to revenue. It requires the website to be visited for all offers and campaigns, which is not going to produce nearly as high traffic as their social pages and email recipients would generate. The success of this may be short lived and the effect of sales may take time to trickle through.
How a weak data privacy strategy can turn into a PR nightmare
If your company doesn't have strong data privacy precautions in place, then there are a range of risks. This can come in the form of rules being broken and heavy fines being levied, but another, more worrying risk, is a data breach. A good example of this can be found in the Dixons Carphone data breach that came to light this week. They experienced a severe data breach earlier this year, involving 5.9 million payment cards and 1.2 million personal data records.
The PR nightmare comes with the fact that they did not make the breach public or known to customers that it may have effected. With this shown to be a very serious case that does not, on the face of it, seem to have been dealt with in a professional manner, it will only reduce brand trust and in turn reduce sales. To make things worse they were hacked in 2015 and fined £400,000 by the ICO. It's now in the hands of the media.Their control over security perception is lost to their current and potential customers.
How a PR nightmare can turn into a strong data privacy strategy
The implications for Facebook following the Cambridge Analytica data breach are still yet to be fully known. Interestingly their usage has actually risen significantly since the data breach was released. This included sign ins and time spent on the site as shown by the chart below.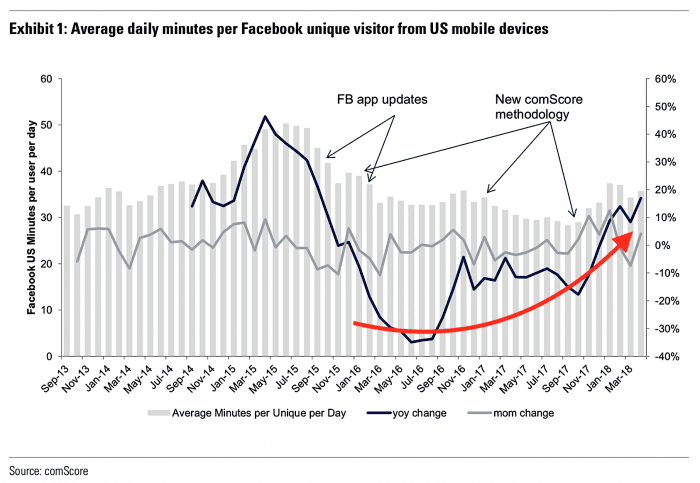 A lot of this traffic could be attributed to people going on to Facebook to see what has changed or been done. It has to be said that this increase in usage is certainly unexpected at best, it could well have had extremely adverse effects on the company. The PR implications are still there for Facebook for the foreseeable future from a brand trust perspective.
A better strategy would be what Apple has done in the wake of the scandals other companies have endured. They have set up a microsite to focus specifically on the customer's data privacy.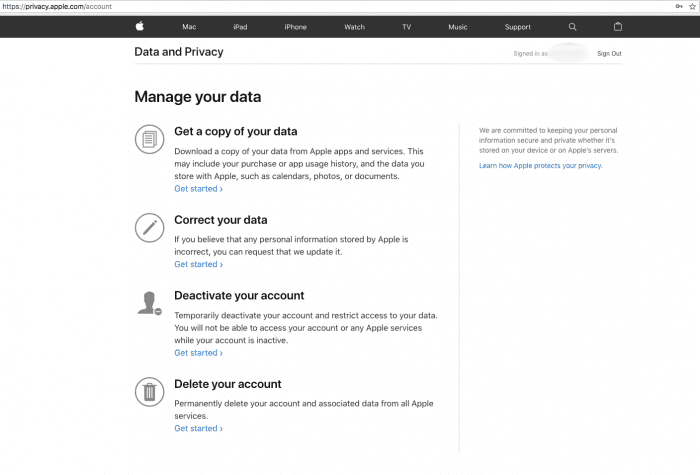 This update to their data privacy shows confidence in their strategy and in turn will give confidence in their brand. The site allows you to see all data that is associated with your account and/or download it. In addition to this, you can request corrections, deactivate your account and request a complete deletion. This move by Apple has consequently been picked up by the media and given them a really secure standing in terms of PR.
What does this mean for your business?
Sending a simple GDPR or Data Privacy email will keep you squeaky clean and on par with other businesses. Updates to your policy are important for you and your customers. Going the extra mile and making it one of your forefrontal strengths is something that consumers are now going to look for more and more. Think about how you can tie in data security to your strategy and make sure users don't need to ask if you are. Online data security has the spotlight on it now and it makes business sense to set yourself well away from those that have questionable data privacy strategies. If your company has a brilliant strategy in this area then don't hide it in a privacy policy in the small print, right now is the time to shout it from the rooftops.