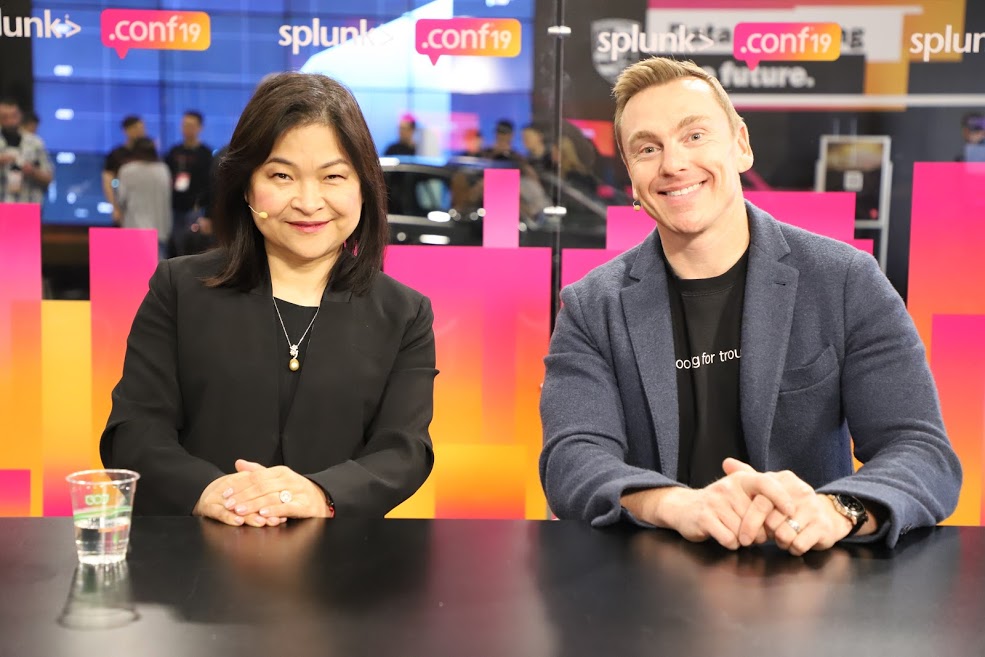 The security operations center in many large companies looks much like NASA's Mission Control Center — lots of consoles displaying reams of data and harried personnel swiveling between screens to analyze threats or manage incident response.
Therefore, it's only fitting that Splunk Inc.'s newly launched enhancement for the Security Operations Suite is called Mission Control. Secure management of the entire stack has landed.
"The security nerve center needs data, analytics and operations to come together," said Haiyan Song (pictured, left), senior vice president and general manager of security markets at Splunk. "As we digitize more, as everything is happening at machine speed, as people really need to go to analytics to bring insight and data into 'doing,' it's the security nerve center vision that continues to guide what we do. Mission Control is one of the first examples where we bring the entire stack together."
Song spoke with John Furrier (@furrier), host of theCUBE, SiliconANGLE Media's mobile livestreaming studio, during the Splunk .conf19 event in Las Vegas. She was joined by Oliver Friedrichs (pictured, right), vice president of security automation and orchestration at Splunk, and they discussed the need for cross-platform observability and a number of security enhancements announced by the company today (see the full interview with transcript here). (* Disclosure below.)
On-premises and cloud visibility
As the amount of enterprise data grows, so does the attack surface vulnerability for malicious actors to steal it. Because data is stored on-premises and in the cloud for many large enterprises, security personnel need visibility across multiple layers and platforms to manage protection.
"You could have Mission Control running in the cloud, Splunk running on-premises, and you could have multiple Splunk on-premises installs," Friedrichs said. "Mission Control will connect to them all, tying them together for investigative purposes. It's very powerful."
In addition to the launch of Mission Control, Splunk also rolled out a number of new enhancements for its Security Operations Suite. These included the latest version of Enterprise Security (ES) 6.0, a User Behavior Analytics release to help security teams build machine-learning models and Splunk Phantom 4.6 for security orchestration, response and automation.
"Scale changes everything," Song said. "We're uniquely positioned in this new age of data. It's exploding, but we have the technology to help you tame it."
Watch the complete video interview below, and be sure to check out more of SiliconANGLE's and theCUBE's coverage of the Splunk .conf19 event. (* Disclosure: TheCUBE is a paid media partner for Splunk .conf19. Neither Splunk Inc., the sponsor for theCUBE's event coverage, nor other sponsors have editorial control over content on theCUBE or SiliconANGLE.)
Photo: SiliconANGLE
---
Since you're here …
… We'd like to tell you about our mission and how you can help us fulfill it. SiliconANGLE Media Inc.'s business model is based on the intrinsic value of the content, not advertising. Unlike many online publications, we don't have a paywall or run banner advertising, because we want to keep our journalism open, without influence or the need to chase traffic.The journalism, reporting and commentary on SiliconANGLE — along with live, unscripted video from our Silicon Valley studio and globe-trotting video teams at theCUBE — take a lot of hard work, time and money. Keeping the quality high requires the support of sponsors who are aligned with our vision of ad-free journalism content.
If you like the reporting, video interviews and other ad-free content here, please take a moment to check out a sample of the video content supported by our sponsors, tweet your support, and keep coming back to SiliconANGLE.
Join To Our Newsletter
You are welcome