Responsibility for driving digital transformation and the common barriers to meeting digital priorities
It's a common misconception that digital transformation is solely the integration or upgrading of technology in organizations, and therefore that its the responsibility of the Chief Technology Officer to drive the digital agenda.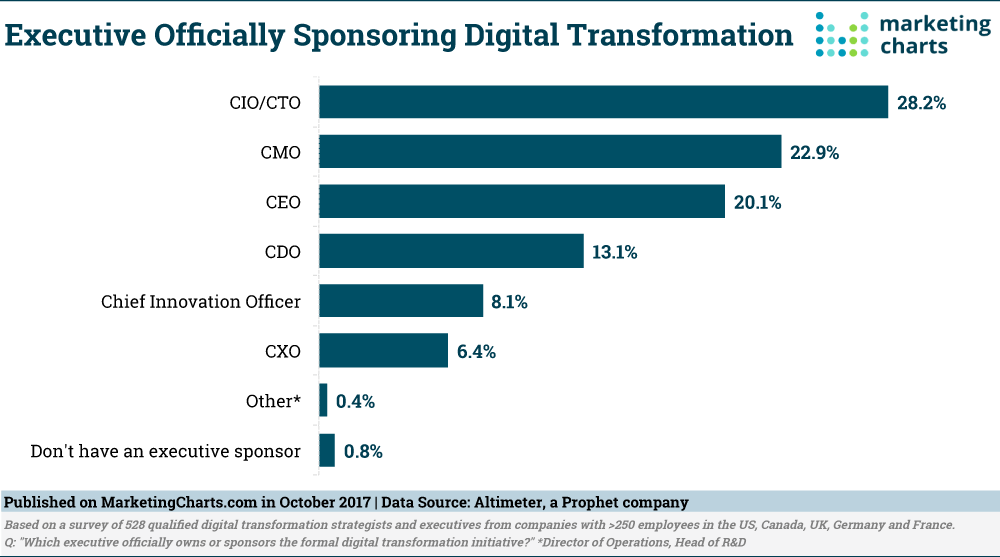 According to Dr Dave Chaffey, the digital transformation process should be broader, since it must provide a vision and roadmap of how digital media and technology can transform the customer experience of a brand and marketing communications across the customer lifecycle.
The review of technology is imperative to driving a more integrated multichannel experience for both customer and employee, but its down to the senior management team to collectively agree on a roadmap and an experience for every customer, at every touch-point. Improving engagement through personal interaction between customers and employees should be the focus, it is then, where technology plays its part in augmenting that experience.
It's a daunting task and one in which senior management need a clear understanding of where they are, and what needs to be achieved, along with complete cross-departmental alignment for the transformation process to be effective, so in essence, it is a collective effort, with collective responsibility.
Unfortunately, 66% of companies say their leadership does not have a clear vision for the digital future. So when it comes to cross-departmental alignment, what are some of the most common barriers to digital reinvention?
The chart below is from the McKinsey Quarterly (July 2017) and highlights a range of challenges according to a survey of senior respondents in large businesses. It's useful since it highlights the main risks that need to be managed in a transformation project. Read more…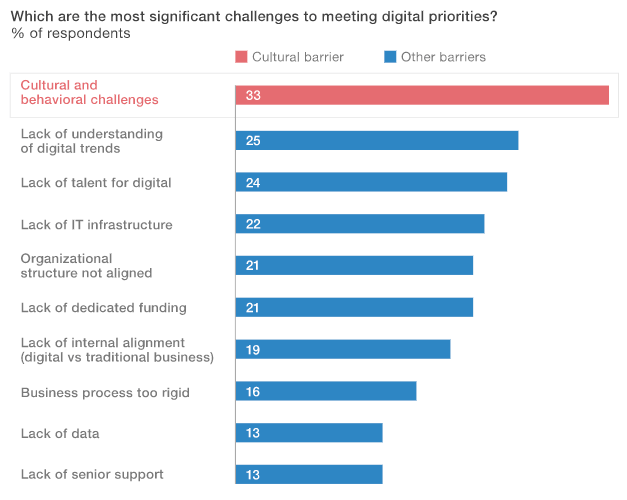 In our next free webinar for members, Benchmarking your digital future, Dave will be reviewing the state of digital transformation and recommending how companies at different stages of transformation, with different levels of maturity, can assess their current use of digital marketing, digital media and technology.