With myriad options available to today's consumer, customer retention is vital for e-commerce brands. Gamification, push notifications and loyal programs help in contently re-engaging with the existing customers
Research by Frederick Reichheld of Bain & Company found an increase of 5% in customer retention can improve the revenues by 25-95%. In e-commerce, repeat customers are godsends. They've proven their interest in buying your product and are willing to spend money.
In fact, according to a report by RJ Metrics, an online store typically generates 43% of its revenue from existing users. This figure can increase up to 75% if the store spends time and effort cultivating a deeper relationship with its existing customers.
The question that now arises is, once you have recognized the value of repeat customers, how can you persuade them to make another purchase? How would you foster a relationship so they repeatedly shop from your store?
The online buyer is fickle and forgetful. Chances are, they may find other brands they like and even if they continue to like your brand, they may forget to come back to shop.
The following three best practices are a good way for e-commerce brands to re-engage with their existing customers and turn them into brand ambassadors.
1. Gamification
With the majority of millennials being consummate gamers, leveraging gamification to elevate the shopping experience for buyers visiting your e-commerce store can be a good option.
Typically, gamification helps to encourage purchases, increase user engagement and improve profitability. The benefits include:
Generating word-of-mouth referrals
Improving customer retention and loyalty
Increasing the in-store footfalls or the time spent on your website
Accelerating customer acquisition
Ideally, you want to combine loyalty point accumulation with interactive game elements including:
Issuing badges when they reach certain objectives or complete certain tasks
Asking the users to connect or share content on social media
Rewards following product recommendations on social media
The best interactions are the ones that provide ways for shoppers to interact with your brand both instore (offline) and online. For instance, an app user could be incentivized to complete quests that offer exclusive discounts on the online store.
To successfully engage the users via gamification, they must contain varying degrees of:
Involvement – This type of participation leads to increased returns to the website and attracts new users.
Interaction – When the participant interacts with the product, it, in turn, leads to a higher probability of purchase.
Intimacy – Using fun and rewards, brands can ask players to share more personal information.
Influence – When players earn more badges or incentives, they will want to share these accomplishments with their network. This further encourages their peers to join the fun.
Here are some examples of brands who've successfully implemented gamification to re-engage their existing customers:
Victoria's Secret PINK Nation app
The lingerie retailer Victoria's Secret has a separate brand catering to their younger audience, called PINK. To engage with their millennial crowd, PINK Nation app merges the shopping experience with games and contests.
The user gets a free gift with a $25 purchase upon signing up. From then on, they can earn prizes such as gift cards and trips by playing quick games.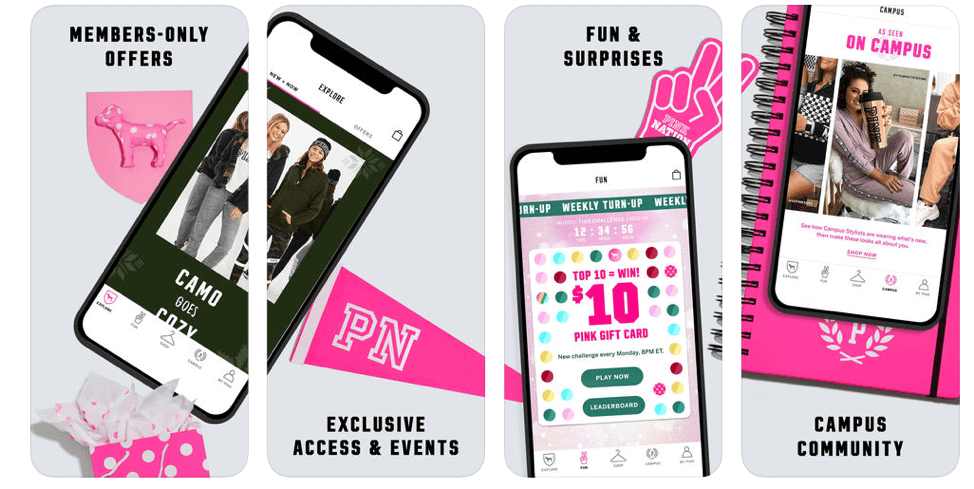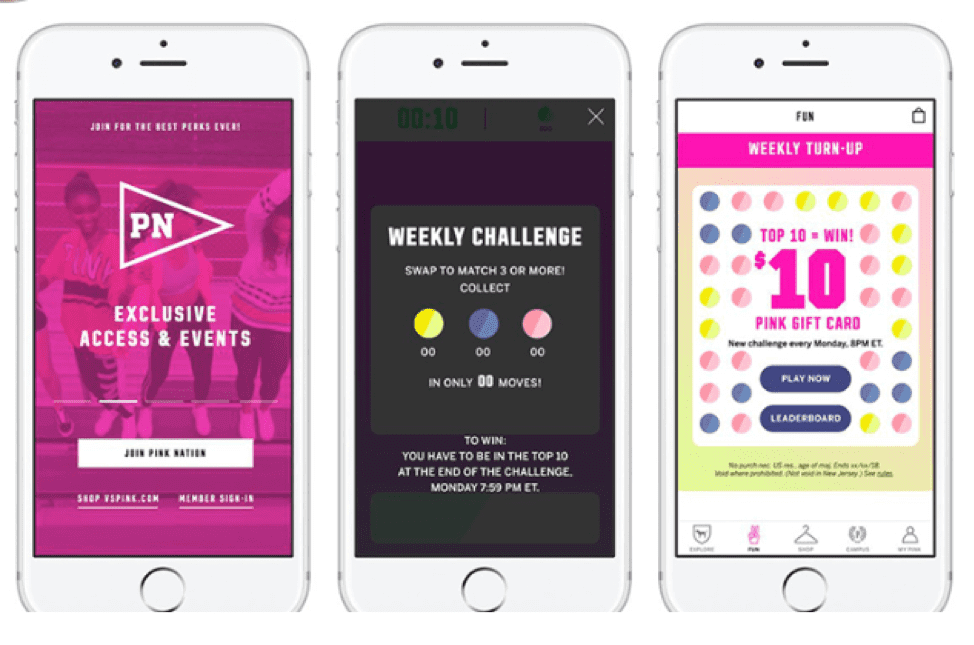 If your target audience is the young, tech-savvy customer, consider developing quick games, rewards and promotions on your app to get them engaged and drive sales.
NikePlus Membership
NikePlus membership capitalizes on the competitive nature of their audience (18 million users), bringing together runners, trainers and athletes. This digital program allows users to post their best running times, track their progress and enables them to challenge their friends and family to improve their fitness and meet their goals.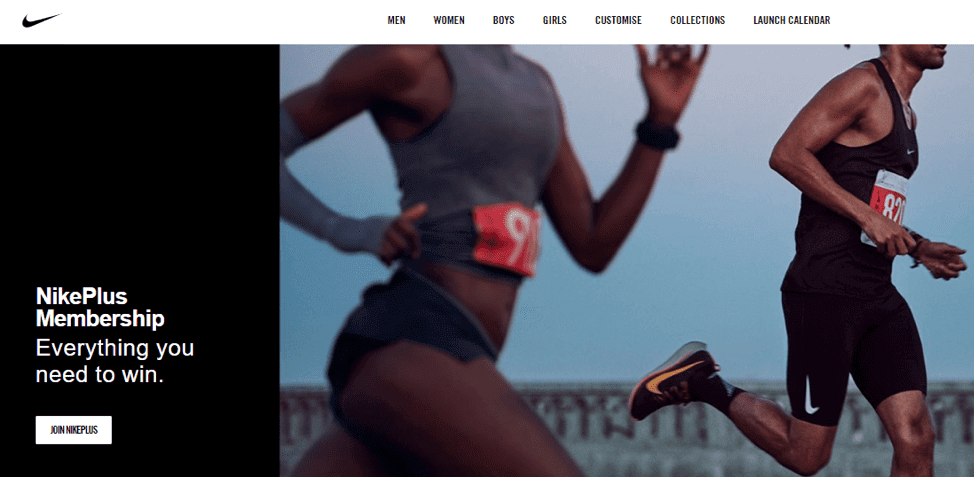 What rewards does Nike offer to the users? Early access to products, 100+ workouts and personalized training plans. It also offers priority access to events and birthday rewards. Through gamification, Nike can gather invaluable customer information such as the activities for which their products are used – which is the best way to develop the app and the products.
Is your audience passionate about an activity that requires the use of your product? If so, consider building a community wherein enthusiastic users can come together and interact with the help of an app, website or an in-person event.
Gamification catches the attention of the audience to increase engagement through the introduction of "fun" into the seemingly routine and boring activities.
2. Push notifications
Customer acquisition propels a brand. Customer retention builds a business.
Push notifications are one of the most effective ways to re-engage existing users. Flashing real-time information to mobile users and contextual information to desktop users ensures you provide meaningful information at the right time. You can effectively reach out to customers already interested in your brand or products via updates, discounts or shipment information using push notifications
How are push notifications beneficial for your e-commerce site?
Boost conversions by user segmentation based on their interest in various products and on-site behavior.
Recover abandoned carts by re-engaging customers.
Re-engage the customers on desktop and mobile, even when they haven't downloaded your app.
Unlike the retargeting ads, push notifications are not blocked by adblockers.
In an attempt to break through the cluttered inboxes, e-commerce brands are using push notifications to reach to their audiences. They lead to better impact and visibility, as they are delivered directly either to the customer's desktop or the mobile device.
According to a study by PushEngage that provides personalized browser push notifications, web push notifications have a five times higher reach for cart abandonment as compared to an email.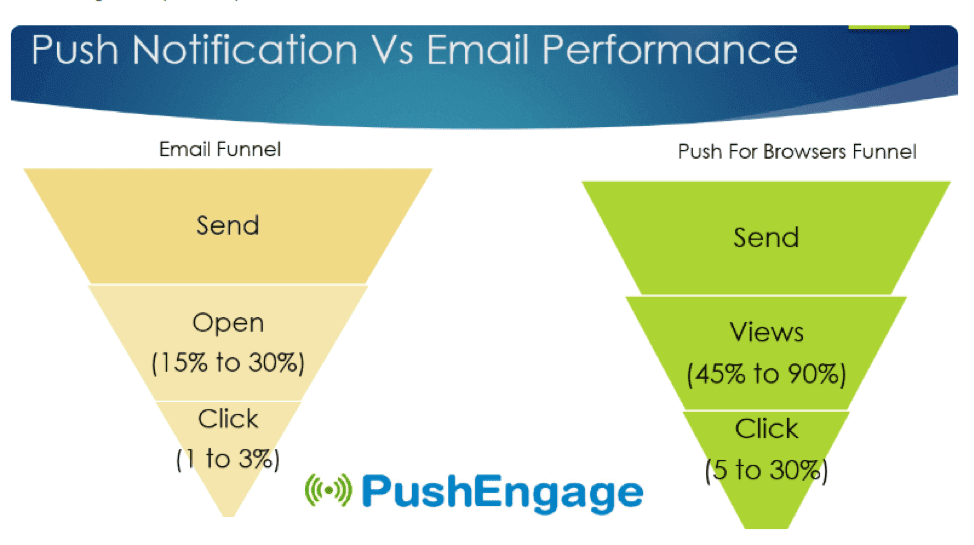 Let's discuss the two types of push notifications – web push and mobile push notifications.
Web push notifications
In 2015, Chrome released a feature that let brands send web notifications to their users via their web browsers.
When you visit a website that has the web push enabled, you'll see a call to action similar to this: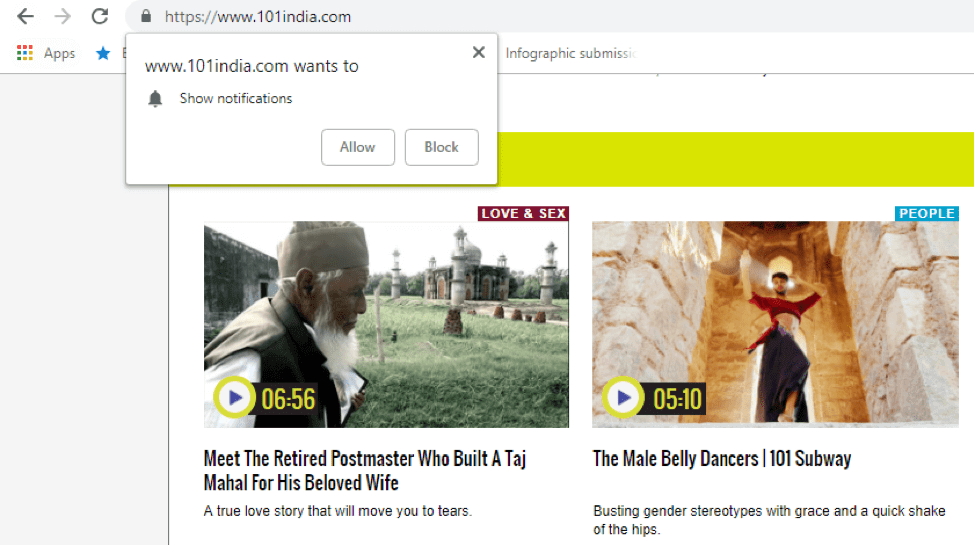 Upon clicking "Allow", the website will send notifications to your browser when they have something important to share. The web notifications look like this: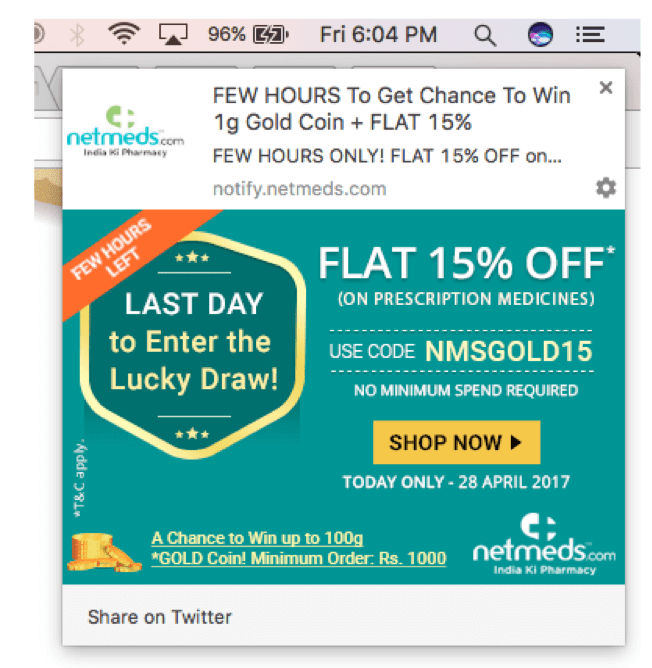 Using web push notifications you can convince your customers to revisit your website. Only send these messages when you have something of value to share, such as a discount, useful blog post or a feature release. Avoid spamming your users.
Mobile push notifications
You will have seen push notification messages on your mobile devices that pop up even when a particular app isn't running.
For example, you added a summer dress in your wishlist on an e-commerce app. A few hours later, the brand sends a discount coupon on your mobile.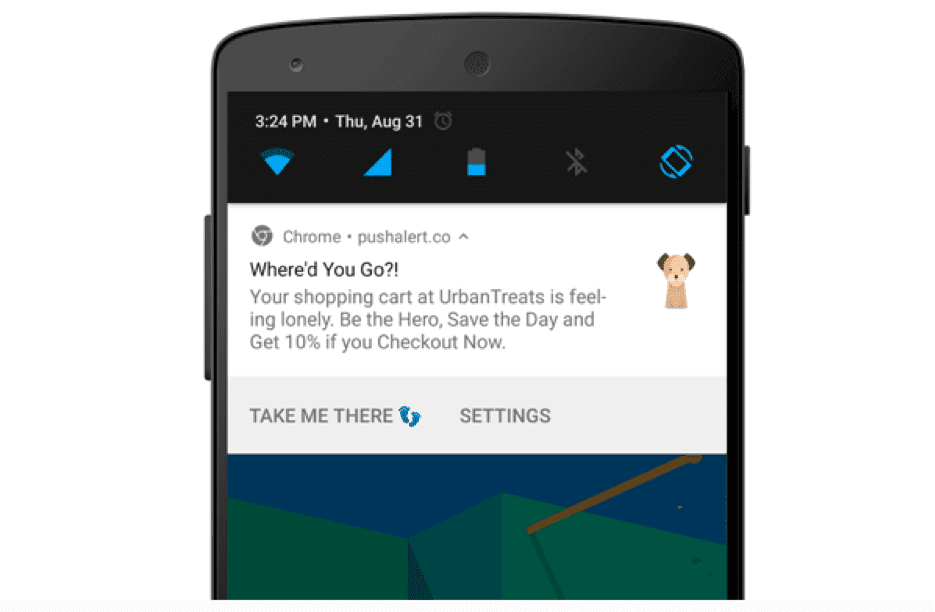 While you can send a mobile push notification only when the user has downloaded your app, their clickthrough rates are higher than emails.
If you have an e-commerce store as well as brick and mortar stores, you can send push notifications when the user is nearby, along with an incentive to visit the store.
E-commerce stores use push notifications when the user has left during the checkout process or has abandoned their shopping cart. In these cases, the notification could be in the form of a discount or a reminder.
Retention and reengaging is a constant struggle for brands today and push notifications are an effective way to encourage the user to return to your e-commerce store or app.
3. Loyalty programs
The following stats prove why customer loyalty matters so much to a company:
Existing customers spend 67% more than a new customer, according to a Bain report.
Loyal customers share positive experiences with their friends and family. Some 83% respondents in a TalkTriggers study of 1,001 participants made a recommendation to a friend or a family.
Around 40% of the online shopping revenues come from repeat customers, which make up only 8% of the website visitors, reports an Adobe study.
Since we know that it costs five to ten times more to acquire a new customer than to retain an existing one, brands are focusing on building a loyal customer base to evangelize their brand.
So, how would you engage your customer when an average consumer is involved in 14 loyalty programs but has the capacity to engage with only seven? How will you provide actual value to the consumers using your loyalty programs?
Here are the three brands who have successfully implemented loyalty programs to build a loyal customer base.
Amazon Prime's subscription model
Businesses thriving on frequent and repeat purchases are best-suited for the subscription model. For instance, for an upfront fee, the Amazon Prime customers are relieved of inconveniences that could hamper further purchases.
The reason, according to research by Bond Brand Loyalty, retail customers are willing to pay a higher amount to get access to enhanced loyalty programs.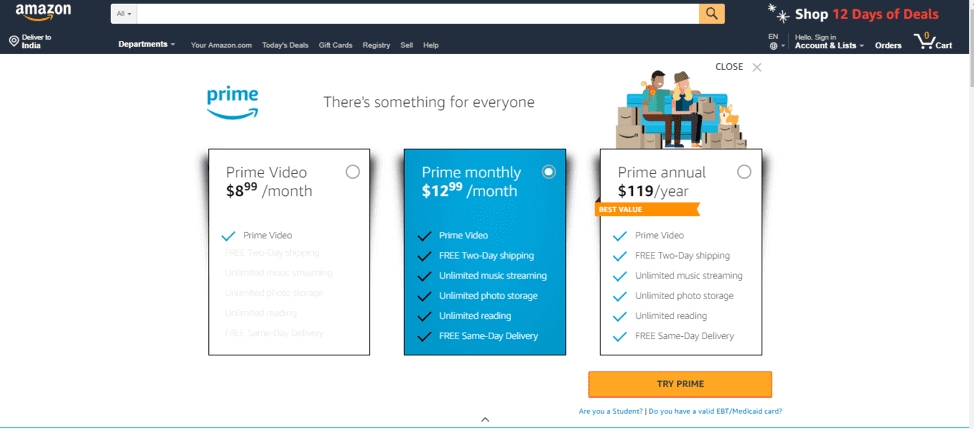 Within 12 months, Amazon Prime's membership grew by 39%, reaching 90 million members. This proves customers are open to loyalty programs even with an additional fee.
Starbucks tiered programs
With tiered systems, the customers are motivated to earn more points and gain exclusive benefits, thereby ensuring they do not lose interest in participating. Along with the reward points they collect, they are able to achieve a status that makes them feel acknowledged and unique.
These tiers are an excellent way to provide a goal to shoot for, to get the users addicted to your brand and to make them feel valued. Your e-commerce store can segment the users into low, medium and high spenders and deliver offers personalized for these tiers.
A classic example is the Starbucks Reward program. The Green and Gold loyalty programs encourage the customers to purchase frequently to climb up the level.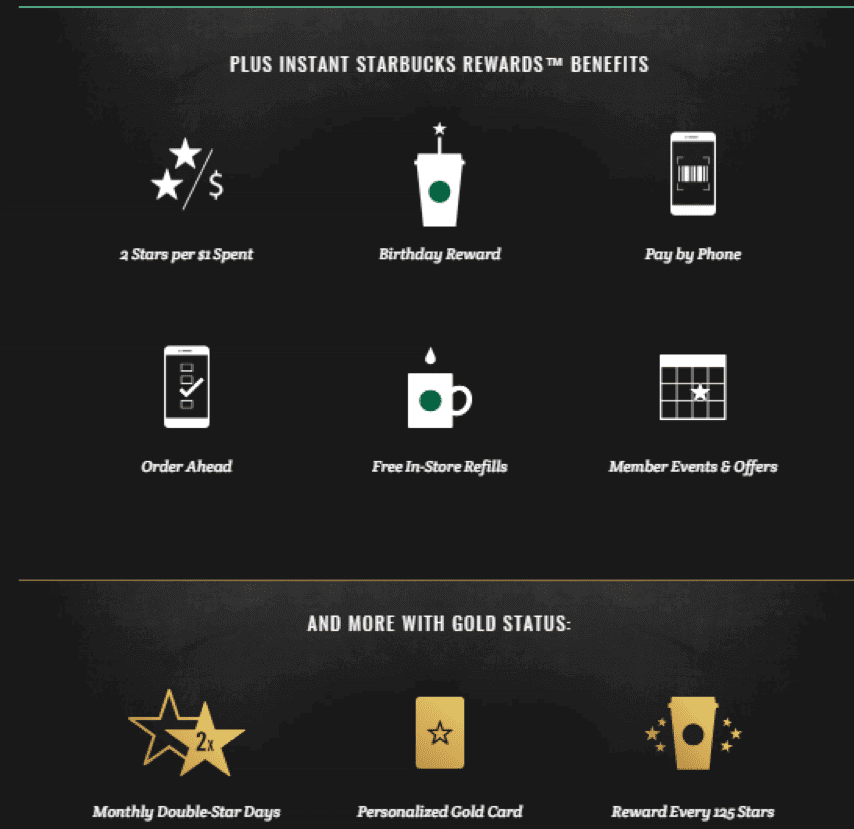 Sephora's beauty insider program
Sephora customers can swipe their Beauty Insider card at every purchase. For every dollar they spend, they earn points that can be redeemed at the checkout.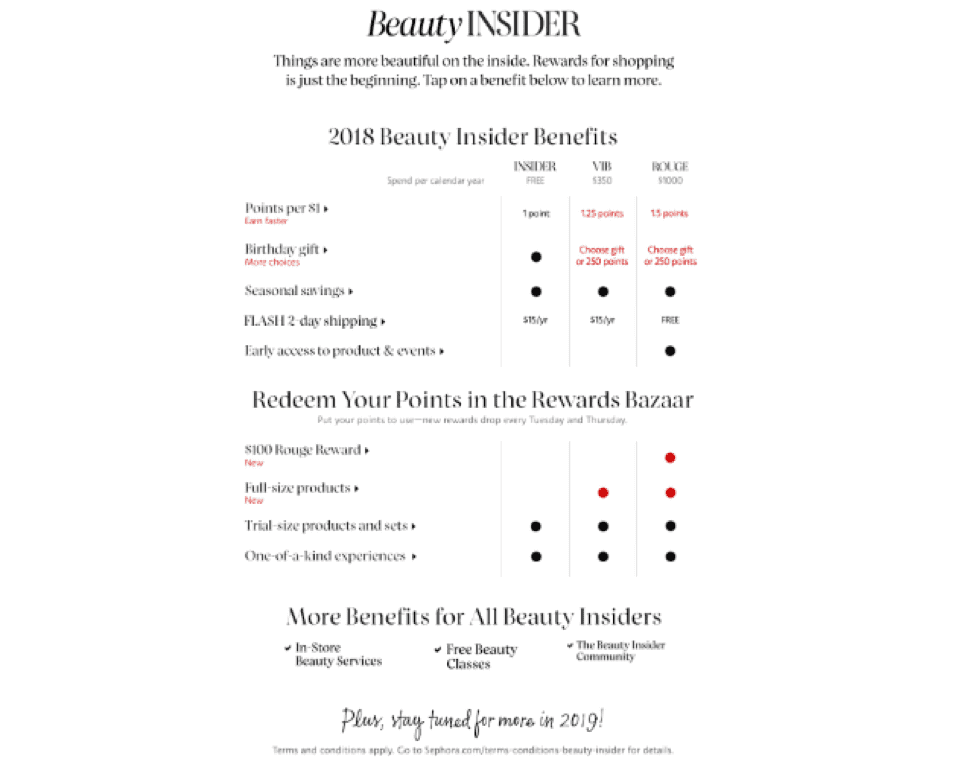 For loyal customers, there are VIP programs offering customers more rewards if they spend enough to reach a certain level. A closer look shows how they build relationships by offering personalized recommendations and exclusive products.
Conclusion
Customer retention is more important than ever, with so many options in the market. Re-engaging with the customer drives retention, boosts customer lifetime value and builds loyalty.