6 tools to create better YouTube videos
Video content is quickly becoming king in the world of content marketing.
These days, it is pretty much impossible to get through a day without seeing a video. They are taking over the world. From billboards to Facebook to YouTube and even brand websites, videos are fast becoming the most important method of communication.
You know those boring emails we get all the time from brands? Well now sending videos to introduce your brand or tell a story is considered email marketing best practice.
Believe it or not, your audience is much more likely to watch a short video clip than read through a long body of text these days. Video content is quickly becoming king in the world of content marketing.
In fact, YouTube is the second most visited website in the world with more than one billion unique monthly visitors every month. Not only that, but Youtube is also a search engine where your prospective clients and customers are searching for content.
Talk about the ultimate social traffic growth hack of 2019!
Did you know that before making a purchase, consumers now rely on online comparisons, reviews, blog posts, and videos? Needless to say, if you're in e-commerce or selling any type of products online, Youtube can be one of the most powerful e-commerce tools in your marketing toolbox.
Vlogging is quickly becoming the new blogging. Why else do you think influencer marketing is becoming the hottest trend in advertising right now? Customers are relying on influencers to share honest feedback, review videos, and comparison guides to help them make a decision.
By meeting users where they are, you're providing omnichannel customer service by not focusing on just one platform or medium.
Let's face it… YouTube is home to everything from pH water tests to travel bloggers and everything in between.
You can do it using little more than your phone or a digital video recorder and video editing software. Professional tools that used to cost thousands of dollars are now accessible to everyone.
Which is super awesome.
The problem is, there are dozens of different video editing software options. Some are free; some cost hundreds of dollars a year.
So how do you know which one will meet your needs? This article is going to dig a bit deeper and look at six of the most popular video editing software options specifically through the lens of creating videos for YouTube.
Adobe Premiere Pro
Adobe Premiere Pro is part of the Adobe suite, which includes programs like Photoshop and In Design. While this program is built on the backbone of the well-known Adobe platform, Premiere Pro is all about the videos.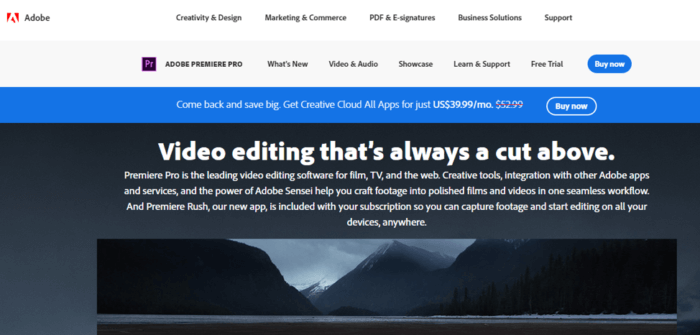 It is used by a wide range of video-makers, including Hollywood filmmakers, your favorite YouTubers, and TV editors. Plus, it's widely ranked as the best video software out there.
This is a very robust tool, offering more than just the ability to clip, paste, and edit. Adobe Premiere Pro also makes time-intensive tasks easy with the ability to synchronize audio and video from different sources, upload from a wide range of sources and provides JKL trimming, which allows users to scrub and trim video footage all at once.
It is powerful, which can come with a huge learning curve. Luckily, Adobe provides a comprehensive walkthrough of the tool, which makes getting started pretty straight forward.
This means you can get started creating high quality, story-telling video for your website, YouTube channel, or anywhere else you want to include video in no time at all. For example, could use Premiere Pro to create high-quality testimonial videos for your website, like Housecall Pro did.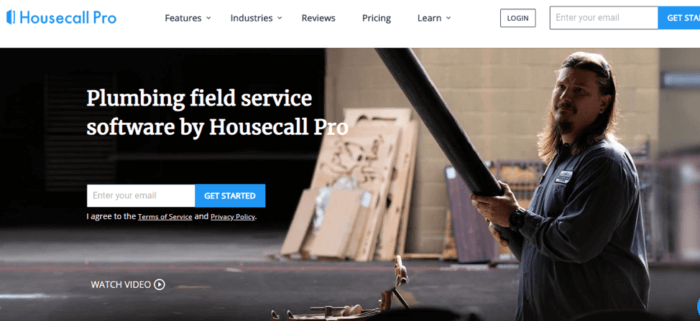 With Premiere Pro, Adobe proves it is more than just a design and photo editing platform, but a full-fledged media editing program.
Pros:
The full-featured tool used by everyone from YouTube stars to Hollywood filmmakers.
Comes with app Premium Rush, so you that can edit on the go.
Continually updated with new features and tools.
Ability to import media directly from your camera and many other devices.
Cons:
Only available by subscription; you can't buy the software outright.
It has a high learning curve, but Adobe does offer a walkthrough.
Best for: Anyone who wants to create a high-quality, well-edited video and is willing to invest the time to learn how to use the tool. Not particularly beginner-friendly, however.
Corel VideoStudio
VideoStudio is a video editing tool from Canadian software maker Corel, best known for programs such as CorelDRAW and Paintshop Pro.
Its video editing app offers all the features you would expect from a professional video editing platform, including the ability to add transitions, correct colours, edit the title of your video, pan and edit, add filters and effects, and much more.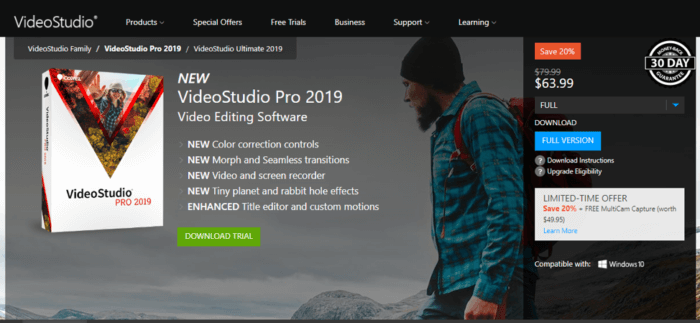 The program also offers more advanced features, such as the ability to overlay objects on a green-screen, multi-camera video editing, and the ability to create split-screen videos. It can also be used to create stop-animation videos, like this one from Starbucks.
One of the stand-out benefits of VideoStudio is the ability to choose which program is best for your needs and purchase it outright. Unlike Adobe's Premiere Pro, you don't have to pay a monthly fee to use VideoStudio.
If you need a bit more than VideoStudio Pro offers, you can upgrade VideoStudio Ultimate for even more features, add-ons, and special effects for an additional $20. Not too shabby for what you get.
While you do own the program outright, that also means you will have to pay for the newer versions as they are released. However, avoiding the monthly service fee may be worth buying the newer versions as needed.
Another major con to Corel's video editor is it is only compatible with Windows computers. There is no Mac version or app.
Pros:
Full service, robust editing software.
Makes it easy to upload video directly or schedule to social media sites.
Buy once, not a subscription service like Adobe.
Cons:
Not available for Mac (Windows only).
No mobile app, only desktop.
You have to purchase new editions to get the latest features.
Best for: Mid-level editors who need a professional-grade editor for a Windows computer but want to avoid the Adobe's monthly fee and don't need as many bells and whistles. It is a powerful tool but doesn't offer quite the same level of special effects.
Apple Final Cut Pro X
Finally, a video editor just for Apple users! Final Cut Pro is one of the few video editing platforms that can only be used on a Mac. You must have macOS 10.13.6 or higher to download and use Final Cut Pro X, the latest edition of the software.
This is a powerful tool used by industry pros like the editor of Whiskey Tango Foxtrot who created an entire (non-sponsored!) video about his love for the program. While Final Cut Pro has had hangups in the past, the newest version is making a comeback.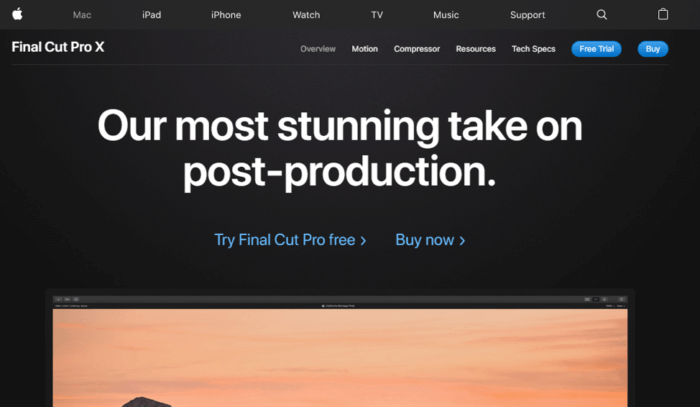 So, what can you expect from Apple's video editing software? Well, you get the standard features you would expect, such as the ability to trim and move clips, bundle separate clips into one video, edit multicam views, add transitions, reduce noise, sync separate video and audio clips, adjust colours, and so forth.
But, it also offers a few advanced features that can take your YouTube videos to the next level, including HDR simulation, the ability to work with RAW files, 360-degree editing, advanced colour adjustments, and the ability to create VR scenes.
One major difference you'll find in Final Cut X is the magnetic timeline interface, which is very different from the timeline-track interface of most video editors. However, once you get the format down, it can drastically reduce editing time.
Pros:
Blazing fast speed thanks to Metal, which accelerates tasks like rendering and exporting videos.
Ability to add extensions to extend the functionality.
Can be used to edit 360 degree and VR videos.
Intuitive to use.
Cons:
Can only be used on Mac computers.
Does not use the "timeline-track" interface that most other video editors use.
Best for: Devoted Mac users who want a fast, professional-grade photo editing platform designed specifically with Apple products in mind.
Apple's iMovie
iMovie is a kinda like FinalCut Pro's younger, less experienced sister. It comes free on most newer Macs and is easy for even beginners to use. It can do all the basic editing you need to create an awesome YoutTube video, but it doesn't offer advanced features like VR video editing.
But for the low, low price of free, iMovie is hard to beat.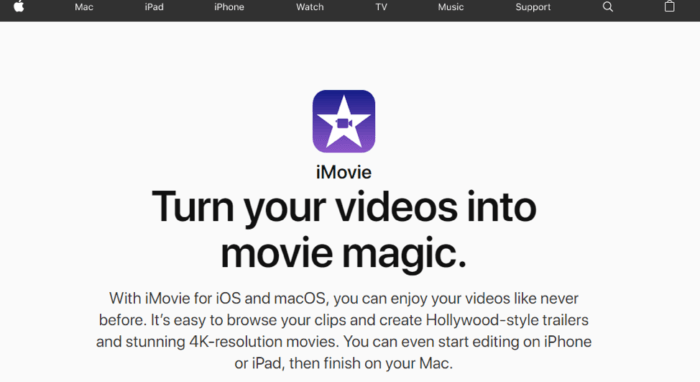 If you have an iPhone, iPad, or Mac desktop or laptop, you likely already have access to iMovie. While you won't be creating Minority Report-level movies, you can easily add titles, trim clips, add music, and include effects.
Wanna create a testimonial video featuring user-generated content? You can easily create customer review videos in iMovie as well, as Eterneva did here:
The creative touch filters in the platform even let you add a "cinematic touch" such as a vintage western movie feel or futuristic sci-fi look. iMovie also offers green-screen effects, lets you add and edit soundtracks, and makes it easy to share to YouTube or other social media sites right from the platform.
One area where iMovie really stands out is with the ability to move from your phone to the computer for editing and recording. Shoot your film right on your iPhone, then Airdrop it to your computer and start editing. Super simple, and very convenient.
iMovie also offers the ability to create animated videos, like this one from Lendio, a small business loan marketplace.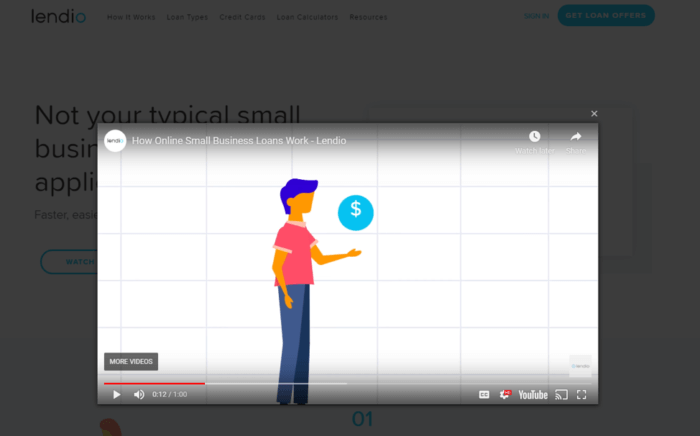 Pros:
Very easy to use, even for beginners.
Free.
Integrates across devices, so you can shoot on your phone and edit on your computer.
Upload to YouTube directly from iMovie.
Cons:
Limited functionality; this is not a professional-grade software.
Can only combine two video tracks at a time.
Best for: Entry-level filmmakers who aren't quite ready to upgrade to a professional level tool, but still want to create beautiful, easy-to-share videos.
Blender
Blender is one of the best free, full-featured video editing software systems on the market. It offers many of the same features as the pricer options but is open-source and free for all to use.
The open-source format allows users to develop their own solutions or purchase extensions to do even more than the base software.
If you are looking for a tool to edit, trim, and add audio, Blender can do that. However, you can also create far more complex media such as animations, video games, and use it for 3D printing.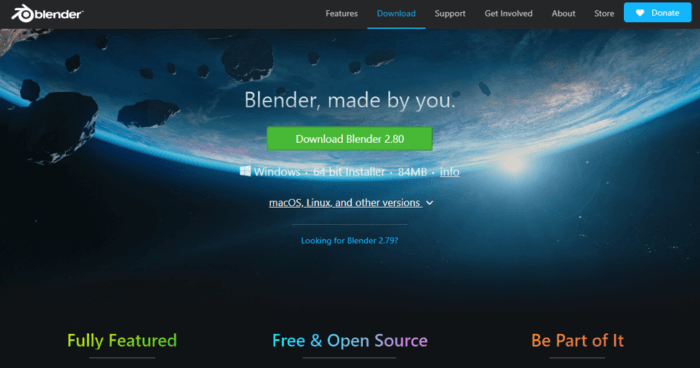 But, let's focus on just the video editing portion of Blender. Using this platform, you can cut and splice videos, mix audio, sync, scrub, adjust speed, adjust layers, add chroma vectorship, filters, and much more. You have 32 different slots to add video, audio, masks, and so forth so you can create really complex videos.
Not too bad for a free program, right?
In addition, the software offers far more advanced features, like 3D animation, object and camera tracking, the ability to create simulations for smoke or hair, sculpting, and photorealistic rendering. Super cool features, even if most people don't need quite that level of functionality.
Pros:
Free and open source.
Extremely powerful, especially for free software.
Offers more than just video, users can also create simulations, games, animation, and more.
Available for Mac and PC.
Tons of extensions for added functionality.
Cons:
Powerful, but not intuitive to use. There is a definite learning curve.
Best for: Professional editors who want access to a powerful, flexible platform with a huge range of features or beginners who are willing to learn how to harness the platform's power.
Filmora
For YouTube creators without a ton of experience, Filmora is a great place to start. It offers plenty of features but is affordable and intuitive to use overall.
If you want to create amazing videos without investing hundreds a year in software, Filmora is a fantastic option.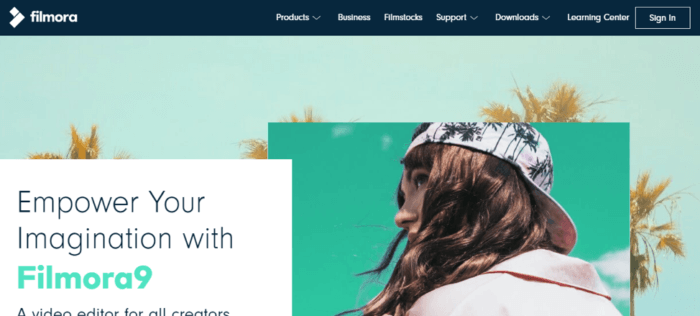 Filmora9 was created by Wondershare, a company that offers a wide range of software, including PDF tools and conversion software.
It offers most of the basic editing features you would expect from a video editing platform, including the ability to fix camera shake, cut and splice, rotate, trim, control brightness, add effects like slow motion and reverse, and add filters for a more creative look.
You can also tailor your video to YouTube before you upload it, which means you can get your fantastic new video live fast.
In addition to the basics you'd expect, Filmora also offers 4K video support, green-screen effects, background noise removal, tilt-shift effects, and more.
Pros:
Great value for the cost.
Available for both PC and Mac users.
Offers a free version, but the paid version (with no watermarks) is very affordable.
Cons:
Subscription-based revenue model, so you never outright own the software.
Lacks a few of the bells and whistles other platforms offer.
Must have Window 32-bit or MacOS 10.10 and up.
Best for: Beginner or intermediate YouTube creators who want to create elegant, professional videos but don't want to spend weeks learning to use complex software.
Final tip: Don't forget to create awesome thumbnails
Once you've used one of the awesome editing apps above to create your video, don't think the work is over! The final step is to create an awesome thumbnail that will draw people into your video.
Think of the last time you fell down a Youtube rabbit hole. What drew you in? Nine times out of ten, viewers get sucked in by the "Up Next" videos.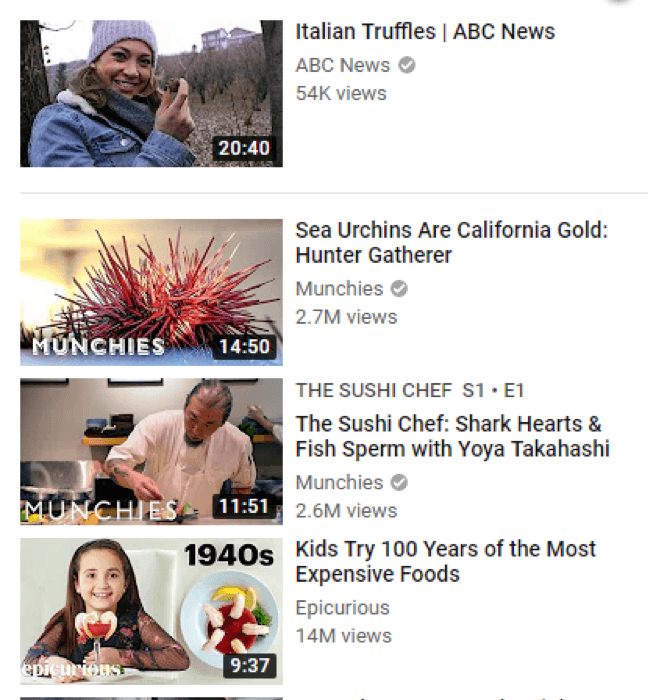 What do those videos have in common? The creators all used custom thumbnails that tell viewers about their video. Most include the title and an image to entice viewers.
Consider adding a bit more info, this example from the Live Inspired podcast. (Yep, you can even use YouTube to share your podcast.)
Use a photo editor such as Canva, Photoshop, or Adobe Lightroom to take your video to the next level with a custom thumbnail and get ready to get YouTube Famous.
Video allows anyone to create and share their story. Whether you want to increase the reach of your podcast, share a how-to video, start a blog, or promote your business, video is the way to go. With so many editing software options, there is sure to be one that will fit your needs and budget.
Wrapping up
As you can see, there are hundreds of ways to incorporate more video content so you can get a bit unconventional with your content marketing strategy and blow your competitors out of the water.
Whether you're filming a video for your landing page, customer reviews, or just to provide valuable content to your audience… There's a software to do so.
Just remember that YouTube videos need to be very good quality to drive views and traffic in 2019.
Picking the right software ensures you have a high-quality video that converts.
But, don't stop there.
Don't forget to create amazing thumbnails to make sure your video gets seen in the first place and to boost the search engine optimization so your video actually gets found and clicked.
What are your favorite tools to improve YouTube video quality?